UKRAINE
I Official Participation at La Biennale di Venezia
8. International Architecture Exhibition
Chairman of Organizing Committee: Professor Ihor Shpara, President of the Union of Architects of Ukraine
Commissioner: Valentin Rayevsky
Deputy Commissioner: Paolo De Grandis
Director of the Project: Professor Yuriy Bilokon, Director of Ukrainian State Scientific-Research Institute of Urban Planning "Dipromisto"
Organizators: New Creative Association Fund, Kiev; Arte Communications, Venice
Ukraine successively integrates into social and economic space of Europe and Asia.
At the same time Ukraine was successful in keeping and consolidating relations with the countries of the former Soviet Union.
Just today, against a background of architecture sensation the elaboration of "the common town-planning and common to all state document", controlling the territory development of new-formed independent country- "General Planning Scheme for the territory of Ukraine",- becomes more actual and interesting for the direction of "The First Ukrainian Project in 8. Architecture Biennale".
Ukraine is Motherland of Malevich, Tatlin, Chernikov and many other heroes and authors of romantic and bloody utopias of the XX century.
For the first time country during the history of its existence has received and established its own new strategy of development. And it is not all the Utopia.
This Project was taken as a guide to action and approved by the law of Ukraine dated February 7th, 2002.
On the deepest theoretical base of searching the unique planning scheme for the territory of Ukraine, which allows for geopolitical, geographical, historical, social and other aspects, was create. We propose it as a platform of long program for development.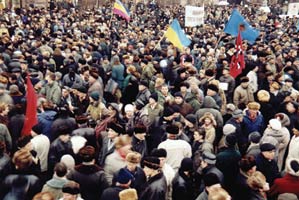 ---