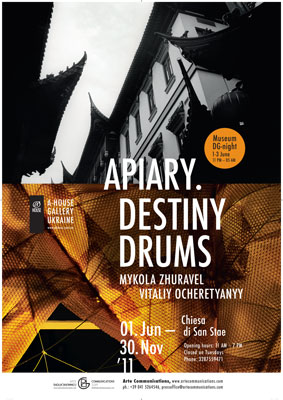 Apiary. Destiny Drums
Mikola Zhuravel
Vitaliy Ocheretyanyy
A-House Gallery, Kiev in collaboration with Arte Communications
Organisation: A-House Gallery– Kiev, Arte Communications
Curators: Eugen Galushkevich, Paolo De Grandis
Coordinator: Carlotta Scarpa
Venue: Chiesa di San Stae, Campo San Stae (fermata vaporetto: San Stae / Linea 1)
Opening hours: 1 June – 30 November 2011 / h. 11 am – 7 pm (closed on Tuesdays)
Gallery of Modern Art «A-HOUSE» in Kiev, Ukraine in collaboration with Arte Communications presents «APIARY. DESTINY DRUMS» in Venice. The project is implemented as a multimedia installation in the church of San Stae and is devoted to the prominent Ukrainian anthropologist and sociologist Peter Ivanovich Prokopovych who first created the frame system of beehives in 1848. Peter Prokopovych was the first who draw parallels between social system of humans and bees. Asserting the idea of nonviolence and inanity of aggression as a way of social communication he created the system where bee swarm survived while giving honey.
The artists – Mikola Zhuravel and Vitaliy Ocheretyanyy focused their attention on the values of social and natural ecology, the unity of all life, symbol of Mother giving and keeping the life.
The idea of the project is to join in a piece of art the images of bee, hive, human being and the church, primordial Divine Love. To create a model of society where church of San Stae becomes a hive and the visitors assimilating to melliferous bees.
The installation consists of two types of pieces – unfolded projections of hives and honeycomb made of photographic pictures in a form of Drums of the Destiny (the project has been previously presented in Shinto, Buddhist, Christian Orthodox and Catholic temples.
For the first time two artists and two projects teamed for the exposition in Venice – «Apiary» by Mykola Zhuravel and «Drums of the Destiny» by Vitaliy Ocheretyanyy. The «Apiary» as a contemporary art project of is unique because it exists and has been developing for 12 years. It was presented by «A-HOUSE» gallery in Japan, USA, Ukraine, Switzerland and China (National pavilion of Ukraine at EXPO-2010; Liu Haisu Museum in Shanghai, 2010; Shanghai Contemporary, 2010). While developing at every new stage the project is transforming.
The two projects are united by idea of the feminine essence. At most cultures – Ukrainian, Chinese, Italian etc – woman is a keeper of domestic aspect of culture and its relationship with ethnical and mythological components of lifestyle, as well as a main link in transmission of everyday cultural experience. In a certain sense such interpretation organically combines with a symbol of bee family which is formed around the feminine essence.
---