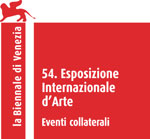 Pino Pascali. Return to Venice / Apulia Contemporary Art
Collateral Event of the 54th International Art Exhibition - la Biennale di Venezia
Exhibitors and participants:
PINO PASCALI:Pino Pascali, Claudio Abate, Luigi Ghirri, Domingo Milella.
IL PREMIO PINO PASCALI DAL 1997 AL 2011 THE PINO PASCALI PRIZE FROM 1997 TO 2011: Achille Bonito Oliva, Giovanni Albanese, Marco Giusti, Studio Azzurro, Lida Abdul, Adrian Paci, Jan Fabre, Jake & Dinos Chapman, Bertozzi & Casoni.
PUGLIA:SGUARDO CONTEMPORANEO APULIA: A CONTEMPORARY LOOK: Cristina Bari, Stefano Cagol, Miki Carone, Daniela Corbascio, Claudio Cusatelli, Guillermina De Gennaro, Giulio De Mitri, Gao Brothers, Michele Giangrande, Iginio Iurilli, Giampiero Milella, Massimo Ruiu, Virginia Ryan, Francesco Schiavulli, Carlo Michele Schirinzi, Giuseppe Teofilo, Bill Viola.
General curators: Rosalba Branà, Giusy Caroppo
"Pino Pascali" section coordinated by: Anna D'EliaExecutive coordinator: Antonio Frugis
INFORMATION FOR THE PUBLIC:
Location: Palazzo Michiel dal Brusà, Strada Nova 4391/A,Cannaregio, Venice
Steamboat stop: Ca' d'Oro Gondola service: Rialto/Ca' d'Oro
Opening days and hours:June 1 through August 1, 2011; 11 a.m. to 7 p.m. - closed on Mondays.
Free entrance.
Preview: June 1-2-3, 2011
Opening: Friday, June 3, 2011 h. 6 p.m./11 p.m. The President of Regione Puglia Nichi Vendola will be present.
On the occasion of the 54th International Art Exhibition - la Biennale di Venezia, the Pino Pascali Museum Foundation, in collaboration with Regione Puglia, promotes an exhibition-event to celebrate Pino Pascali, the Sculpture Prize winner at the 1968 Biennale: an important award, thanks to which the Apulian artist (Bari 1935 – Rome 1968) was officially included in the history of contemporary art; today, he is still considered as one of the greatest innovators of XX century languages.
The project PINO PASCALI. RETURN TO VENICE / APULIA CONTEMPORARY ART, curated by Rosalba Branà and Giusy Caroppo, is a three-section exhibition, set in Palazzo Bianchi Michiel, overlooking the Grand Canal.
The exhibition dedicated to PINO PASCALI: coordinated by Anna D'Elia and accompanied by critical essays by leading experts on the Apulian artist, such as Chris Bennett, Marco Giusti, Simonetta Lux, Jessica Morgan, Pietro Marino, Marco Tonelli, the exhibition features sculptures and two-dimensional works, quite unknown to the general public, along with papers, collages, sceneries, divided by themes, dedicated to Acqua (Water), Africa, Armi (Weapons). For the first time, the Foundation presents the "relics", which are essential for a comprehensive and intimate biographical portrait of the artist. On show also a series of photos by the great Italian photographer Luigi Ghirri (dead in 1992), featuring Polignano a Mare, the native town of Pascali's parents and his burial place.
THE PINO PASCALI PRIZE FROM 1997 TO 2011 is a survey exhibition on the recent history of the Prize, awarded to internationally renowned art personalities, who shared Pascali's experimenting and irreverent spirit, open to language contaminations.
APULIA: A CONTEMPORARY LOOK features works from the Foundation collection, representing the current Apulian art, promoted by the Museum, as well as specific projects produced for "Intramoenia Extra Art in the castles and historical palaces of Apulia", the experiment of a diffuse temporary museum, aimed at promoting new forms of cultural tourism.
INFO:
PRESSOFFICE:
Arte Communications
e-mail: pressoffice@artecommunications.com
tel. +39.041.5264546 fax +39.041.2769056
website: www.artecommunications.comFondazione
Museo Pino Pascali
e-mail: direzione@museopinopascali.it
tel. +39.080.4249534
website: www.museopinopascali.it
---