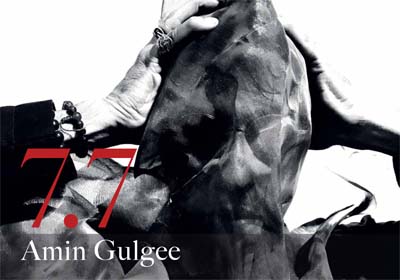 Amin Gulgee "7.7"
Curated by Paolo De Grandis and Claudio Crescentini
Co-curated by Carlotta Scarpa
Preview for the press: Wednesday 25 July at 12.00
Inauguration with performance: Wednesday 25 July at 18.30
Mattatoio – La Pelanda
Piazza Orazio Giustiniani, 4 – Rome
26 July – 26 August 2018
PRESS RELEASE
The internationally renowned Pakistani artist Amin Gulgee presents at the Mattatoio the exhibition "7.7" curated by Paolo De Grandis and Claudio Crescentini and co-curated by Carlotta Scarpa with the curatorial assistance of Adam Fahy-Majeed.
Promoted by Roma Capitale – Department for Cultural Growth and Azienda Speciale Palaexpo, the exhibition is organised in collaboration with PDG Arte Communications and with the Embassy of the Republic of Pakistan in Italy.
Amin Gulgee is an innovator of tradition, his medium is metal and he draws inspiration from the rich and varied artistic and spiritual history of his native country, Pakistan.
His expressive path, linked to Hindu mythology, to the figures of Buddhist thought and to Islamic calligraphy, has developed over the years through sculpture and installations. Copper, his chosen material, offers itself to the artist as a means of expression aimed at calligraphic synthesis and new sign expressions as at "7.7" where La Pelanda hosts two large installations that develop by contrast through full and empty, light and shade, to the synthesis of a video installation. Copper, carbon and the projection of an algorithm thus become the testimony of a symbolic path of change, a reflection that is both personal and universal, a path towards the future marked by the recovery of tradition.
The verse in the Koran in which we learn that God "taught man what he did not know" (Koran, 96:5) is the leitmotiv of Amin Gulgee's expressive search; it recurs at first legible, then gradually unstructured and finally in the form of fragments and fractions.
This calligraphic text has been appearing and returning now for some time as a persistent, almost obsessive concern in the artist's works, manifesting itself in various sculptural compositions, sometimes in the form of geometrical constructions, signs that are ideally nourished by fractal geometry. The fragment is the image of the whole. With his artistic intuition, Amin Gulgee demonstrates the profound link that exists between mathematics, art, spirit and nature, and, once again, the fil rouge is beauty.
Hovering between "Apollonian" and "Dionysian" beauty, the letters decomposed and freed from semantics take on a symbolic meaning that, as such, has, on the one hand, a character of aesthetic-sensitive immediacy and, on the other, moves towards a relationship that rejects domination and possession, thus offering the possibility of establishing a real spiritual dialogue with the world. In search of the most intimate meaning, the visitor can unroll the symbolic ball of wool through this labyrinth.
There is always rhythm in all Amin Gulgee's work. The continuously evolving signs and the outwardly dilated letters are real visible music and the architecture of the whole gains a new form. A perpetually evolving form, a sign to be decoded in a kind of timelessness where space, acting as counterpoint, stimulates reflection and becomes a cognitive instrument, a table on which to measure past and present.
During the inauguration, the interactive performance Love Letters will be presented, and a personal performance with the participation of Ana Rusiniuc.
---
BIOGRAPHICAL NOTE
Amin Gulgee, an internationally renowned artist and performer, was born in 1969 in Pakistan, son of the famous Pakistani artist Ismail Gulgee. After graduating in "History of Art and Economics" at Yale University (U.S.A.), he began his artistic career, creating and exhibiting his works in Pakistan, the United States, Europe and the Middle East. In Italy, he has never exhibited in Rome, but in 1998 and 2017 he took part in "OPEN – 20th International Exhibition of Sculpture and Installations", linked to the "Venice International Film Festival" and he will represent Pakistan at the next "International Art Exhibition – Venice Biennale". He has held legendary performances, as an emerging artist in Pakistan, and in many museums in Europe and North America (Karachi, Lahore, Dubai, Nagoya, New York, Philadelphia, Dresden, etc.), the most recent in the Royal Albert Hall in London (2017). In these performances, based mainly on words, signs and phonetics, he often involves other artists as well as the audience, in an artistic and creative contrast between East and West. Besides, Amin Gulgee is an innovator of tradition. His main medium is metal and he draws inspiration from the rich and varied secular and spiritual history of his native country, Pakistan, with themes drawn especially from Hindu mythology, from Buddhist civilisation and from Islamic calligraphy. In his work these different components influence and nourish one another, as they all seek to represent the spirituality of man. The leading art critic of the "Washington Times", Joanna Shaw-Eagle, wrote in her review of his personal exhibition at the FMI in 1999: "Amin Gulgee is an artist to watch both for the originality of his ideas and the sensuous, handsome quality of his work." In 1987 Amin Gulgee won the "Conger B. Goodyear Fine Arts Award" with his work-thesis on the Moghul gardens. In 2005 he received the prestigious "President's Pride of Performance", which is awarded only to exponents who have achieved iconic stature in their field of excellence, by the President of Pakistan. The Pakistani government commissioned him to create numerous pubic sculptures, including the following: Messaggio, for the Presidency of Islamabad; Minar for the Quaid-e-Azam International Airport in Karachi; Forgotten Text, standing 40 mt tall, for an important rotonda in Karachi. He has taken part in numerous international collective exhibitions, among them: "Pakistan: Another Vision," Brunei Gallery, London, UK (2000); Beijing Biennial (2003); "Beyond Borders," National Gallery of Modern Art, Mumbai, India (2005); "Paradise Lost," WAH Center, Brooklyn, NY, USA (2008); "Rites of Passage," Ostrale, Dresden, Germany (2010) and "New Pathways: Contemporary Art from Pakistan," UN Headquarters, New York, NY, USA (2016). He has also held more than thirty personal exhibitions in Pakistan, Malaysia, Singapore, UAE, India, UK, Portugal and USA , among which we recall the most recent: "Walking on the Moon", Wei-Ling Contemporary, Kuala Lumpur, Malesya (2015); "Washed Upon the Shore", Canvas Gallery, Karachi, Pakistan (2015). In 2017, following in the wake of the great international artists and curators, he conceived, planned and organised the "1st Karachi Biennale 17".
PRESS OFFICE
Piergiorgio Paris
PDG Arte Communications
pressoffice@artecommunications.com
INFORMATION
Open to the public: 26 July – 26 August 2018
Free admission.
Opening hours: from Tuesday to Sunday | from 14.00 to 20.00.
Entry is allowed up to 30 minutes before closing.
Closed on Mondays.
Special thanks to: