ITALY - FEDERICA ALÌ, RADIS NIKZAD, CHIARA RINALDI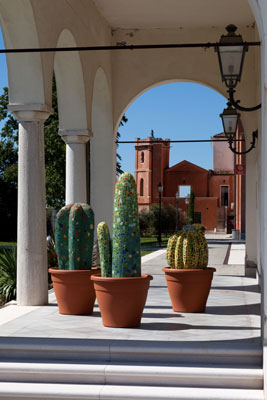 After their experience in making ceramic mosaic in the Porta Celeste environmental work, designed by the artist Marco Pellizzola for the Parco Nord in Milan, Federica Alì, Radis Nikzad and Chiara Rinaldi decided to continue their collaboration with an installation produced by the group but which at the same time implies the direct and subjective participation of each artist.
Each cactus, in fact, has its own shape and its own style, both chromatic and executive, which expresses the personality of its creator, yet maintaining a shared leitmotif: the potted succulent plant.
The work is installed in the green surroundings of the Island of San Servolo, creating a game between reality and fiction, where the relation of the cactus to the garden creates a connection between the green of the ceramic mosaic and the green of the nature round about; it is as though a fragment of it had become immobilised in the artistic idea of the potted succulent: this clear complementary relationship between plants and mosaics represents an important element for maintaining and/or improving succulent species in comparison with intensive crops.
Text by Saverio Simi de Burgis