ITALY - JESSICA SOFFIATI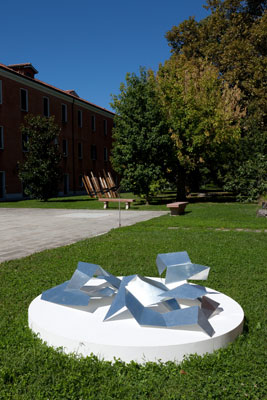 A young artist with interests that range from photography to installation, in particular with a scenic effect, with attention focussed on a common leitmotif, namely the value of light. As she herself likes to define her works, they are a kind of sculpture of light vaguely recalling certain solutions expertly anticipated by Lucio Fontana. Fundamentally, however, in this case we are faced with kirigami, that is origami with cuts, dark on the outside and white on the inside. Neon strips light up the inside so as to create candid geometrical shapes, allowing the light to come out of the slits marked by the various folds as though they were escaping from cracks in the ground. According to the artist's intentions, the sculptures aim to simulate clods of earth, almost wishing to signify the antithetic relations implicit in the symbolically opposed values of white and black, involving the observer in the direct creation of forms that are suggestively invisible in the dark but which, as though by magic, may suddenly light up and reveal their presence by means of sensors that record the movements of anyone passing by, sensors that are placed in precise points of an ideal stage.
Jessica Soffiati has made these sculptures using sheet metal in which watertight lights have been placed, so that they light up when it is completely dark.
Cut and shaped in various points following a geometric pattern marked by red and blue lines, they are thus moulded into hypothetical mountain ridges, well amalgamated in the natural context of the island, and symbolising an earth that opens, that splits, a dark and mysterious earth with a luminous soul, a symbol of infinity on the imaginative threshold between the visible and the invisible.
Text by Saverio Simi de Burgis