ITALY - GAETANO K. BODANZA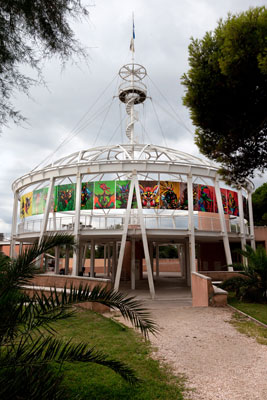 Twenty-four characters with a passionate visionariness, seem to come out of a tube of paint so dense their corporeity is, which is then shaped by digital technology not to allow any smears but to prefer a formal virtuosity that smells like plastic and resins. The images entitled Faces make up the large installation by Gaetano K. Bodanza for the event OPEN in Venice. A sort of giant carousel, which doesn't turn on itself but makes the viewer turn along its circumference, suggesting them a frontal exchange of glances with these unusual characters, disturbing and burlesque at same time.
Seconda natura is the title of the work belonging to the new series of the Italian artist, recently presented at the Moretti & Moretti Gallery in Paris, where a futuristic setting, developed on three meters of length, gives birth to the characters of Faces. It's a landscape crowded and teeming with shapes, gestures and looks, some of which we find again in the installation of Venice.
Out of the context of a crowd within which we must carefully look for and recognize them, here they stand out against backdrops of a saturated monochrome, as if it were a photo-card from an alien world.
From the crowd of hominids, insects, cartoon characters and small toys, Bodanza extrapolates the brightly colored portraits, that in his production go alongside the myths and icons of entertainment, advertising and art history, from Superman to Mickey Mouse, from the Nike of Samothrace to Marilyn, from Bambi to the Native Americans. Metabolizing Walt Disney, Hollywood and the entertainment world in general, as well as scientific research on genetics and ecology, Bodanza has always tightened a rope between true and fiction.
Now the artist on that rope comes up to a second nature and puts next to his truer than true works, obtained thanks to his great technical skill in both painting and fiberglass sculpture, a more intense dose of visionariness. Because people in Faces are no longer realistic, but look at us with piercing eyes and interact with us through gestures and expressions from which we can obtain a bizarre manual on human feelings.
Text by Sabrina Zannier