ARGENTINA - NORA INIESTA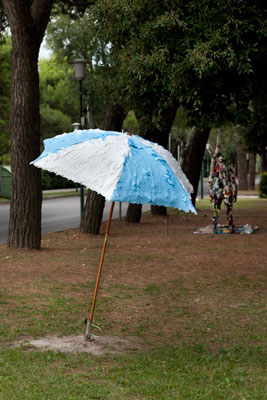 The work of Nora Iniesta escapes from definitions. The diversity of techniques that she dominates allows her to use elements of everyday life and create in its combination a new meaning to the objects she uses.
An umbrella tells us always about the need of protection. In Venice she remembers its beach, the Lido, and its intense heat. To the cinema's lovers, she evokes Luchino Visconti and its unforgettable Death in Venice, Silvana Mangano dominating elegantly the umbrella and the well-known festival that every year joins the most important of the international cinema.
For the use of the laces that repeat the colours of our country's national emblem, they give a special symbolic value and turns the object into a sign of union between the culture of both nations. Argentine culture nourishes itself from original elements and those brought by the immigrations from different places of the world. Italy was one of the most important ones in number and influence. Argentine was multicultural when the world was not yet such and the tracks left by Italy in its expressions are thorough and tangible.
This umbrella made up of Argentine laces, tells us about its union between both cultures and the protection that it brings us, in the continuous dialogue that exists between both countries. Nevertheless, as the whole work of Nora Iniesta, the reaffirmation of images and objects with which it nourishes itself challenges the spectator to contemplate with its glance the utter sense of its composition. The artist also recovers the idea of art as an ingenuous game and that is why she proposes an active participation, so that the meeting with an element of everyday use, utterly taken from reality, may get the sense that she proposes and that the watchers end up. As an authentic representative of contemporary art, she uses her creative freedom by the use of various techniques and the desacralization of the things she uses.
As Jacques Derrida says, Iniesta always is in the search of an identity that is never given or granted, for it always flows in the endless process, the indefinitely ghost of identity.
Text by Josè Miguel Onaindia