AttaKim: ON-AIR

Collateral event of the 53rd International Art Exhibition – La Biennale di Venezia

Open to the public: 7 June – 22 November 2009; opening hours 10.00 am – 6.00 pm; closed on Mondays
Venue: Palazzo Zenobio, Dorsoduro 2596 – 30123 Venice
Artist: Atta Kim
Curators: Jiyoon Lee (Independent curator), Seong Seok Lee (Chief curator of Gyeongnam Art Museum)
Organization: Gyeongnam Art Museum
Sponsors: Ministry of Culture, Sports and Tourism of Korea
Gyeongnam Art Museum
Seoul Foundation for Arts and Culture
Gallery Hakgojae
Coordination in Venice: Arte Communications

This June, Palazzo Zenobio will host AttaKim: ON-AIR, a contemporary art exhibition by the internationally renowned Korean artist Atta Kim as a part of the Collateral Events of the 53rd International Art Exhibition - La Biennale di Venezia.
A performance by Atta Kim was held during the opening ceremony on June 5th. Rome-10,000 is an image obtained from 10,000 superimposed shots which were taken in Rome last year. For this performance the artist threw the original 10,000 Roman pictures (measuring 5x7") from which Rome-10,000 was created from the top of the exhibition building. The performance is entitled "2009 Gaia". Firstly, the performance symbolically means "Form becomes Void", which is a concept derived from Oriental culture, whereby "void" substantially is the return to the original form. Secondly it aims to express sincere condolence for the victims of the earthquake in Italy and all victims in general.
Atta Kim's unique view of the world developed through his own exceptional training which evolved from the teachings of Heidegger, G. I. Gurdjieff and Zen Buddhism. His works such as the "In der-Welt-sein" series (1991), the "Deconstruction" series (1995) and The Museum Project (1995-2002) - creating a private museum by placing figures within plexiglass boxes - resulted in a strong impact on both the general public and the artistic scene. Since 2002, he has been working on the ON-AIR Project with the concepts of disappearance and existence. He successfully communicated his concepts through the first two editions of ON-AIR Project, the first being held at the International Center of Photography, Atta Kim: ON-AIR(2006) and the second at Leeum, Samsung Museum of Art, Atta Kim: ON-AIR(2008).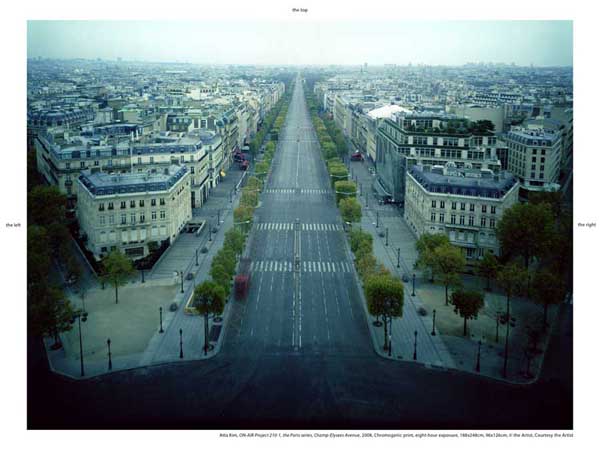 AttaKim: ON-AIR presents two main progressions of the ON-AIR cityscapes. The first series shows cityscapes of what should be busy global cities, but seemingly without signs of life or movement. By taking 8 hour exposure photographs of a single view of a city, Kim captures more permanent features, with more temporary features such as flags, people and cars fading behind blurs and time-compressed views. What Kim has also captured is the organic nature of cities, with even their more permanent features slowly fading away, as is evident on closer observation.

While the first series shows a temporal compression of a cityscape, the second series, which Kim has entitled 'Indala', shows a combination of temporal/spatial compression of a cityscape. Since 2007, the 'Indala' series has been taken in Moscow, Berlin, Prague, Paris, Rome, New York, Tokyo, Deli, and Washington, layering 10,000 images of each city which subsequently created one final image.

This series seems more conceptual/abstract than representational, until one finds that it was created by superimposing exactly ten thousand photographs that Kim took during his walkabout in the city. Ten thousand has more than a numerical value in Buddhism – the number also has the connotation of being 'Many, many'. All photographs were given equal weight and importance, and when these 'many-many' photographs were superimposed, one ended up with a grey canvas. The Grey, according to Kim, did not come merely from mixing colours, but from superimposing space and non-space, matter and non-matter, and this suggests the twilight reality which all matter comes from and into which it will eventually fade.

The AttaKim: ON-AIR, then, might appear to be pessimistic and even nihilistic in its disappearing results, but paradoxically it is surprisingly uplifting. This is because, by showing the viewer that everything fades away, Atta Kim manages to impart value to everything, precisely because it will fade away, and emphasizes that both matters and non-matters, be they man, animal, or even seemingly inanimate features like cities, must be cared about and valued during their time of existence. Kim also pointed towards a new way in which photography as a medium can be used not only for representation, but more as a conceptual/abstract form whilst being faithful to the subject matter.
The project is organized by the Gyeongnam Art Museum (Chief curator: Seong Seok Lee) and curated by Jiyoon Lee, an independent curator and art historian based in London.

The AttaKim: ON-AIR is kindly supported by the Ministry of Culture, Sports and Tourism of Korea and the Gyeongnam Art Museum.

Note to the Editor
• The Gyeongnam Art Museum was founded in 2001 to meet the burgeoning demand for art and culture by the 3.2 million residents of Gyeongnam province in Korea, and has since established itself as a focus for local cultural and artistic development. Atta Kim, a resident of Gyeongnam Province, is one of the most significant and active Korean contemporary artists on the international art scene, and hence this project is the most important exhibition proposed by the Gyeongnam Art Museum. The project is currently planned as a touring exhibition and will be held at various venues in Europe starting from the 53rd Venice Biennale (2009), and will complete the tour at the Gyeongnam Art Museum.
• Jiyoon Lee is an independent curator, art historian, and is one of the leading experts in the Eastern contemporary art to be continuously invited to curate exhibitions including "Seoul until now" at Charlottenborg Copenhagen(2005), "Through the looking glass" in Asia House (2006), inaugural exhibition for the London Korean cultural centre for "Good morning Mr. Nam June Paik" (2008). Her contributions are now recognized as bridging the two art scenes of East and West. In addition to her work as an independent curator, she has also acted as an advisor for various funding bodies and cultural policy centres such as APT (Artists Pension Trust), and is also a nominator for the PICTET prize. She has lectured on Art History and Curatorship at a number of European and British educational institutions such as Ewha Woman's University, Yonsei University, SOAS and Birkbeck University.

For further information or images, please contact:
Exhibition Coordinator in Korea: Atta Kim Studio
Email: attakim@gmail.com / attastafflee@gmail.com
Exhibition Coordinator in Venice: Arte Communications
Email: pressoffice@artecommunications.com
Web site: www.artecommunications.com