Create & Change: Internal = External, 1 = ∞
Collateral event of the 53rd International art Exhibition - La Biennale di Venezia

Open to public: 7 June – 22 November 2009; opening hours 10.00 am – 6.00 pm (Free admission; closed on Mondays)
Venue: Palazzo Pisani (S. Marina), Calle delle Erbe, Cannaregio 6104, 30121 Venice Italy
Artist: Prof. Lee, Sun-Don
Curator: Prof. Achille Bonito Oliva
Organizer: Arte Communications
Commissioners: Mr. Paolo De Grandis, President of Arte Communications; Ms. A.K. Chen, Curator of X-Power Gallery
Vice Commissioners: Andrew Hsu; Carlotta Scarpa
Sponsors: GP DEVA; X-Power Gallery

On the occasion of the 53rd International Art Exhibition – La Biennale di Venezia, the Taiwanese artist Lee Sun-Don presents the exhibition entitled "Create & Change: Internal = External, 1=∞". The exhibition, curated by Professor Achille Bonito Oliva, is a work in progress, which will extend for the whole exhibition period, where all art languages from traditional to conceptual art take part in a multimedia synthesis.

Based on spiritual enlightenment, Lee's totemic artwork captures Zen wisdom and the ineffable harmony of the universal energies. More impressively, Lee develops totemic aesthetics that challenge, transcend, and open up the horizon of contemporary art. According to Achille Bonito Oliva: "The Eastern culture that animates Sun-Don's sign enables the image to convey a sense of life and, at the same time, the idea of a concrete measure. The whole composition is supported by a sort of abstract-concrete substance that is never metaphoric, but is always sustained by its inherent autonomy. The work of Lee Sun-Don creates its own original and distinctive style through the combination of several philosophies in a language that escapes its formal order".

The core of "Create & Change: Internal = External, 1=∞" will be not only to emphasise a complete presentation of the creation process, but also to show and share an unprecedented creative path where the artwork signs, the artist's performance and the viewer's contemplation operate together.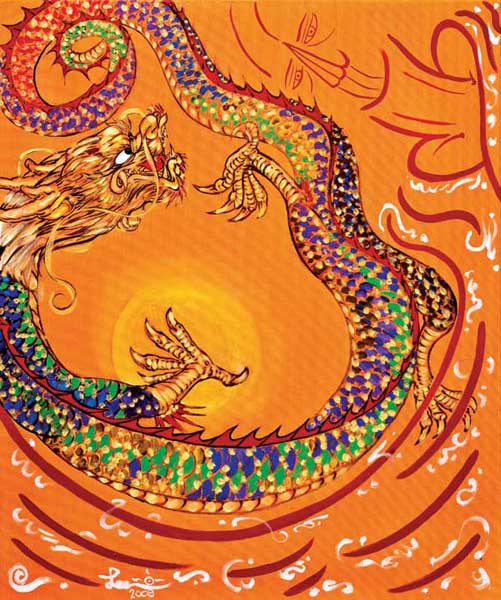 The exhibition space will display 40 ~ 50 Unfinished Canvases and the artist will appear personally in the on-site studio without a fixed schedule to perform the impromptu paintings. That is to say, the artist will create the painting impromptu during the exhibition. As the paintings completed impromptu increase, Lee will keep changing the spatial arrangement of the artworks in the exhibition site for a creative display space and environment. The artist's impromptu creation process will also be recorded entirely by the video camera and be played in the exhibition venue. During the entire exhibition, the video camera will be set up for the on-site assistants to interview each viewer and record each viewer's statement on their feelings and thoughts after reviewing the artworks. The short interview may be a sentence long and we shall record as many viewers as there may be. In this way, even if Lee has completed the entire painting, the interviews and the recordings of the interview within the half-year exhibition period will continue to make a huge performance art. The interactive relationship with the viewer will enable the achievement of "1=∞" (Infinity). That is to say, the artist himself as "1" develops to interact with viewers as "∞" (Infinity) to make a presentation together. In this way, all the viewers participating in the interview become the artists performing in the performance art, and a part of the exhibition "Create & Change: Internal = External, 1=∞". What is achieved is that every viewer entering from the EXTERNAL WORLD into the exhibition becomes the core of the INTERNAL WORLD of the art exhibition. In other words, every viewer becomes the ARTIST himself, and a part of the ART itself.

In addition, Lee Sun-Don has arranged a BIG surprise for the exhibition – to place an elegant bronze lying Buddha on site. This Buddha statue comes from Yuan-Dao Guanyin Temple of Taiwan; it has been selected and recommended as one of the most worthwhile spots for "taking picture with" by thousands of blogs or websites. Lee said pleasantly, "Now that I live in the temple where I have been receiving inspirations to create all my artworks, considering 53rd International Art Exhibition - La Biennale di Venezia as such a big event, I shall invite my GOOD FRIEND to join me for this special occasion!"

As the Third Patriarch of Buddhist Forshang, Lee Sun-Don is also considering to explore a largely undeveloped frontier – Eastern Philosophy = Western Art – which undoubtedly will become the focus of the 53rd International Art Exhibition – La Biennale di Venezia.


Exhibition Information
Artist Website: http://arts.sundon.net
Artist Contact: Andrew Hsu
Tel: (+1) 626.512.1505
Email: andrew@gpdeva.com

Organizer Information:
Arte Communications
Tel: (39) 041. 526 4546 Fax: (39) 041. 276 9056
E-mail: pressoffice@artecommunications.com
Web site: www.artecommunications.com