From La Biennale di Venezia to MACRO. International Perspectives
curated by Paolo De Grandis and Claudio Crescentini
presents
María Verónica León Veintemilla
GOLD WATER:APOCALYPTIC BLACK MIRRORS II
curated by David Rosenberg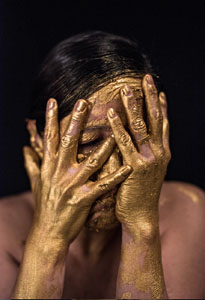 Press preview: 30th March 2016 - 11 am
Opening ceremony: 30th March 2016 – 6 pm
Opening to the public: 31st March – 17th April 2016
MACRO – Contemporary Art Museum Rome
MACRO Hall, Via Nizza 138
Press Release
From La Biennale di Venezia to MACRO. International Perspectives is a new exhibition project conceived and curated by Paolo De Grandis and Claudio Crescentini, devoted to the presentation of some international installations from La Biennale di Venezia - 56th International Art Exhibition at the MACRO's spaces, as site-specifically reconstructed and remodelled.
Promoted by Roma Capitale - Superintendent Capitoline of Cultural Heritage and organized in cooperation with PDG Arte Communications, the project sees converging together the art "prospects" of two cities working to help the experience of international art travel throughout the country. From Venice to the Capital precisely, two cities that are linked by historical and immense artistic traditions, which have been able to further enrich this heritage so as to give voice and life to contemporary art, to discover and emphasize this resource by documenting existing assets and promoting both initiatives and international connections. The research was initiated by Paolo De Grandis in 1995 with the creation of outdoor pavilions at La Biennale di Venezia and the presentation of new countries.
The project will be inaugurated by the exhibition GOLD WATER: Apocalyptic Black Mirrors II by Maria Veronica Leon Veintemilla, curated by David Rosenberg, one of the most interesting artists on the current international art scene, recently awarded in Ecuador as "Woman of the Year" (Arts & Culture section). Maria Veronica Leon Veintemilla will re-read at MACRO the conceptual exploration of her art that took place precisely at the 56th International Art Exhibition 2015 within the framework of the Ecuador pavilion, for the first time at La Biennale di Venezia.
With her work Gold Water: Apocalyptic Black Mirrors II, the artist will bring to the MACRO Hall two big containers filled with photographs and video art installations. The work is inspired by the state of two of the natural primary sources of wealth in Ecuador: Water and Gold, which are extracted from their original context to be critically re-examined through its history, society, economy and culture in relation to global economic values. Both elements, key to the future of humanity, are life sustaining, physically and economically, yet the paradox is that in order to extract gold water sources are often destroyed. In "Gold Water: Apocalyptic Black Mirrors" the convergence of Art and Science forges an artistic amalgam, a prophetic myth of a future dystopia created by man's annihilation of nature and his blind obedience to consumerism.
In order to illustrate the vitality and energy of water, its movements and its transformation from one state to another, Maria Veronica prefers to use video art, the artist herself creates the digital, shoots the videos, edits them, paints and draws characters and symbols, writes the script, and designs the soundtrack. "Video becomes an ideal technique, because moving images allow me to show in series all the similar 'apocalyptical' phases that different cultures are living simultaneously in parallel dimensions; a technique that leads me to the maximum abstraction of the high-tech industry that breaks into the spirit of water and the soul of human beings", says the artist. The video-audio installations designed by Maria Veronica Leon Veintemilla combine different elements as interrelated visual techniques that are interconnected and displayed, as she says, in a "techno-theatre" where water element, as a life fountain proclaims a new state of mind as a source of life.
Several videos convert the scenario of a water bottling plant: shuffled rhythms on a metal background give rise to stars that open and transform like new techno-galaxies. Starting from the mechanization of a water bottling landscape, Maria Veronica developed a geometrical industrial choreography where factory workers flow to the sounds with synchronized steps and movements. Few videos transform the scenario of this factory: shuffled rhythms and metallic sounds thundering at the videos background. Steal barriers in movement blocks water's natural flow, and the robotic motions of workers in charge of bottling water for its future commerce are repeated endlessly. This impressive metallic concerto gave the artist the first notes to create new codes for her "techno-constellations", or metallic visions to impose the last guideline of market demands that enclose the natural pristine virtue of water. Nature can be defended and the work of Maria Veronica Leon Veintemilla strongly defends the ecosystemsthat are in danger through her artistic cosmology.
Gold, another capitalist symbol, object of desire, economic index will turn into a promise of beauty through a revolutionary nexus of creativity.After a transcendental journey to Ecuadorian ancestor's practices with gold, where they used special techniques like hammered and embossing to elaborate unusual figures and gold masks with original physiognomies, -like bizarre extra-terrestrial creatures bordering with space-, she places the genuine talent of pre-Columbian cultures within a cutting edge structure, to catapult new ideas and artworks stemming from this process to future cultural contexts, and onto the avant-garde international art landscape. In order to prefigure a new collection of gold in the contemporary art scene, the artist recycles these practices to work with "virtual gold," or artificial gold (acrylics, oils, gold leaf, gold sprays, etc.) giving us the illusion of having easy access to this metal but in actuality mimics only its appearance, its light and its powerful reflections.
One can see and hear a new ritual with virtual gold in a special performance: the artist comes into animistic communication with ancestors and enters into a trance; her hands make circular movements in a virtual golden vase (acrylic in this case); her voice and expressions give life to a cosmic language without words - a kind of language from Babel -, a universal language, sung and spiritual in which the ancestors send transcendental messages and ancient codes for a healthier future. Inspired by words like "divinity", "conscience", "reflection", "prevention", "purity" and "splendour", the artist creates sounds that highlight the wisdom of our ancestors and ancient cosmology, entering a representative field of gold's light with the idea of purifying our conscience and our way of life for a better future. Maria Veronica Leon Veintemilla transfers to her virtual masks the expressions of our times: desperation, extreme stress, sadness, madness and exhaustion, "global anxiety". In other masks we find the expressions of suffering, harm and the exploitation of many miners, and in few more we could see special extra-terrestrial creatures that communicate in deep space. Thanks to this new project that includes innovative features and "virtual recycling", the image of gold lives an unusual transformation assuming new connotations and revealing new aesthetic applications for the art market and jewellery.
As said by David Rosenberg: "Creating a rudimentary and temporary architecture within the architecture of the museum, the artist installs an industrial container, like a womb or an athanor (the oven of the alchemist), unfolding and defining her own territory. Visually, the various works displayed at Macro Museum oscillate between kaleidoscopic and hypnotic geometry and oversized expressive self-portraits. Primary matters, nature and the body of the artist turns into vectors of artistic expression: it's an integrative process where concepts, thoughts and emotions blend and resonate in various ways, reaching a point of incandescence where a new state of mind is created, reborn and purified…"

PRESS ENQUIRIES
MACRO Press Office
Patrizia Morici / Ph. +39 06 82 07 73 71 / M. +39 348 54 86 548 / p.morici@zetema.it
PDG Arte Communications Press Office
Ph. +39 041 5264546 / pressoffice@artecommunications.com
PUBLIC ENQUIRIES
MACRO
via Nizza 138, Roma
Opening hours: Tuesday to Sunday 10.30 am to 7.30 pm (ticket office closes one hour earlier)
Closed on Mondays
Tickets MACRO via Nizza
Full rate: non residents € 13.50, residents € 12.50
Reduced rate: non residents € 11.50, residents € 10.50
Combined tickets MACRO via Nizza + MACRO Testaccio
Full rate: non residents € 14.50, residents € 13.50
Reduced rate: non residents € 12.50, residents € 11.50
Information about eligibility for reduced rates: www.museomacro.org
INFO: 060608
www.museomacro.org
Follow MACRO – Contemporary Art Museum Rome on Facebook & Twitter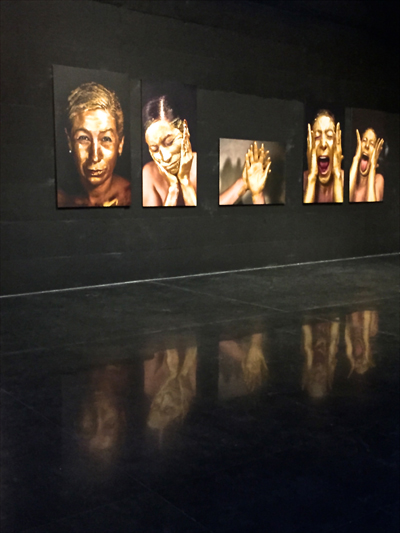 View of the installation MACRO Foyer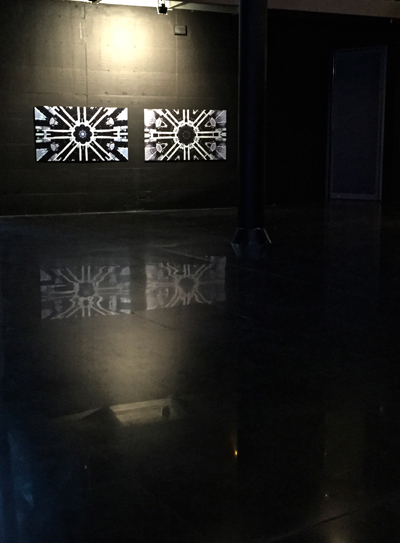 View of the installation MACRO Foyer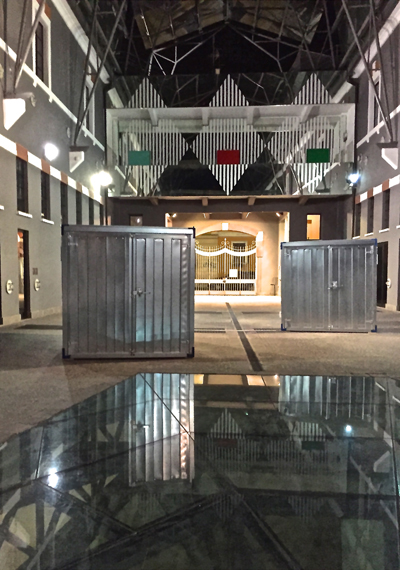 View of the installation MACRO Hall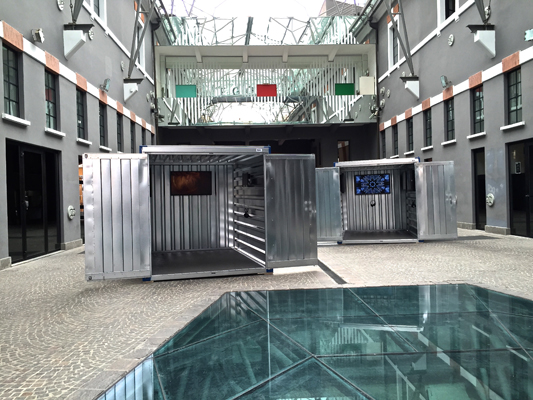 View of the installation MACRO HAll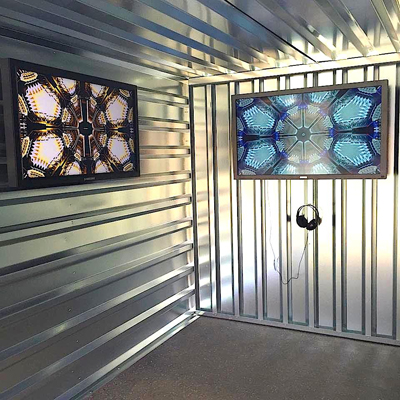 Detail of the installation MACRO HAll