Grecia - Marios Eleftheriadis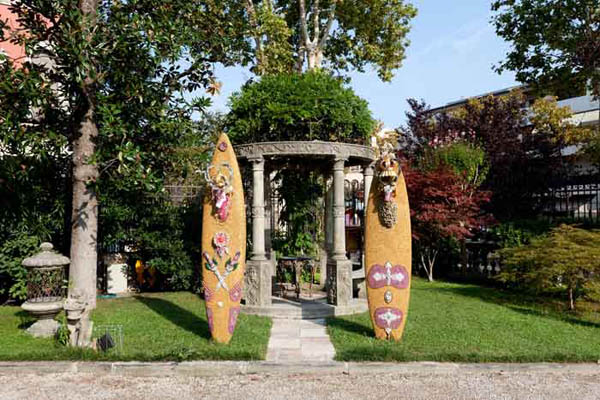 Ornamented sliding and slipping
It consists of an installation with two surfboards up against each other. The surfboards – typical means of liberated and liberating cruising – thrusted into the ground, still, vertical, erectus, therefore cancelling realistic travels and functioning as foundation of the conjectural action, seem to allusively pay their respects to the travel's "utopia" and almost be monuments of actions of absolute freedom, which means actions with no motive.
Marios Eleftheriadis' surfboards flirt with – using tricks of recalling the eccentric and unconventional memory – the surrealistic tradition of the objets de curiosité while at the same time they carry "erotic" verbal declarations in the framework of the amore-odio opposition. A stylistic attempt of boisterous opera, or hedonistic requiem, rather peculiarly gloomy despite the glamorous atmosphere – or perhaps due to that atmosphere – generated by the gleam of gold, of the pearls, the beads, the crystals, the sequins, the ambers...
The optical fiction created by Marios Eleftheriadis is lavishly and generously offered to designating allegories that classify systems of thought on beauty, power and its trophies, wealth and its simulation, ornamentation and transvestism, worship and its ritual… love eventually, but also the risk of transmuting an intercourse into a pervert love making.
A maniera of extreme diligence and care, but also a "funeral" of High and Low at the same time, in order to fulfill the metaphysical covenant that everything is eventually correct, despite the re-formulation, the re-arrangement and re-setting of the items or the expositions, the attacks and compositions of selected materials, that bring the poetic element of farce in the spotlight by being reused.
An installation with two surfboards up against each other, outdoors and not in an enclosed protected art room gives the whole topic a moral advantage in the dynamic of being exhibited, to assert the opposition and contrast between elements of "power" with a particularly pert and extremely profound rhetoric on ornamentation and excessive elegance.
A peculiar sculptural composition that constitutes both an artistic and cultural proposition, making an acknowledging comment on the symbols of the deeply sinful and thus guiltful culture of the West.
Text by
Thalea Stefanidou