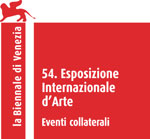 Artist from Hong Kong – "Frogtopia.Kongkornucopia"

Collateral Event of the 54th International Art Exhibition – la Biennale di Venezia

The Hong Kong Arts Development Council (ADC) will present the exhibition "Frogtopia.Hongkornucopia" at the 54th International Art Exhibition la Biennale di Venezia featuring the works of local artist Kwok Mang-ho (a.k.a Frog King) under the curatorship of Benny Chia, Tsang Tak-ping and Wong Shun-kit in association with Hong Kong Fringe Club.
This is the sixth time for the ADC to present the works of Hong Kong visual artists in an international arts arena, with an aim to enhance exchange and communication between Hong Kong and other countries in the world.
"Frogtopia.Hongkornucopia" uses "frog" as a symbol signifying the unique artistic style of Frog King. Through a countless number of mixed-media art works, Frog King intends to transform the whole exhibition space into "Frogtopia", a space "taken over" by the artist with "a forest" of expending installation pieces. This inexhaustibility is in fact obviously tied in with another made-up word in the exhibition titled "Hongkornucopia", which originates from "cornucopia", a magical goat's horn with an inexhaustible store of fruits and grains coming out of it.
The exhibition will be mainly divided into four sections: "9 Million+", "Frog's Nest", "Yum-Dimension Installation" and "Frog-Fun-Lum Piazza". In "9 Million+", a vast number of Frog King's calligraphy, collage, painting, photography, sculpture and video mixed-media works of art – both past and present – will be shown on screens embedded in the walls and columns. "Frog's Nest" is a space resembling the artist's own home, which is full of mementoes and symbols of his life. "Yum-Dimension Installation" is a jungle-like installation illustrating Frog King's multi-dimensional spatial orientation, which directs the audience to experience the "Yum-Dimension" of space. "Frog-Fun-Lum Piazza" will be the stage of Frog King's performance art where a festive atmosphere prevails as the artist shares the joy of artistic creation.
Frog King will also make daily forays into various parts of the city to work on his "Froggy Sunglasses Photography Project", a signature piece of his art for more than 20 years. This is known as the One Second Performance and One Second Body Installation, during which the audience undergoes an instant character transformation to become part of the artwork, and experiences a genuine frisson of excitement in artistic creation.

The ADC has taken part in the Biennale in the name of Hong Kong, China since 2001. The total number of visitors of the past five exhibitions has been on the rise and exceeded 330,000.
This year, the exhibition is situated at a prime location adjacent to the main exhibition area – Arsenale, Campo della Tana, Castello 2126 - 30122 Venezia. It opens from 10:00 to 18:00, 4 June – 27 November 2011 (close on Monday except 6 June, 15 August and 21 November).
For project details including curator's statement, artists' brief and images, please download at: http://www.venicebiennale.hk/vbftp2011/vb2011.zip

Hong Kong Arts Development Council
Established in 1995, the Hong Kong Arts Development Council (ADC) is a statutory body set up by the Government to plan, promote and support the broad development of the arts including literary arts, performing arts, visual arts as well as film and media arts in Hong Kong. Aiming to foster a thriving arts environment and enhancing the quality of life of the public, the ADC is also committed to facilitating community-wide participation in the arts and arts education, encouraging arts criticism, raising the standard of arts administration and strengthening the work on policy research.
---