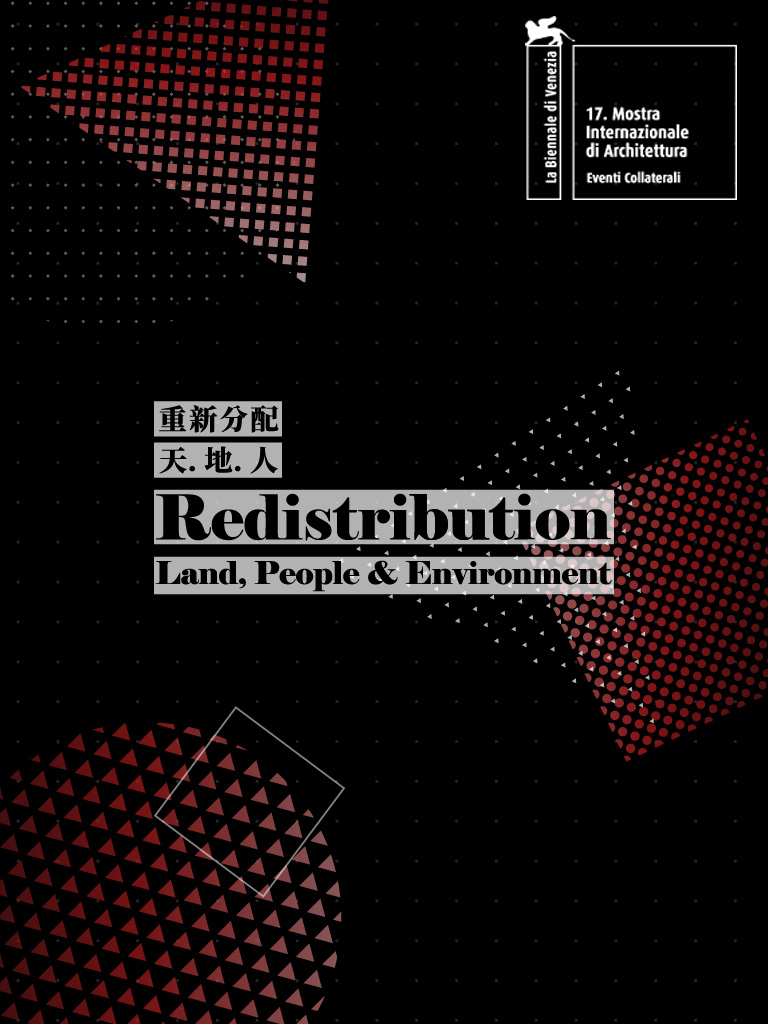 Redistribution: Land, People and Environment
重新分配: 天、地、人
Collateral Event of the 17th International Architecture Exhibition – La Biennale di Venezia
Optional online booking below or at "book your visit" in the menu section.
At the entrance show the e-mail with the confirmation of reservation or the ID code.
In line with the hygienic-sanitary protocols envisaged for cultural activities, it is recommended to show up at the entrance equipped with masks, to wear them during the visit and to keep a safe distance from other visitors.
The Hong Kong Institute of Architects Biennale Foundation (HKIABF) and Hong Kong Arts Development Council (HKADC) jointly organise the exhibition titled "Redistribution: Land, People and Environment" (重新分配: 天、地、人) to participate in the 17th International Architecture Exhibition - La Biennale di Venezia under the support of Create Hong Kong (CreateHK) of the Government of the Hong Kong Special Administrative Region (HKSAR).
The Organisers are pleased to announce that Professor Donald CHOI (Chief Curator), Mr. Paul MUI (Co-curator), Mr. Benny LEE (Co-curator), Ms. Agnes Hung (Co-curator), Mr. Ka-Sing YU (Co-curator) and Dr. Ho Yin LEE (Co-curator) have been appointed as curators of the exhibition following a public call for proposals. In response to the theme titled " How will we live together?" of Biennale Architettura 2021, the Curatorial Team has developed concepts for the exhibition.
INTRODUCTION OF EXHIBITION
Redistribution: Land, People and Environment
Our curatorial team has selected "Redistribution: Land, People, and Environment" as the theme for the Hong Kong Collateral Event at the Biennale Architettura 2021. Exhibitors are requested to propose innovative ideas on the redistribution of the three critical resources to enhance Hong Kong liveability where they are to propose creative solutions on how we can live together harmoniously by designing caring architecture, constructing people-centric urbanism, and respecting the environment, both built and natural. The curatorial process encourages the exhibitors to work collaboratively as team with members from the status quo/ corporation/ large establishment, young architect/ entrepreneur designer/ artist, and researcher/ academics/ NGO. The required working methodology from such collaborative process intensify the exhibitors' search and understanding about the meaning of working and living together.
The exhibitors are requested to address various Hong Kong challenges as well as opportunities which they would showcase their thoughts on how to utilise the available land resources and its potential redistribution within the Greater Bay Area network cities to improve liveability, the aging Hong Kong population and possible global talent migration and redistribution to Hong Kong resulting in diversity and HK's improved competitiveness, and last but not least, how to make use of technology and take advantage of Hong Kong as a high-density compact vertical city to lead in sustainable development, reduce the city carbon footprint, and redistribute the environmental impact for sustainability and urban wellness. The exhibitors are asked to suggest ways to shape a better future for Hong Kong through a responsible redistribution of critical resources and accountable social institutions.
"Redistribution: Land, People and Environment"
in the 17th International Architecture Exhibition of La Biennale di Venezia

Date

22 May – 21 November 2021 (Open to public)

Venue

Campo della Tana, Castello 2126-30122 Venice, Italy

(opposite the main entrance of Arsenale)
ABOUT ORGANISERS
The Hong Kong Institute of Architects Biennale Foundation www.hkia.net
Hong Kong Arts Development Council www.hkadc.org.hk
ABOUT CHIEF CURATOR
Mr. Donald CHOI
Mr. Donald Choi works globally as architect and developer for over 30 years and is familiar with both public and private projects. Currently, he is the Chief Executive Officer of Chinachem Group. Before, he was the Managing Director of Nan Fung Group, Director of Foster and Partners, and the Authorized Person (Architect) for the Hong Kong International Airport Passenger Terminal (HKIA Silver Medal Winner ) and many infrastructure projects at Chek Lap Kok. The airport was awarded the Top Ten Construction Projects in the World and has won numerous awards including the Best Airport in the World since opening in 1998.
CO-CURATOR
Paul MUI
Paul is an Architect registered in the UK and HK. He graduated from the HKU with 1st Class Honors, Dean's List and AIA Scholastic Award then from the AA in London with a High Pass in technical thesis. Paul has 15 years of local and overseas professional experience with expertise in complex geometries and BIM execution in mega scale projects. His co-founded design group BREADstudio has won over 25 international competition awards which include the 1st prize in HKBCF Design Competition and the recent 1st prize in the Gateway Design Competition for Victoria Park.
Benny LEE
Benny is a UK registered architect, graduated with a first class honoured degree in architecture from the University of Hong Kong with a top year prize in design, before completing the post graduate degree from the Bartlett School of Built Environment, University College of London. Benny's thesis design was commented to possess 'Exceptional Aspiration' by Lord Norman Foster. Before founding BREADstudio, Benny has over 10 years of experience working in renowned international practices, such as Senior Associate and Head of Design Communication at Ronald Lu & Partners, Foster+ Partners and Arup Associates. At BREAD, including the most recent Perspective's 40 under 40 architects award, Benny has won over 25 international open competitions.
Agnes HUNG
With over 15 years of professional experience in Architecture, Agnes has gained an extensive experiences through feasibility study, concept design to project completion in UK, HK, Macau and China. She practiced in KPF London and Chartered with RIBA/ARB prior to returning to HK in 2009. Prior to joining Inhabit Group as a Facade Specialist, Agnes has gained a vast experience in Architectural design through the years of experience as an Architect, to be able to work in excellence, she has also chartered with HKIA in 2016. With her passion in design, Agnes also likes to participate in design competitions where she can keep nurturing her ideas, and throughout the years, she has been getting numerous international competition awards where her design get recognized by the general public and professional jurors.
Ka-Sing YU
Ka-Sing Yu, a Registered Architect and Authorised Person, has previously worked as an architect at Ronald Lu & Partners (Hong Kong), a leading architectural practice in Hong Kong. In 2011, upon his graduation with Distinction to his MSc (Conservation) degree from The University of Hong Kong, he focused his professional practice in the field of architectural conservation through the consultancy he founded, Substance Lab Limited (SLAB, establishedin2010). In 2017, he was recruited by The University of Hong Kong, and appointed the first Assistant Professor of Practice in the Division of Architectural Conservation Programmes (ACP), and assuming the Directorship of ACP's undergraduate programmes (the BA (Conservation) programme and the ACP Common Core Courses).
Dr. Ho Yin LEE
Dr. Lee Ho Yin ("Hoyin") is a co-founder and the longest serving Director of the Architectural Conservation Programmes. In 2015, the unit was elevated to a Division, and he became the founding Head of the Division. Before joining HKU in 2000, he was an Associate Director of an architectural practice in Hong Kong. A well-published academic and an experienced practitioner in built-heritage conservation, he has been appointed by government agencies in Hong Kong, Mainland China and overseas as an advisor or a consultant for conservation projects, including the identification of Singapore's first UNESCO World Heritage Site. He is a former member of the Antiquities Advisory Board, Founding Vice-President of The Hong Kong Institute of Architectural Conservationists, Associate Member of The Hong Kong Institute of Architects, and Honorary Affiliate Member of the American Institute of Architects (Hong Kong Chapter).
ACKNOWLEDGEMENTS
Organisers: The Hong Kong Institute of Architects Biennale Foundation | Hong Kong Arts Development Council
Coordinator in Venice: PDG Arte Communications
LEAD SUPPORT:
Create Hong Kong of the Government of the Hong Kong Special Administrative Region
For general administrative matters, please contact the Organiser:
Hong Kong Institute of Architects Secretariat Ms. Jutta WONG
Email: vb2020@hkia.net
Tel: (852) 2511 6323 (general) / (852) 2805 7335 (direct)
For curatorial matters, please contact Curatorial Team:
Curatorial Contact Person Mr. Benny LEE
Email: vb2020_curator@hkia.net
Tel: (852) 9100 9139
---