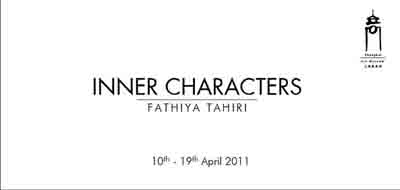 Fathiya Tahiri exhibits at theShanghai Art Museum
INNER CHARACTERS
curated by Paolo De Grandis
10 - 19 April 2011
After her successful visit to the Venice Biennale in 2009, Fathiya Tahiri represents Morocco in another country and exhibits a new collection of her masterpieces at Shanghai Art Museum, China.
Creations by Fathiya Tahiri, sculptures and paintings, represent an unflinching exploration of shapes, lines, and materials, and combine modern, pure elements, with archaic and precious components.
Her expressiveness, intuition and inventiveness, leave no one indifferent, they instigate admiration and emotion, her perseverance and hard work in shaping material, join the color sensation particular to painters and give birth to exceptional works, animated with vibrations, lights and emotions, which will be featured in SHANGHAI at the exhibition INNER CHARACTERS.
The art criticAchille Bonito Oliva said «Fathiya Tahiri works through a multiplication of a standardized element, the thing, which is spread in the forms of dome, constellation or galaxy. The artist's gaze takes on a far-seeing and distance sensing strength, as well as the ability to observe the work in close-up, as with a microscope. This confirms the Aristotelian process towards knowledge, the tendency to represent the particular probing of form which penetrates matter and extracts its essence. Here the essence is represented by the multiple evidence of a standardised element that seems to spread ad infinitum following a circular rhythm which threatens the edges of the picture, allowing us to suspect that it continues outside the physical limits of the world. At other times the meticulous sequencing of the point of departure is extended in number, alluding to a close relationship with parts of the body. it is almost as though every essence were condensed through the painting process into tangible forms that embody the suspicion of life and its opposite, the organic origin of things and the viruses that threaten it.
The value of the design medium indubitably assumes a decisive weight in Fathiya Tahiri's linguistic strategy, as harbinger of particular articulations of matter conceived by the artist. Modularity becomes the basic structural element that enables the artist to play with the form in a complex sequence, infinitely multiplying its geometrical development"
About Fathiya Tahiri
Fathiya Tahiri was born in 1959 in Rabat, the capital of the Kingdom of Morocco. Coming from an old family of Fes, she spends her childhood between Rabat and Casablanca. Her first artistic works date back to her early childhood; she sculpts shapes out of everything she finds, candles, clay, soil, fabrics… Her first drawing works date back to when she was 15 years old, which is when her architect vocation takes shape. At the age of 18, she leaves for France where she pursues her studies at the Paris School of Architecture (Ecole Spéciale d'Architecture). These few years spent in the city of light, allow her artwork to gain maturity.
In 1986, she opens her architectural firm in Rabat and carries out a number of grand projects in several Moroccan cities, and simultaneously creates furniture art pieces which she exhibits at the Mohamed V theater in Rabat and Casablanca. She then, expresses her art in the details of her architecture.
In 2002, Fathiya Tahiri is invited to exhibit her SCULPTURES PER IL CORPO at the Correr Museum - of Venice in the "Napoleonean Wing". She then exhibits her silver sculptures at the OPEN Arte & Cinema "Film Festival" of Venice in 2003 and in 2004 her first painting works at the Parisian gallery Artcurial and a monumental sculpture at Mostra of Venice.
In 2005 then in 2009, Fathiya Tahiri represents Morocco at the Biennale of Venice. She chooses as exhibition place the Church Chiesa S.Maria della Pietà.