ITALY - ANDREA FINCATO, GIULIO ESCALONA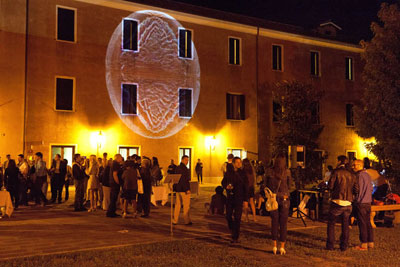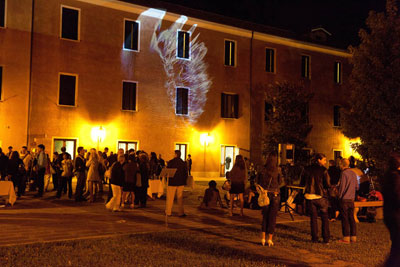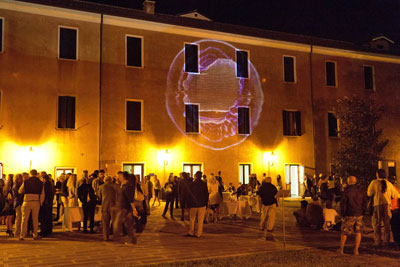 Real and synthesised sounds are mixed and presented to the public through the movements of two performers and a projection: Andrea Fincato and Giulio Escalona present a live sound sculpture for two, conceived especially for the environment of the Island of San Servolo and created during the opening evening of OPEN 13 using two computers, environmental recordings, a selection of instruments obtained with the circuit bending technique, which includes oscillators and toys dismantled and reassembled to suit the needs of the two performers, while a video is projected against the buildings showing dancing luminous and coloured visual shapes.
The performance starts off with a soundscape of natural sounds, conceived and executed by Andrea Fincato. To this background are gradually added electronic sounds, conceived and executed by Giulio Escalona, transformed into a basic track that becomes entirely electronic, then returns to two lines of natural sounds, that dialogue and blend together. The sound loop thus closes, as it began, with audio images of the natural world, returning the audience to the real sights and sounds of the island's gardens and the surrounding water scenery.
The fluid abstract images in blue, green and white, generated from the sounds using software and projected on the façades, intensify the experience produced by the audio track.
Natural and electronic sounds retrace the dualism of nature and technology: attraction and rejection, collaboration and oppression. The sound sculpture assumes a unique and unrepeatable form, just as the environmental sounds, the places and the audience from which it is generated are unique.
Andrea Fincato aka F.ink, has created an ethereal but well defined sound landscape, combined in this work with electronic contamination by Giulio Escalona.
The collaboration between the two artists has been made possible by the common practice of seeking new sound effects and reciprocal contaminations carried out by the Paduan group Abusers who, in three years of activity, have organised various art video events with the composition of electronic music and have participated in important electronic music festivals: Venice-Europe, Nu-Fest, Me[s]tropolitan, Venetian Industries Festival, ElectrowaveTronica Music Festival.
Text by Gloria Vallese