Italy - CASAGRANDE & RECALCATI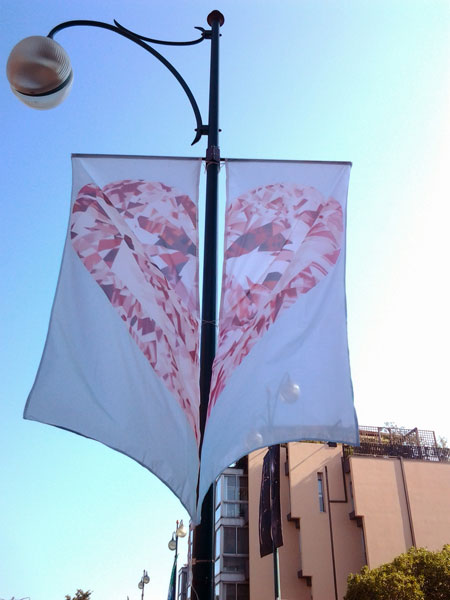 The seduction of beautiful flags
I discovered the joyful creativity of Sandra and Roberto in the mid Eighties, at School, during the lessons on "History of Criticism", a dreamy hermeneutic subject that gave us the opportunity to embark on long, free imaginary journeys into the depths of space and time. The writer who introduced us was Baudelaire and his city of flâneurs.
They are both rather anarchic free children of the revolution of 1968; they love to experiment with the subtle art of relating the inexhaustible, happy complexity of the human condition, delving into its deepest folds, into the invisible dark shadows of everyday reality. They use the hyper-realistic pop technique of out-of-scale, zoom and blow-up, just to penetrate with forever renewed amazement - for instance - in the gentle inner space of a flower (their Master and our great mutual friend, Vittorio Locatelli, had always enchanted us by exploring the world of a tulip...).
Their sensitive and refined eye loves to observe closely the elegant and harmonious movement of "limit animals" that seem to be jokes played by the Creator, such as flamingos with their slender tapered legs, long necks and contorted beaks, protagonists, ten years ago, of the grand "aviary" of the Caffé delle Logge in Prato. They dance lightly, tracing orbits without edges in the invisible element Air. It is a keen eye that gladly loses itself with enchantment in the smooth whirls of colour of gigantic flowers (as in their latest exhibition at MyOwnGallery in Milan). Or again, that finds its congenial environment in the dimension of a huge floating city in constant movement, ploughing through the unstable liquid expanse of the element Water (and then it becomes a gentle narrative art on board the great ships of Costa Cruises). Or lastly (as here in Venice), Sandra and Roberto entrust their refined design of an intangible jewel - heart 2 heart - to the beautiful flags fluttering in the air, to present their enthralling message of love.
Text by Marco Dezzi Bardeschi