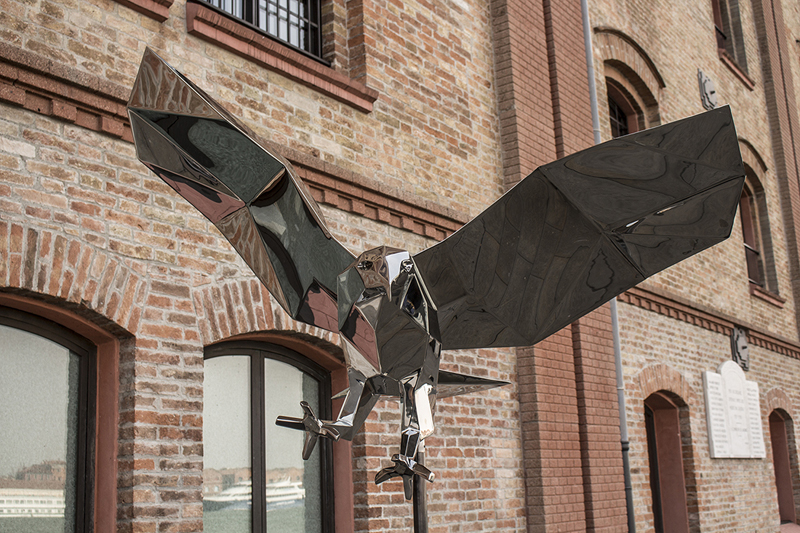 Daniele Basso
Italia • Italy
Mirror-like steel, with a sure and strong visual impact, juxtaposed to poetry and profound interior conceptuality... and the force of the material becomes an exaltation of the spirit of Basso's works, reflecting the world that surrounds them and the ego of the spectators, who unwittingly become a part of the work itself.
Here in Achill the poet sculptor tells the life of this bird of prey of Celtic mythology which, "noble and powerful, soars lightly in the air. It possesses the sky. High above reality... a guide to love for man and his nature. It acts as a means of communication with the spiritual world and becomes a symbol of its illumination, creativity, truth and experience...''.
Basso embraces this form of life, appreciating also its ability to view the vastness of the landscape that it looks down on, the vastness of the world and, at the same time, the ability to observe and appreciate every detail, every particular.
The subjects he depicts, like Achill here, have a dual soul, not understood as an interior and psychologically disturbed duality with respect to the outside world, but as the ability to live on its own spirituality and to exist, and wisely to adopt also the nuances of the "rest"... Sovereign Nature and the human race become joint protagonists of his artistic expressions, able to be renewed at any moment, yet maintaining their memory.
Lightly Achill soars over the environment and lands in the Lagoon as a symbol of Art's constructive violence, able to transform the nature of the delicate Lagoon, strengthening it with force and sureness, watching over it...
Serena Mormino, Curator