Italy - STEFANO FIORESI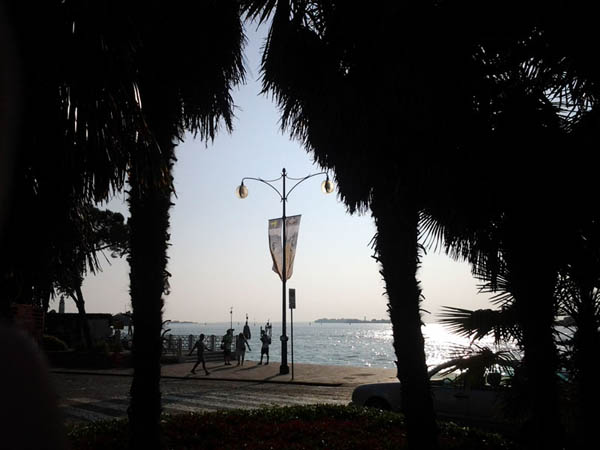 Homo viator
I had defined the Modenese artist Stefano Fioresi as the modern version of the Nineteenth Century flâneur, who strolls along the streets and pavements of metropolitan cities drawing on the existing symbolic and communicative reserve in order to shape his own contemporary art study. A frenetic, erratic and curious flâneur, who wanders through the city with no fixed itinerary of streets, yet who is able to draw sense and meaning from his own tracks.
After walking the 800 km of the Way of Saint James, the artist literally donned the ancient vestments of the homo viator, the figure of the mediaeval pilgrim who travelled on foot, from city to city and town to town, heading towards the destination, gaining knowledge of information, and distant ways and customs.
The motive for the pilgrimage is expressed by Fioresi, in the central part of the banners for OPEN 16, reproducing two pictorial works that interpret the Way of Saint James: two pairs of wayfarers are portrayed moving along a path painted in golden tones, in contrast with the black and white background of the collage, to emphasise the preciousness, beauty and uniqueness of this mystical, illuminating experience.
The status of pilgrim necessarily brings with it symbols that are visualised in the photographic cuttings of the upper part of the banners. Most importantly, there is the seashell, sign of life, rebirth and purification, and a clear reference to the condition of pilgrims who sewed them onto their clothes and hats - and still seen nowadays on the rucksacks of modern pilgrims - as testimony of having completed the Way as far as Finisterre, where this type of shell could be found on the beach. They are also called "cappesante", or "holy scallops" in Italian, since they were food that the pilgrims would eat on the Galician coasts, keeping the shell as a souvenir.
Another symbol picked out is the faithful travelling companion, the Flecha Amarilla (yellow arrow) which shows the way to Santiago di Compostela and Finisterre. It was first drawn by Don Elías Valiña, parish priest of Cebreiro, in 1984 with yellow paint left over from road works. The Flecha Amarilla, set vertical, is traced out by hand by Fioresi in the lower part of the banner, to unify the pictorial work and the photographic tiles below which reproduce the textures of various paths and gravel photographed by the pilgrim artist along his route. These yellow arrows are an implicit reference to the road markings which make up the artist's usual image gallery, to reconnect this design piece within his entire poetic creation, in a short circuit of literal and poetic references on the theme of travelling and roving.
Text by Chiara Canali