Lettonia
Latvia Pavilion at the 53rd International Art Exhibition - La Biennale di VeneziaTitle of exposition: "Fragile Nature"Artists: Evelīna Deičmane e Miks Mitrēvics
Open to the public: 7 June – 22 November 2009; opening hours 10.00 am – 6.00 pm; closed on Mondays Venue: Spazio Ferrari, Calle Castelli, Cannaregio 6096/A, 30121 Venice
Key aspects of the exhibition
The exposition is featuring two separated mixed media installations by artists Evelīna Deičmane and Miks Mitrēvics. Their works, presented in the first-person narrative, are not based upon something preconceived, but upon their own experience.
Fragile Nature by Miks Mitrēvics
Miks Mitrēvics' installation is composed of various scenes in miniature, exploring manifold manifestations and perceptions of the sun. Its warmth and light is viewed as a source of emotions, associations and energy which is essential to implement a range of transformations in the nature. The scenes staged by the artist appear fragile and sketchy.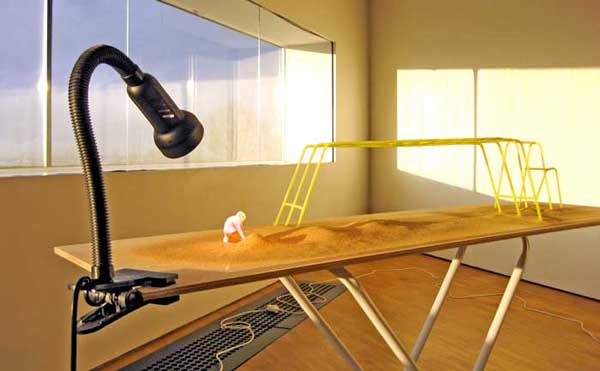 Season Sorrow by Evelīna Deičmane
Evelīna Deičmane presents a work which provides the viewer with great deal of questions. She is researching the process of surviving the winter and the amount of human energy necessary to deal with the coldness. It is hard to distinguish which is the most important element - idea, sound, personal stories or emotions. Some invisible motor that is aided by gear-wheels spins these notions, thus creating the specific visual meaning of her work.

Information about artists
In recent years, Evelīna Deičmane and Miks Mitrēvics have frequently attracted attention at international events such as the, the exhibition Manifesta 7 in Rovereto Buket at NCCA in Moscow and 15th Biennale of Sydney. They both succeed in activating a versatile repertoire which transforms their ideas into convincing and suggestive images .Evelīna Deičmane (1978) lives and works in Riga, Latvia and Berlin, Germany. Her major fields of work aresound, video, photography and multimedia installations. In 2005 she had a solo exhibition Breathing Prohibited in Riga. Since 2003 Evelīna is participating in various international group shows.Miks Mitrēvics (1980) lives and works in Riga, Latvia. His majorfields of work are photography, video, sound and multimedia installations. Since 2003 he has organized solo exhibitions and participated in various international group shows. Miks has received several art awards, including Swedbank Art Award, Estonia (2008), East2East Commission, England (2006) and UNESCO-Aschberg Bursary, Austria (2006).Commissioner and curator: Līga MarcinkevičaCo-curator: Norbert WeberOrganizer: Society "Biennāle-2005"Supported by: Ministry of Culture of the Republic of Latvia, Culture Capital Foundation of LatviaCoordinator in Venice: Arte CommunicationsContact for press inquiries: jana.kukaine@gmail.com; zliga@yahoo.com; pressoffice@artecommunications.comURL: www.biennale.lv