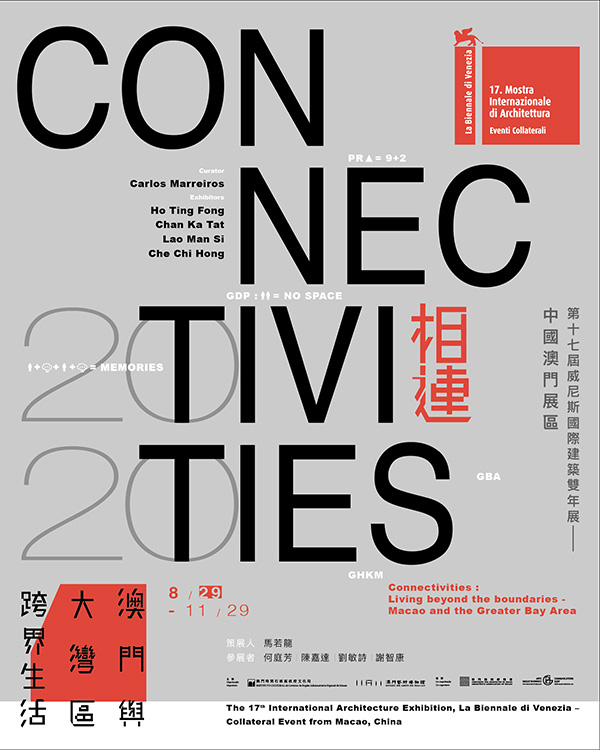 Connectivities: Living beyond the boundaries - Macao and the Greater Bay Area
Promoter: The Macao Museum of Art | mam.gov.mo
Participating exhibitors: Ka Tat Chan, Chi Hong Che, Ting Fong Ho, Man Si Lao
Curator: Carlos Marreiros
Commissioner: Paolo De Grandis
Coordinator: Carlotta Scarpa, PDG Arte Communications
Venue: Arsenale, Campo della Tana, Castello 2126/A (opposite the Biennale entrance)
Opening period: 22/05/ - 21/11/2021
Optional online booking below or at "book your visit" in the menu section.
At the entrance show the e-mail with the confirmation of reservation or the ID code.
In line with the hygienic-sanitary protocols envisaged for cultural activities, it is recommended to show up at the entrance equipped with masks, to wear them during the visit and to keep a safe distance from other visitors.
The small city of Macao in immense China shows traces of the fusion of cultures in terms of architectural-urban level, peoples, ways of life, folklores, religions, gastronomies, literatures, etc. Currently, Macao faces several challenges, including its integration into the Greater Bay Area (GBA) of Guangdong-Hong Kong-Macao (GHKM).
It is, therefore, in the connectivities among the domains mentioned above, at various levels, in space and time – where architecture and urbanism are a pretext to reflect on the community and the individual's life, its collective memories, future demographics, shared spaces and architectural archetypes but, most importantly, what we want for our daily lives.
Ka Tat Chan and Chi Hong Che explore the idea of connectivity that has developed ways of re-adapting architectures of various origins within the traditional architecture of southern China, practiced in this region and in Macao, since ancient times to the present day, through old archetypes to be re-interpreted into a contemporary manner.
Ting Fong Ho suggests a comprehensive tour around the urban development of Macao. He believes that with the concentration, requalification and development of urban construction in the northern zone of the Peninsula of Macao, in conjunction with all the main infrastructures, local and regional, integrated in the strategy of the Greater Bay Area of ​​Guangdong-Hong Kong-Macao, built and currently under construction, will free and preserve the old city's urban fabric and its historic centre.
Man Si Lao proposes fragments of collective memories that are expressed in strips of floating cloth. The breeze draws gestures in the air with those strips of cloth that connect us to urban experiences, livings, heritage and landscapes.
Connectivities take a hold of us, going into the future so that at a glance they can return to the past and persist in the present in the form of architecture, urbanism, exchanges of sensitivities and individual and shared experiences. Will we live together? Certainly.
---