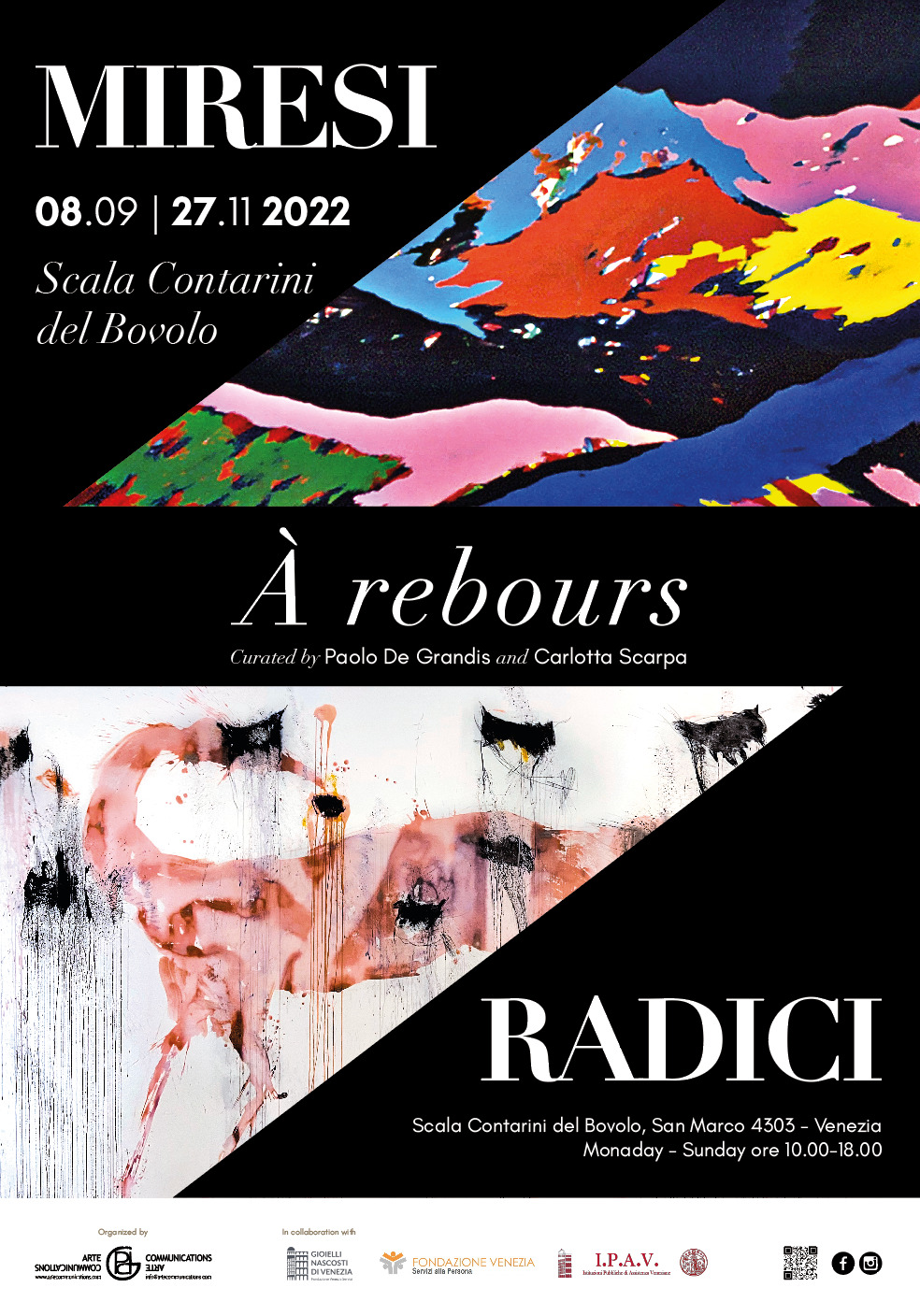 MIRESI I RADICI À rebours
Scala Contarini del Bovolo
8 September - 27 November
Opening hours: daily, 10 a.m. to 6 p.m.
After five years, Miresi and Maurizio Radici return to Venice with the exhibition À rebours, a four-hands project in the exhibition rooms of the monumental complex of the Scala Contarini del Bovolo.
Curated by Paolo De Grandis and Carlotta Scarpa, organized by PDG Arte Communications, the exhibition takes its cue from the translation of the title as "backwards" and "against the flow". And it is precisely on this ambivalence that the exhibition path is built, confronting Miresi's and Radici's works which are poised between dark but strongly suggestive figurative choices, and going as far as abstract experiments where the colours explode in all their vigour.
Miresi's and Radici's works dialogue by assonance and contrast with the intention of creating a narrative that can offer a new key to their vast artistic production. If in the Tintoretto room the works overlap with different thematic and stylistic choices, in the second room Maurizio Radici drew direct inspiration from Miresi's colours to create a cycle of site-specific works in perfect harmony with them.
Miresi retraces a hypothetical journey in retrospect, whether captured by a temporal peculiarity or by the presence of the artist's memory, which gives memories a state of immanence. The narrative and thematic choice is divided into two threads, the first follows the figurative beginnings between the 1980s and 1990s with the Auditorium cycle. In these works, the details of an eye or an ear emerge until a delicate child's profile is defined, where the pictorial surface from time to time experiences a tonal mobility causing the forms to oscillate between curvilinear sweeps and more severe graphic elements. Standing at the centre of the exhibition is the imposing Inquisition triptych, a historical work that the artist has revisited several times, but which always appears as a mirror of burning topicality. This painting has been executed in7 variants from 1993 to the present day.
The second thread acts as a counterpoint to the S/ Landscape series characterised by an abstract stylistic rendering where colours burst onto the canvas in both stylised and informally derived forms. In particular, the monumental painting S/Landscape xyz depicts a view of a mountain, but set in a fixed time where the colour seems to float on the canvas in an expressive tension deliberately dilated by the imposing dimensions of the painting as if the artist wanted to give it an unlimited spatial connotation.
Instead, the artistic philosophy of Maurizio Radici is nourished by figures, animals, signs, primordial shadows, matrices of images generated by still colour or by sudden flashes that the artist ignites through the vigorous use of brushstrokes. And it is precisely in this continuous narration that, in the act of painting, Radici rediscovers certain semantic codes in which myth, dream and present time are combined and together open up to an infinite series of questions. Radici's canvases stimulate the eye through mythological figures where signs and symbols, sometimes animated by a very rapid graphism, become the caesuras within which he treats his invisible worlds.
He has a way of making art that goes against the flow: he investigates the human figure captured in energetic compositions that tend towards abstract and swirling expressions, instead he fixes the representation of animals in a formal stasis and interrogates myth and memory as a fact to be traversed. In Maurizio Radici's pictorial narrative, we can grasp a marvellous blend of philosophical, religious and moral insights that give voice to our human anxieties.
Miresi lives and works between Garda and Berlin. His artistic activity took shape and methodological continuity in the early 1980s, at the time of the resurgence of aniconic painting culture. In particular around the group of new abstract painters followed by Giorgio Cortenova, who, through their works, traces a panorama of young abstraction, against the flow in those years of triumphant figurativeness. And Miresi immediately came to the fore as a protagonist of the new research that rejected post-modern theories. In this context, he also exhibited at the 11th Quadriennale in Rome (1986), curated by Giuseppe Gatt. From the second half of the 1990s, the artist began to work and live in Berlin. Since this period, his art has been directed towards iconic themes within which his language expands in a tight space-surface dialectic; an issue that began with his abstract experiences and today finds within it the revelation of the image of everyday forms that can be identified through photography in the continuous relationship of signs with painting. Since 2010, Miresi has been developing his passion for photography in a mix with painting, working increasingly on the attempt to identify a new contemporary icon in the use of different media. Miresi has exhibited in many Italian and European state galleries and museums. These include: Les Chances de l'Art, Bolzano (1994); Investitions Bank Berlin, Berlin (1998); WFP, Berlin (1998); Maria Skelling Gallery, Copenhagen (2010); ACIT, Palazzo Albrizzi, Venice (2014); OPEN 17, International Exhibition of Sculptures and installations, Island of San Servolo, Venice (2014); Deutsch-Russisches Museum, Berlin-Karlshorst (2015); Kunstdetektor Ateliertouren, Berlin (2016); OPEN 20, International Exhibition of Sculptures and installations, Venice (2017); XVI International Architecture Exhibition, Venice Arsenal (2018); Glances and Architectures, Galleria d'Arte Moderna and Musei Capitolini alla Centrale Montemartini, Rome (2020).
Maurizio Radici was born in Palazzolo sull'Oglio in 1958. He graduated in graphics and architecture and in the 1980s attended the Academy of Carrara and Fine Arts in Bergamo, having the opportunity to be mentored by well-known Italian masters, including Italo Ghilardi. From childhood, he experienced a climate that was particularly attentive to art and painting techniques, and certainly his father, who was a very successful colour chemist, passed on his knowledge of the subject to his son in its most specific and sophisticated aspects. Radici is an artist who has made painting his full-time job. From an early age, he devoted himself to painting and sculpture and gained experience in advertising graphics as an art director. He has held exhibitions in Italian and international museums and galleries: Todi, Venice, Milan, Stuttgart, New York, Bergamo, Rimini, Macerata, Ancona, Bologna, Brescia, Naples, Genoa, Cagliari, Venice, London, Amsterdam, Rome, Collinas, Gambettola (Cesena Forlì).
---