MONGOLIA PAVILION
57. International Art Exhibition - La Biennale di Venezia
LOST IN TNGRI (LOST IN HEAVEN)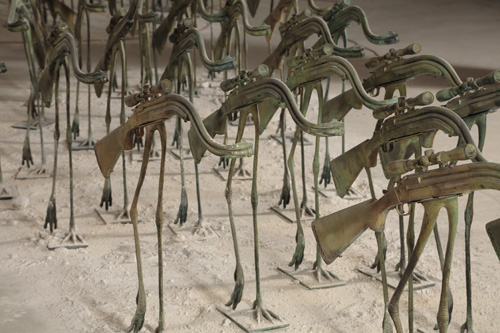 Participants: Chimeddorj Shagdarjav, Munkhbolor Ganbold, Enkhtaivan Ochirbat,
Bolortuvshin Jargalsaikhan, Davaajargal Tsaschikher
Commissioner: Munkh-Orgil Tsend, the Minister of Foreign Affairs
Curator: Dalkh-Ochir Yondonjunai
Organizer: Mongolian Contemporary Art Support Association
Project Director: Gantuya Badamgarav
Artistic Advisor: Tessa Jackson
Supporters: Ministry of Foreign Affairs, Ulaanbaatar City Government
Supporters in Venice: PDG Arte Communications, Valorizzazioni Culturali
Sponsors: MIAT - Mongolian Airlines, Xac Bank, Erel Group, Monnis Group, Max Group,
Shangri-La Ulaanbaatar LLC, Monre Insurance, Mahoney Liotta, Bats Urguu and other
private entities and individuals
Location: Istituto Santa Maria della Pietà, Castello 3701
Inauguration: 10.00am on May 11, 2017
Opening days: from May 13th to November 26th 2017, closed on Mondays (except May
15th, August 14th, September 4th, October 30th, and November 20th 2017)
After its' first ever appearance in 2015, Mongolia is taking part of the Venice Art Biennale again for the second time in 2017. Commissioned by Munkh-Orgil Tsend, Minister for Foreign Affairs of Mongolia, the National Pavilion of Mongolia presents the exhibition Lost in Tngri (Lost in Heaven), bringing together 5 artists, who explore the urgencies of Mongolian contemporary society.
The country is at a crossroads between its identity as a nomadic nation with an important history of Shamanism and Buddhism, and a new economic reality of globalization where the use of natural resources threatens its very existence. Traditions of herding across vast and beautiful terrains with a life connected to nature, ancestry and the spiritual world is seen as heaven by many. Economic opportunity created after the collapse of the socialist system in 1990, has opened the door to another type of heaven for many Mongolians. Mining, construction, cashmere and other businesses have boomed to create the wealth, through exploiting the lands of their ancestors. But is the country disappearing between these two biospheres?
Through film, installation, sculpture and sound, the artists from across generations, question Mongolia's future. The exhibition alludes to human nature and its effect upon society and the environment. While the context is uniquely Mongolian, the impacts are global and universal.