Morocco

Pavilion of Morocco at 53rd International Art Exhibition - La Biennale di Venezia

Open to the public: 7 June – 22 November 2009; opening hours 10.00 am – 6.00 pm; closed on Mondays
Venue: Chiesa Santa Maria della Pietà, Riva degli Schiavoni, Castello 3701, 30122 Venice
Artists: Fathiya Tahiri, Mahi Binebine
Curator: Paolo De Grandis
Commissioners: Dr. Mohiedine El Kadiri Boutchich, Consul General of Morocco in Milan;
Paolo De Grandis, Director of Musée Hassan - Rabat
Deputy Commissioner: Carlotta Scarpa
Organizer: Arte Communications (www.artecommunications.com)
Under the patronage of: Musée Hassan, Rabat
Web site: http://www.lemarocalabiennaledevenise.com/

Morocco, a crossroads of cultures and ideas, of goods and knowledge, a land rich in fascination and traditions, faithful over the centuries to a moderate form of Islam, in which the logic of reason and the light of faith coexist, is taking part in the Venice Biennale for the second time to present the contemporary artistic scene which has seen flourishing expressive development in recent years.

Today Moroccan art presents a lively and dynamic panorama both on the private and informal scene and at an official level, as is demonstrated by the foundation of the Musée Hassan, the new contemporary art centre in Rabat, which has been active since 2006 as an integral part of a programme of cultural renewal of the city and which aims to present internationally known artists, to promote local artists, and to collaborate with the main institutions operating in the sector.

Two artists will be representing Morocco: Fathiya Tahiri and Mahi Binebine. Though both linked to the material use of painting, during their expressive training they have also developed different approaches in the field of sculpture.

Fathiya Tahiri began on the artistic scene with a vast production of jewel sculptures, then translated this skill into painting, in countless expressive variations. Her canvases reveal an attentive scanning of colour which prefers bright pure tones, giving life to extensive descriptive formulae that are inspired by the emotions of the artist, sensitive to intimate perceptions. A border line in which the artist's brush insists with a singular expressive force on a timbre of colour, creating fascinating backgrounds that then become the metaphor of an existential condition. Fathiya Tahiri brings about an aesthetic revolution, hovering between an idea of beauty seen as loyalty to an uncorrupted model and the study of new forms, seeking the unquenchable need for poetic renewal, the intimate essence of art.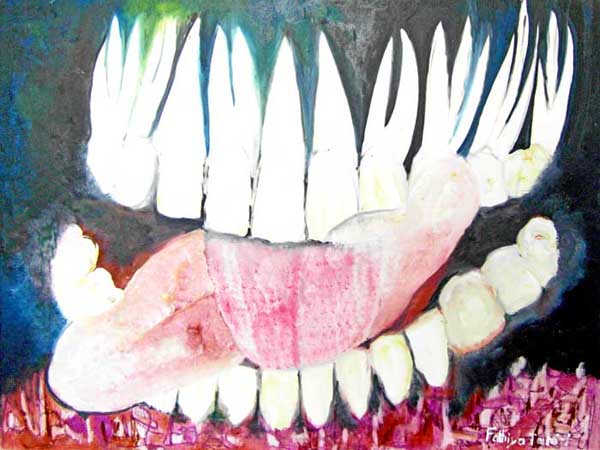 Fascinating images, captivating the beholder with the lyrical atmosphere that emanates from their harmony of colours, spring from the imagination of Mahi Binebine. They are often silent masks or trapped figures. They are the same ones that the artist tells us about in his novels, desperate journeys yearning to ask fate for a second chance. Binebine's work has a formal neatness interrupted by melodic colour combinations created using pure pigments applied directly on the canvas and then skilfully modified by the hands of the artist or by extreme actions that burn the surface. So pure colour may just as easily be silent language, a means of detaching sensations or an element of disturbance.

Art, literature, topical events and tradition live side by side in the works of these two artists. Because in the centre of their art there is always a state of tension involving the natural, primeval world that man too frequently ignores, ill-treats or insults. So Fathiya Tahiri and Mahi Binebine look inside Man and Nature. That is how, in this exhibition, they meet in an embrace that goes beyond the boundaries and is a reciprocal respect and yearning for a dimension in which the rational and the emotional, spiritual aspect can be united.

Information:
Arte Communications
Tel: (39) 041. 526 4546 Fax: (39) 041. 276 9056
info@artecommunications.com
pressoffice@artecommunications.com
www.artecommunications.com