News
PDG Arte Communications
is proud to announce that
ANDORRA, AZERBAIJAN, MAURITIUS, MONGOLIA
Pavilions and the Collateral Events
from HONG KONG and MACAO
registered a total of
560.000 visitors
The exhibitions will be opened until 26th November 2017



PAVILION OF ANDORRA
Eve Ariza Murmuri

Venue: Istituto S. Maria della Pietà, Castello 3701
Opening hours: 10.00 a.m. - 6.00 p.m. – Closed on Monday

Murmuri, is a reflection on universal language, an in-depth study of changes in material and the origins of form and sound. Eve Ariza works on reproducing the bowl as a container of truth and a sensory experience through its natural resonance. She purposely tears its base to reveal a mouth-like shape, thus transforming its essence and dismissing its conventional use.
PAVILION OF AZERBAIJAN
UNDER ONE SUN. The Art of Living Together
HYPNOTICA, Elvin Nabizade

Venue: Palazzo Lezze, Campo S. Stefano
Opening hours: 10.00 a.m. - 6.00 p.m. – Closed on Monday

The metaphorical title UNDER ONE SUN. The Art of Living Together, explains the subjects of this exhibition, focusing on the cultural and ethnical diversity in Azerbaijan. It is mostly about the tolerance that has developed among these groups over the years. At the same time, however, it sends a hidden message about the challenges they are facing in order to maintain peace.
PAVILION OF MAURITIUS
Speeded Up Nature
Michael Lalljee, Robert Rauschenberg, SEO, Jacques Désiré Wong So

Venue: Istituto S. Maria della Pietà, Castello 3701
Opening hours: 10.00 a.m. - 6.00 p.m. – Closed on Monday

'Art is nature speeded up and God slowed down'
'Man and nature are entirely continuous, and… all parts of the human body and all expressions of the human face, can… be discerned in plants, flowers, and fruits…And… in minerals, especially when they are in motion.'
Malcolm de Chazal
PAVILION OF MONGOLIA
LOST IN TINGRI
Chimeddorj Shagdarjav, Munkhbolor Ganbold, Enkhtaivan Ochirbat,
Bolortuvshin Jargalsaikhan, Davaajargal Tsaschikher

Venue: Istituto S. Maria della Pietà, Castello 3701
Opening hours: 10.00 a.m. - 6.00 p.m. – Closed on Monday


Through film, installation, sculpture and sound, the artists from across generations, question Mongolia's future. The exhibition alludes to human nature and its effect upon society and the environment. While the context is uniquely Mongolian, the impacts are global and universal.nainst power is the struggle of memory against 'oblivion".
The goal of the Karachi Biennale is to bring art into public spaces by generating awareness, engagement and public involvement through projects that interact with the spectator to create a democratic and accessible platform.

SAMSON YOUNG
Songs for Disaster Relief
Venue: Arsenale (opposite the Biennale entrance), Campo della Tana
Opening hours: 10 am to 6 pm

Young created a new body of work that attempts to reframe the popularity of "charity singles" —purpose-made recordings for charitable causes, featuring super-group artists—as historic "events" and a culturally transformative moments in time. A perceived strangeness in the setup left a mark on Samson's consciousness, setting him on a journey of rediscovery that informs this exhibition.
A Bonsai of My Dream - Works by WONG CHENG POU
Exhibit from Macao, China
Venue: Arsenale (opposite the Biennale entrance), Campo della Tana
Opening hours: 10 am to 6 pm

The exhibition draws from the idea of literati in ancient China who planted miniatures in small pots to project their pursuit of quiet and contemplative live of reclusion, suggesting an pessimistic way for counteracting inevitable conflict and contradictory.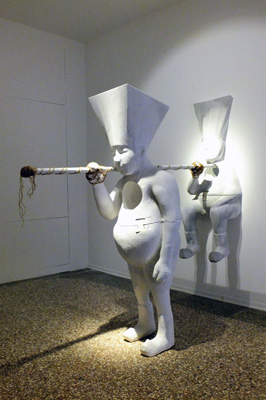 Karachi Tribune - Article on Paolo De Grandis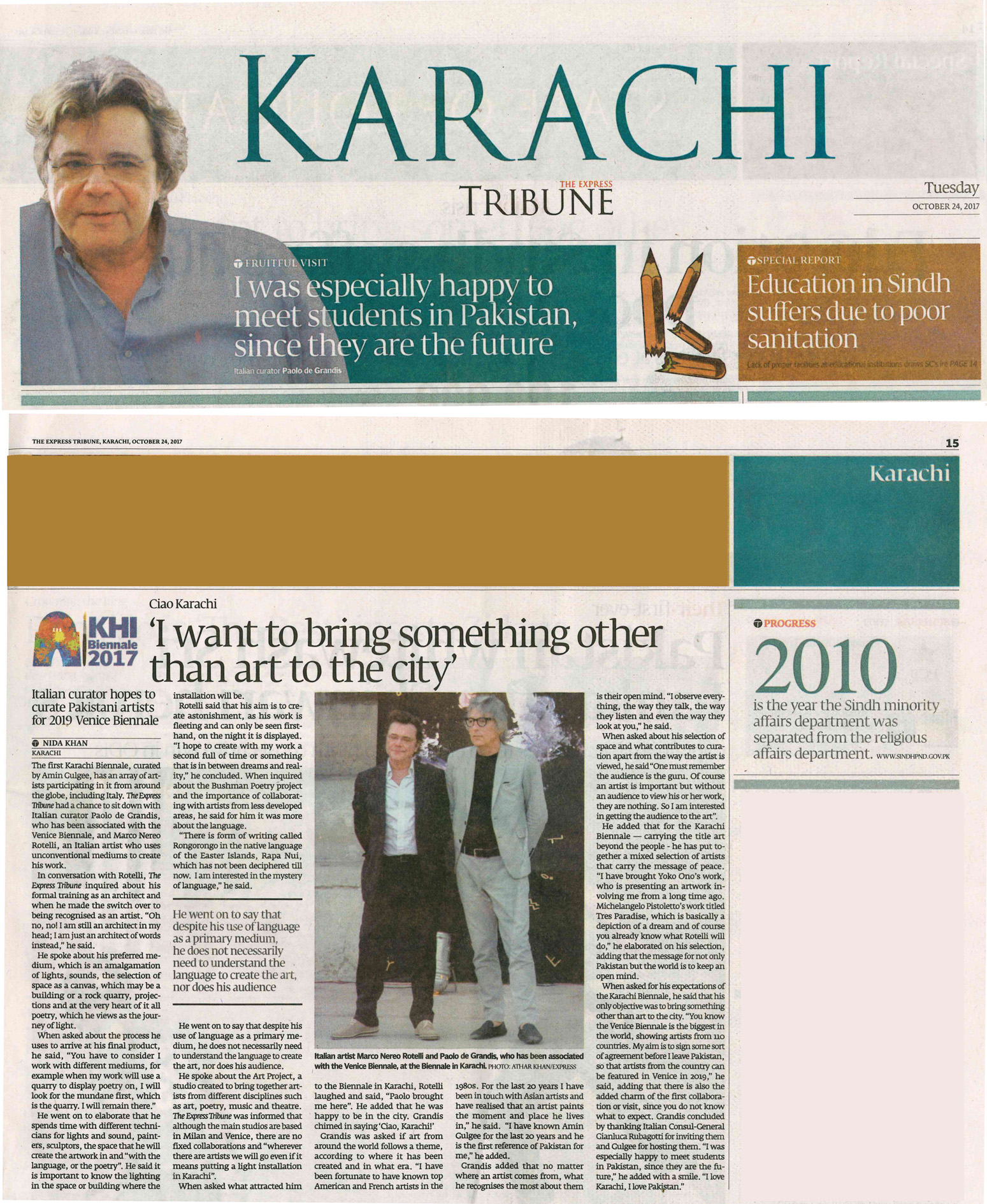 Martin Roth, former V&A director, dies aged 62
First German to head major UK museum oversaw record visitor numbers but left V&A after disillusionment with Brexit vote
Link to source: https://www.theguardian.com/artanddesign/2017/aug/07/martin-roth-v-and-a-dies-aged-62#img-1
Initiatives under Martin Roth's leadership included the expansion of the museum to China, Dundee and east London. Photograph: Nick Harvey/Rex/Shutterstock
Mark Brown Arts correspondent,
The V&A has paid tribute to its former director Martin Roth, who has died in Berlin, aged 62.
Roth was the first German to head a major British museum, leaving the V&A in 2016 shortly after it won the museum of the year award. That victory meant that Roth, after five years in charge, could leave while the museum was on a high. However it was a decision also hastened by his disillusionment over the Brexit vote.
He died from cancer, diagnosed only weeks after he left the V&A.
Nicholas Coleridge, the chairman of the V&A, said the museum was extremely saddened to hear of Roth's death. He said: "Martin will be remembered as a man of prodigious energy, a director with a global reputation both within the museum world and beyond, a committed Europhile and cultural ambassador with a philosophical turn of mind, as well as a devoted husband and father."
Coleridge said Roth had made it his mission to raise the international profile of the museum. Initiatives under his leadership included a presence at the Venice Biennale, the expansion of the museum to China, Dundee and east London, the founding of the V&A research unit, and the opening of restored galleries devoted to European arts and crafts of 1600-1815.
"This, combined with exhibitions such as David Bowie Is, Alexander McQueen: Savage Beauty, Disobedient Objects and Engineering the World: Ove Arup, raised the V&A to new heights," he said. "We will greatly miss Martin, and are profoundly grateful for his considerable contribution to the V&A."
Roth was director general of the Dresden state art collections from 2001-11 and was succeeded by Hartwig Fischer, who last year trod a similar path when he was appointed director of the British Museum.
Fischer said he was "shocked and saddened" by the news of Roth's death. "Martin was an energetic moderniser of museums. He was a great advocate of museums playing an active role as institutions in today's societies, and he did much to internationalise collections. He fostered global cooperation and exercised considerable skill in cultural diplomacy. He will be missed."
Roth's leadership of the V&A was widely regarded as a success, with visitor numbers reaching record numbers, and it was a surprise when Roth announced his intention to leave last year. Leaving the museum on a high and in robust health was clearly a major motivation, but Roth had made no secret of his views on the UK decision to leave the EU.
He was born in Stuttgart in 1955 and the issues were personal. "For me, Europe is simply synonymous with peace," he said in an interview with German broadcaster DW. "I didn't want to be a German. I did not want to grow up in a country that had killed a huge part of its population.
"So for me, Europe always gave hope for a peaceful future, based on sharing, solidarity and tolerance. Dropping out always means creating cultural barriers – and that worries me."
Roth said in interviews that he wanted to be more politically involved on returning to Germany. He was appointed honorary president of the Institute for International Relations.
The German culture minister, Monika Grütters, was among those who paid tribute. She said: "With the passing of Martin Roth, the German and international museum world has lost one of the most prominent but also polemical personalities. He took part in numerous discussions with a strong opinion and enriched these debates. His capacity for enthusiasm was contagious."
KARACHI BIENNALE
22nd October - 5th November 2017
Paolo De Grandis has been appointed international curator for the first Karachi Biennale to be held from 22nd October to 5th November 2017 in 12 locations within Karachi.

Yoko Ono with her memorable ONOCHORD created for OPENASIA in 2004, Michelangelo Pistoletto with theThird Paradise, Sarah Revoltella, Max Papeschi, Marco Nereo Rotelli, Elisabetta di Sopra, Federico Nero and Hybrid Suite - in curatorial collaboration withClaudio Crescentini and Patrizia Chianese - are the artists selected by Paolo De Grandis for this first edition of the Karachi Biennale directed by Amin Gulgee.
Paolo De Grandis on the occasion of the inaugural tour of the first Karachi Biennale, will take part in an international symposium. He will recount his commitment to the world of art: from his 118 exhibitions organised at the Venice Biennale, of which 64 national exhibitions and 54 events, the first participation of Taiwan at the Venice Biennale in 1995, the creation of the outer pavilions of the Venice Biennale outside the area of the Giardini and Arsenale, as well as the long-term project From la Biennale di Venezia & OPEN to MACRO and the 20 years ofOPEN, International Exhibition of Sculptures and Installations.

The Karachi Bienniale will host over 150 artists from Pakistan and around the world. Their works will be exhibited in numerous venues in the city including the monumental Narayan Jagannath Vidyala Hight School (NJV). Founded in 1855, NJV is a building of great historical and cultural value; the Sindh Assembly headquarters has formed many social and political leaders in the country. Today, however, only a small part of the building is used, and the Karachi Biennale intends to bring attention, re-evaluate and revive this important landmark in one of the most populated cities in the world, enabling new viewers to access and recapture the story of Karachi, often obscured by the tensions due to its rapid urban growth.
Since the 1950s, when Karachi grew up from a small harbour to a mega city centre, the city attracted a large number of independent thinkers. It has been home to many influential modern and contemporary artists. Its tunnel circuit is unrivalled in the country and is one of the most lively in southern Asia. Pakistan has started to play an important role in the global map thanks to the interest that has developed around the positive international results of its artists. These results reflect the depth and vitality of the country's artistic production.
Through the architecture of its exhibitions, symposia, performances and numerous programs for visitors, the Karachi Biennale will combine creative energies and new sparks in the local and international artistic landscape.
The theme chosen for this first edition isWitness: artists as witnesses.
Art as a testimony of its time has always carried a great significance. This is especially true in times when memory is deeply disputed and, as stated by Kundera, "The struggle of man against power is the struggle of memory against 'oblivion".
The goal of the Karachi Biennale is to bring art into public spaces by generating awareness, engagement and public involvement through projects that interact with the spectator to create a democratic and accessible platform.
OPEN20, International Exhibition of Sculptures and Installations
1st September –1st October 2017
Venice Lido, Hotel Excelsior, Hilton Molino Stucky
Inauguration: 1st September 2017
Performance Reverie "PourOntani": h. 3 pm, Giardino Moresco, Hotel Excelsior
Press Conference: h. 6 pm, Sala Plenaria, Hilton Molino Stucky
Performance Marco Fioramanti and Ana Rusiniuc "Il Relitto della Sirena": h. 7.30 pm, Hilton Molino Stucky
Cocktail Party (by invitation only): h. 8 pm, Skyline Rooftop, Hilton Molino Stucky
Augmented Reality Experience by Richard Humann "Ascension": Skyline Rooftop, Hilton Molino Stucky
| Press Release |
This year, OPEN, the International Exhibition of Sculptures and Installations, will reach its twentieth edition. A significant year that celebrates the twentieth anniversary of an idea, a winning, innovative and regenerating intuition on the scene of contemporary art events. Twenty years of sculptures, installations, happenings and performances bearing witness to how art can break into the outside environment to attract the onlooker.
Conceived and curated by Paolo De Grandis, co-curated by Carlotta Scarpa, the exhibition is organised by PDG Arte Communications with the patronage of the Ministry for Cultural Assets and Activities and Tourism, by the Ministry of Foreign Affairs and International Cooperation and by the Veneto Region.
OPEN retraces its history through some of the most significant names in contemporary art who have taken part in OPEN such as Yoko Ono, who will present the world première of INVISIBLE PEOPLE, a project that has required long preparation: a symbolic and metaphoric vision of the journey of migrants, between imagination and poetry, so as not to forget. The return to the Hotel Excelsior and the return of ORLAN with a site specific installation based on Le Plan du Film, an important series conceived in 2001 in search of what Jean-Luc Godard called "the reverse of the cinema": a work on the creation of a film in reverse starting from the communication and advertising of a cinematographic work, unique aspects, in this ingenious fiction, that make the film real.
And again Igor Mitoraj, Luigi Ontani, Federica Marangoni, Marco Nereo Rotelli, Gianfranco Meggiato, Amin Gulgee, Ferruccio Gard and Marianne Heske, who at OPEN 1999, brought an enormous 4000-year-old stone from the village of Tafjord, which is still at Venice Lido today.
A stage, a point of arrival and of a new departure, more aware and more rigorous, but always in line with the curator philosophy of its creator, Paolo De Grandis. Unlike every other yearly event, from which one could always expect something new, OPEN proposes its linearity and its integration, characteristics that have matured thanks to the simplicity of the underlying idea and to the open-air exhibition space: territories to be explored, points for exchange and comparison, choreographic spaces often open to be transformed, places where, in both physical and mental terms, the visitor can interact with the contents of the works on display.
OPEN is a great public park, a weave of nature and culture, internal and external, biological and technological, painting and multimedia, a synthesis of characters and of contemporary trends. In this way, the territory becomes a privileged observatory, as is demonstrated by the organisation of this important event, projected in a national and international dimension.
The curators collaborating with OPEN this year include Jon Hendricks for the participation of Yoko Ono, Philippe Daverio for Giuseppe Verri, as well as Niilofur Farrukh, Tamara Li, Nevia Capello, Serena Mormino, Bianca Laura Petretto, Elga Wimmer, Umberto Zampini and Flavia Vago.
The inauguration will present a performance by the young artist Reverie who, with PourOntani, will make a dedication with open eyes to Maestro Luigi Ontani that does not envisage any kind of quotation/recitation, artifice or expedient. It is a question of necessity and of life: tableaux-vivants, works made from life and especially the living echo of "VivArte". In parallel Richard Humann will present Ascension, which on the occasion of OPEN 20 will create new constellation systems superimposed over our existing ones in the night sky. Humann's art installation harnesses technology: the viewers simply hold their smart phone or tablet up toward the sky to see the Augmented Reality art.
The eighth edition of the Arte Laguna Special Prize will be assigned to a young artist selected by the Arte Laguna Prize jury. This award will offer the winner the possibility to be included among the finalists of the Arte Laguna Prize 2018 and to show his or her work on the circuit organised by the same association.
With the strength of this extraordinary formula, OPEN contributes to modifying the fabric of a city, making it an international platform of works in the open air, to show an amazed audience a new, involuntary, amazing way of enjoying art in the light dynamic of a walk outside over-familiar and restricting walls and perimeters, changing its content before their eyes.
PARTICIPATING ARTISTS
Nutopia - Yoko Ono
Belgium - Phil Akashi
France - ORLAN
Germany - Günter Sponheuer
Japan - Kengiro Azuma
Iceland / China - Inga Svala Thorsdottir and Wu Shanzhuan
Italy - Giancarlo Bozzani, Stefano Bressani, Nando Crippa, Gillo Dorfles, Marco Fioramanti, Laura Fiume, Salvatore Fiume, Ferruccio Gard, Resi Girardello, Alessandro Manfredini, Gaspare Manos, Federica Marangoni, Davide Medri, Gianfranco Meggiato, Lucio Micheletti, Luigi Ontani, Max Papeschi, Antonio Paradiso, Gabriele Polidori, Maurizio Radici, Reverie, Marco Nereo Rotelli, Giuseppe Verri, Nanda Vigo, Laura Zeni
Norway - Marianne Heske
Pakistan - Amin Gulgee
Peru - Ana Maria Reque
Poland - Igor Mitoraj
Ukraine - Yana Rusnak
USA - Richard Humann