Exhibitions 2011
Ink ∙ Brush ∙ Heart - Xishuangbanna
Collateral Event of the 55th International Art Exhibition –
La Biennale di Venezia
Invited Artist: Julian Lennon
Organizers: China International Cooperation Center,
Museum of Contemporary Art, Shanghai
Curator: Achille Bonito Oliva
Co-Curator: Paolo De Grandis
Coordinator in Venice: Carlotta Scarpa, PDG Arte Communications
Venue: Conservatorio di Musica Benedetto Marcello, Palazzo Pisani, San Marco 2810
Following last year's success of "Drago+Cavallo Soul World Tour Exhibition" this year, the Chinese artist Simon Ma will be presented by China International Cooperation Center and the Museum of Contemporary Art, Shanghai to participate at the 55th International Art Exhibition – la Biennale di Venezia.
Every part of Simon Ma's exhibition finds its inspiration in the rainforest of Xishuangbanna, an autonomous prefecture in Yunnan Province, located in the far southwest of China. The entire concept for this installation started with one simple thought: while the colours of our daily environment fade everyday more towards grey, the colours of untouched nature are always vital and bright. How does nature protect his palette of colours? How can we protect the colours of life around us?
Xishuangbanna's high trees have extremely deep roots that allow them to grow up to 90 meters high. In the same way our society, in order to reach higher needs to go deeper and hold on to its own traditions. After years of cross border artistic collaboration with international brands, this Chinese artist felt the need to go back to his Chinese heritage. By watching the ritual dance in the water during the water festival in Xishuangbanna, Simon Ma was inspired for his exhibition documented in a short film.
In his continuous research for balance between humankind and nature, new and old, painting and calligraphy, the artist has dramatically transformed the two courtyards of Palazzo Pisani to host an installation of 6 stainless steel "Water drops" sculptures, surrounded by hundreds of water drops balloons of six different colours. The tallest sculpture is 6.1 meters high, while the
shortest is 1.8 meters. Each stainless steel water drop carries inside the sound of water flows, to remind us of the purity of this element.
At the first floor the collaboration between the Chinese artist and Julian Lennon with his visual art is exhibited. The two artists' love for nature is reflected in an unique technical experiment of crossover between two different genres of art, where photography and painting come together to represent their interpretation of nature.
In the hall of the first noble floor two fine handcrafted jewellery sculptures are exhibited, Harmony and Embrace, results of the collaboration between Chow Tai Fook, a renowned jewellery company from Hong Kong and Simon Ma to create the perfect combination of exquisite craftsmanship and profound culture. Since Simon will launch a jewellery collection with Chow Tai Fook, Harmony and Embrace are the prelude of the collaboration.
The two precious artworks are surrounded by Chinese paintings, one representing the combination of "Dragon+Horse" symbolizing the dialogue between a dragon and a horse, two different cultures, and six paintings representing the yin and yang combination of "Dragon+Peacock". In Chinese culture the peacock with its tail of 100 eyes is considered as a manifestation of the heavenly Phoenix on earth. Moreover,in the tradition of Feng Shui it is indicated as the celestial animal of the south of China, representing power and beauty. Thus, the artist created a pair of black and white dragon peacock, representing the uncontaminated nature against the dark side of nature, powerful and at the same time dangerous if not respected. These two paintings in opposition one to another in their struggle between the bright and dark side of nature, will eventually complete each other into a harmonious duet.
Special Thanks to Our Supporters:
Bellussi Spumanti SRL, Blue Globe Hotels, Chow Tai Fook Jewellery Co., Ltd., Ciao, Comunità di Shanghai in Italia, Hongmao Holding (China) Co., Ltd., Hongmao·Octvillas, Liquid Element, Shanghai Theater Academy, XiShuangBanNa
Rhapsody in Green
Collateral Event at 55th International Art Exhibition – la Biennale di Venezia
Artists: Kao Tsan-Hsing, Huang Ming-Chang, Chou Yu-Cheng
Curator: Yang Wen-I
Commissioner: Paolo De Grandis, Dr. Hsieh Yung-Cheng
Organizer: National Taiwan University of Arts
Coordinator in Venice: PDG Arte Communications
Supported by: Ministry of Culture, New Taipei City Government, The Ministry of Foreign Affairs, The Ministry of Education and others
Venue: Istituto Santa Maria della Pietà, Castello 3701 – 30122 Venice
Duration: 1 June / 15 September
http://portal2.ntua.edu.tw/enntua; www.artecommunications.com
In 1924, when George Gershwin (1898–1937) created his genre-defining composition Rhapsody in Blue, the artist Huang Tu-Shui (1895–1930) cast Taiwan's first modern, realist bronze sculpture entitled In the Outskirts, depicting an ox and three cranes, a common view in the rice fields of Southern Asia. Absent from the work, yet clearly implied therein, is the color green—the departing point of the exhibition Rhapsody in Green.
Few color words are as apt to exemplify the complex relationship of language and perception as the Classical Chinese color word "ch'ing." Semantically, it comprises, to our modern understanding, three clearly distinct color shades, in its most literal meaning: blue, green, and even black. Moreover, in traditional cosmology, "ch'ing" is a concept of dignity associated with the East, the wood element, and spring—hence, even youth in the modern colloquial, but also with such diverse notions as "blue sky," "green grass," and "black hair."
This exhibition explores the power of perceptual realism, which, in breaking with tradition, faces the matter of the outer world exclusively with one's own senses: a world in which the state of exception that constitutes the current global environment becomes increasingly normal. Kao, Tsan-Hsing (b. 1945),Huang, Ming-Chang (b. 1952), and Chou, Yu-Cheng (b. 1975), the three contemporary Taiwanese artists invited, each demonstrate their personal and indiVISUALISTIC approach to the color green and its connotations, be it ocularcentric, intersubjective, or art-system conceptual, orchestrating green by combining diverse and the heterogeneous components and thus reminding us of its RIGHTful place in our present living environment.
Kao's sculptural steel pieces of industrial 'found objects', mimicking 'living' leaves of grass, and Huang's single-minded virtuoso paintings of rice fields both seem to be imbued with the logic of sense that these inanimate rice paddies and grassy steel wools are rightfully there to serve as the channel of communication with "being-in-the-world" equal to all things. Making someTHING visible, precisely according to what is seen by one's own eyes, further helps create a dialogue, even a cross-species relationship between the land, the people before them, and themselves.
Chou Yu-Cheng's post-conceptual artwork engages the "readymade," not so much in the sense of objects but in Bruno Latour's "things made public", revealing the immaterial workings of the political and art system. In accordance with this idea and in this exhibition, he will concentrate on two "green" pieces created during the Japanese colonial period, among them the now lost In the Outskirts by Huang Tu-Shui.(by Yang Wen-I)
National Taiwan University of Arts, the organizer of the exhibition, is the alma mater of Hou Hsiao-Hsian and Ang Lee, who won the Golden Lion of the Venice Film Festival in 1989 and 2007 respectively, and hence is proud of participating in the Visual Arts section of the 55th International Art Exhibition – la Biennale di Venezia for the first time, as Dr. Hsieh Yung-Cheng, the president of the NTUA recently expressed to the Taiwanese press.

© Sergio Martucci
FLAVIO LUCCHINI
is invited at the 54th Biennale di Venezia,
Italian Pavilion, Lombardy
in the great overview dedicated to Italian art, a project by Vittorio Sgarbi
June - November
During the 54th Biennale di Venezia, Lucchini is also present with a solo in-progress exhibition made up of recurring exhibitions and with a joint sculpture exhibition in Venice, in addition to a contemporary exhibition held in Milan for a more thorough cross-section of the artist's work.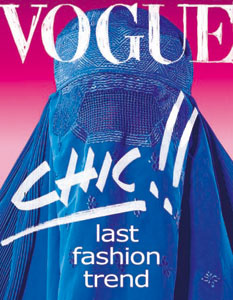 FLAVIO LUCCHINI
WHAT WOMEN WANT (?)
solo exhibition presented by Alan Jones
Riva S. Biagio/Arsenale Space
Castello 2145 Venice
June 1st – July 25th 2011
Vernissage 1-2-3 June
Flavio Lucchini's new interpretation of the contemporary dress, his traditional field of research and experimentation, must not come as a surprise. Today the artist focuses on burqas and niqabs, after devoting many years to the haute couture plasticity, to the teen-dress joyousness, to the magic of gold, to all the modern desires which from the glossy pages of his magazines he conveyed to art's persistence and emotion.
Today these veiled women, much more objectified than those dressed up as dolls by fashion designers, represent the most controversial image of femininity, the symbol of a past which never fades but recurs in fact more peremptory and even seems to mark a path for the future.
"My burqas are ghosts of a past which still lives on today and which apparently never progresses": Flavio Lucchini observes these mysterious women, who on the contrary, even beneath the apparently all-alike thick blue or black blankets, do not lose their individuality, their being concealed and segregated women, who nevertheless reveal a sensibility to details and an absolute vanity.
The black and elegant figures seem to be posing on a Vogue photo shooting, the most ominous burqas become impossible (or maybe possible?) magazine covers, art portraits or the ultimate creation of a famous fashion brand. The world has become a smaller place. In one way or another, those ominous veils trouble us and question ourselves. Once again, the dress makes the difference.
The exhibition
Woman's images. Beneath the Afghan burqa, the Middle East niqab. Lighting up, revealing, reflecting on today's mysticism, fanaticism and obscurantism. And on women's irrepressible desire to express themselves.
Veiled eyes for the ironic covers of fashion magazines or for the street-art posters. Veiled multitudes on the billboards conjuring up a future ever more dominated by Islam. Veils which conceal but cannot suppress the longing for femininity, beauty, youth and which display discreet or showy decors, colors, brands.
Big digital paintings, where the mouse replaces the brush, the uniqueness of art embraces the seriality of technology.
As a counterpoint, a small golden sculpture represents an elaborate evening dress. It could be a Capucci, a Dior, a Ferré. It is the Western dream, the dress which turns woman into a deity and does not oppress her.
Language crossing: art interfaces with fashion, graphics, advertising, photography, Internet, Photoshop, the social.
The artist
Flavio Lucchini is an important figure of the culture and art worlds, who has been influencing Milan's creative and publishing scene since the Sixties. He drew attention to himself thanks to the boldness and cutting-edge of his work as a graphic designer, as an art-director, as the mind behind important magazines, creating among others very successful monthly magazines such as Vogue Italia, L'Uomo Vogue, Amica, Donna, Moda, all magazines which have completely transformed the image, the contents and the very nature of publishing thus influencing all women's magazines in the Seventies and Eighties. Mr. Lucchini has always been fascinated by the dress, able to read into it other and more profound means, as if it were almost a metaphor of all the changes in society and the mirror of people's culture. His journey, based on a keen observation and knowledge, has brought him to investigate the magic and the mystery of the haute-couture dress in the past and the burqa today, with all its social, legal, religious, behavioral implications. Included that of becoming "fashion".
The catalogue
Not a traditional catalogue but a monthly tabloid presenting with a journalistic style the artist, the event, the artworks, the shooting, the comments, the reviews, the interviews and the relative news. A paper magazine constantly updated in its contents, periodically published during all the duration of Biennale, with an interactive online version with remarks by the website's bloggers and visitors.
The curatorship
The exhibition is presented by Alan Jones, with the contribution of other still-to-be- defined critics and curators.
Alan Jones, the New York writer, critic and curator of art exhibitions, has always been one of the most renowned connoisseur of the Pop Art scene and he has organized several exhibitions held in very important museums and galleries: the Cartier Foundation in Paris, the Guggenheim Museum in New York, the Walzer Art Center in Minneapolis, the M.I.T. List Center at Harvard, Massachusetts, the P.S.1 New York's Modern Art Museum, the New Museum, the Studio Museum in Harlem and the Museum for African Art.
Lucchini's other exhibitions during the Biennale di Venezia:
-THE SIGN OFF DESIGN, sculpture exhibition, curated by Luca Beatrice, SlideART Edition
Archivio di Stato, Chiostro SS.ma Trinità, Campo dei Frari, San Polo, 3002 – 30125; Venice
June 1st – November 27th
-100 ARTWORKS/20 YEARS ARCHIVE, solo exhibition, project by Gisella Borioli
MyOwnGallery, via Tortona 27 bis, Milan
May 11th – October 14th
CONTACTS:
Communication and Press Office
Chiara Ferella Falda |areart@superstudiopiu.com
Phone: +39 02 422501 | Fax: +39 02 475851 | mobile +39 335 1080528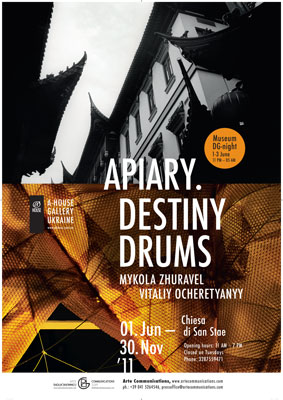 Apiary. Destiny Drums
Mikola Zhuravel
Vitaliy Ocheretyanyy
A-House Gallery, Kiev in collaboration with Arte Communications
Organisation: A-House Gallery– Kiev, Arte Communications
Curators: Eugen Galushkevich, Paolo De Grandis
Coordinator: Carlotta Scarpa
Venue: Chiesa di San Stae, Campo San Stae (fermata vaporetto: San Stae / Linea 1)
Opening hours: 1 June – 30 November 2011 / h. 11 am – 7 pm (closed on Tuesdays)
Gallery of Modern Art «A-HOUSE» in Kiev, Ukraine in collaboration with Arte Communications presents «APIARY. DESTINY DRUMS» in Venice. The project is implemented as a multimedia installation in the church of San Stae and is devoted to the prominent Ukrainian anthropologist and sociologist Peter Ivanovich Prokopovych who first created the frame system of beehives in 1848. Peter Prokopovych was the first who draw parallels between social system of humans and bees. Asserting the idea of nonviolence and inanity of aggression as a way of social communication he created the system where bee swarm survived while giving honey.
The artists – Mikola Zhuravel and Vitaliy Ocheretyanyy focused their attention on the values of social and natural ecology, the unity of all life, symbol of Mother giving and keeping the life.
The idea of the project is to join in a piece of art the images of bee, hive, human being and the church, primordial Divine Love. To create a model of society where church of San Stae becomes a hive and the visitors assimilating to melliferous bees.
The installation consists of two types of pieces – unfolded projections of hives and honeycomb made of photographic pictures in a form of Drums of the Destiny (the project has been previously presented in Shinto, Buddhist, Christian Orthodox and Catholic temples.
For the first time two artists and two projects teamed for the exposition in Venice – «Apiary» by Mykola Zhuravel and «Drums of the Destiny» by Vitaliy Ocheretyanyy. The «Apiary» as a contemporary art project of is unique because it exists and has been developing for 12 years. It was presented by «A-HOUSE» gallery in Japan, USA, Ukraine, Switzerland and China (National pavilion of Ukraine at EXPO-2010; Liu Haisu Museum in Shanghai, 2010; Shanghai Contemporary, 2010). While developing at every new stage the project is transforming.
The two projects are united by idea of the feminine essence. At most cultures – Ukrainian, Chinese, Italian etc – woman is a keeper of domestic aspect of culture and its relationship with ethnical and mythological components of lifestyle, as well as a main link in transmission of everyday cultural experience. In a certain sense such interpretation organically combines with a symbol of bee family which is formed around the feminine essence.
---
>
Fathiya Tahiri exhibits at theShanghai Art Museum
INNER CHARACTERS
curated by Paolo De Grandis
10 - 19 April 2011
After her successful visit to the Venice Biennale in 2009, Fathiya Tahiri represents Morocco in another country and exhibits a new collection of her masterpieces at Shanghai Art Museum, China.
Creations by Fathiya Tahiri, sculptures and paintings, represent an unflinching exploration of shapes, lines, and materials, and combine modern, pure elements, with archaic and precious components.
Her expressiveness, intuition and inventiveness, leave no one indifferent, they instigate admiration and emotion, her perseverance and hard work in shaping material, join the color sensation particular to painters and give birth to exceptional works, animated with vibrations, lights and emotions, which will be featured in SHANGHAI at the exhibition INNER CHARACTERS.
The art criticAchille Bonito Oliva said «Fathiya Tahiri works through a multiplication of a standardized element, the thing, which is spread in the forms of dome, constellation or galaxy. The artist's gaze takes on a far-seeing and distance sensing strength, as well as the ability to observe the work in close-up, as with a microscope. This confirms the Aristotelian process towards knowledge, the tendency to represent the particular probing of form which penetrates matter and extracts its essence. Here the essence is represented by the multiple evidence of a standardised element that seems to spread ad infinitum following a circular rhythm which threatens the edges of the picture, allowing us to suspect that it continues outside the physical limits of the world. At other times the meticulous sequencing of the point of departure is extended in number, alluding to a close relationship with parts of the body. it is almost as though every essence were condensed through the painting process into tangible forms that embody the suspicion of life and its opposite, the organic origin of things and the viruses that threaten it.
The value of the design medium indubitably assumes a decisive weight in Fathiya Tahiri's linguistic strategy, as harbinger of particular articulations of matter conceived by the artist. Modularity becomes the basic structural element that enables the artist to play with the form in a complex sequence, infinitely multiplying its geometrical development"
About Fathiya Tahiri
Fathiya Tahiri was born in 1959 in Rabat, the capital of the Kingdom of Morocco. Coming from an old family of Fes, she spends her childhood between Rabat and Casablanca. Her first artistic works date back to her early childhood; she sculpts shapes out of everything she finds, candles, clay, soil, fabrics… Her first drawing works date back to when she was 15 years old, which is when her architect vocation takes shape. At the age of 18, she leaves for France where she pursues her studies at the Paris School of Architecture (Ecole Spéciale d'Architecture). These few years spent in the city of light, allow her artwork to gain maturity.
In 1986, she opens her architectural firm in Rabat and carries out a number of grand projects in several Moroccan cities, and simultaneously creates furniture art pieces which she exhibits at the Mohamed V theater in Rabat and Casablanca. She then, expresses her art in the details of her architecture.
In 2002, Fathiya Tahiri is invited to exhibit her SCULPTURES PER IL CORPO at the Correr Museum - of Venice in the "Napoleonean Wing". She then exhibits her silver sculptures at the OPEN Arte & Cinema "Film Festival" of Venice in 2003 and in 2004 her first painting works at the Parisian gallery Artcurial and a monumental sculpture at Mostra of Venice.
In 2005 then in 2009, Fathiya Tahiri represents Morocco at the Biennale of Venice. She chooses as exhibition place the Church Chiesa S.Maria della Pietà.