Warning
: getimagesize(images/logo-AAVV-ev_coll-2015.jpg): failed to open stream: No such file or directory in
/web/htdocs/www.artecommunications.com/home/plugins/content/smartresizer/smartresizer.php
on line
468
Exhibitions 2015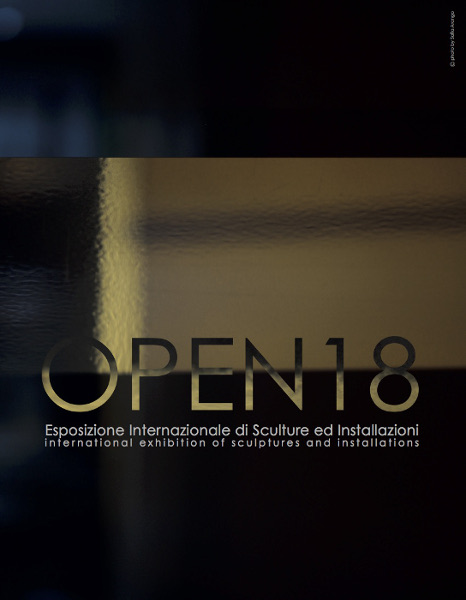 OPEN 18.
Esposizione Internazionale di Sculture ed Installazioni
3-23 September 2015 | Venezia Lido, Hilton Molino Stucky
The eighteenth edition of OPEN, International Exhibition of Sculptures and Installations, will take place from 3rd to 23rd September 2015 in Venice Lido and at the Hilton Molino Stucky in parallel to the Venice Film Festival.

Conceived and curated by Paolo De Grandis, co-curated by Carlotta Scarpa, the exhibition is organised by PDG Arte Communications in collaboration with the City of Venice and the Municipality of Lido Pellestrina and is held under the patronage of the Italian Ministry of the Cultural Heritage, the Ministry for Foreign Affairs and the Veneto Region.

18 years, a proven goal, enshrined under a new context of exhibition, that of the Molino Stucky, the most important monument of industrial archeology preserved in Venice. Built in Neo -Gothic style on the island of Giudecca in 1895 by the will of industrialist Giovanni Stucky, now home to the Hilton and cultural center.
Important and numerous curatorial participations this year including Achille Bonito Oliva, Daniela Palazzoli, Chang Tsong-Zung, Serena Mormino, Bruno Grossetti, Bianca Laura Petretto, J.J. Shih for Taiwan, Wen- i Yang for the National University of Arts and Gertrud Aeschlimann for art-st-urban.
It will also be created for OPEN 18 the work "Third Paradise" by Michelangelo Pistoletto. The sign-symbol of the Third Paradise conceived by Pistoletto inscribes in the line of the infinite circle, evocative of the cycles of regeneration of matter and the circularity of time. A Collective action promoted by Cittadellarte and Serena Mormino to request the 'assumption of social responsibility and collective reflection on the themes of environmental sustainability.
Gesture and stasis, movement and stillness, carousel of shapes and surfaces, rolled up, bend, stretch and fork, between the sculptures and installations of more than 40 artists from 12 countries.
"Beyond Art with Love"
World Tour Art Exhibition • SIMON MA
- La Pelanda at MACRO Testaccio, Rome, Italy
Introduction
Organizer: MART
Curator: Achille Bonito Oliva
Coordinator: Paolo De Grandis
'Great Love' can be considered a state of mind that only exists within a spiritual space. It is a kind of love that transcends all senses; it is a love that resides in your life and soul. It is a feeling that is not visible, nor is it tangible. The Great Love can only exist in the individual mind as an abstraction. We hope to use the language of art to express this feeling of Great Love and interpret it as 'sky, water, earth and benevolence'.
The world-renowned Russian author, Leo Nikolayevich Tolstoy once said, "Art is a mirror of life, the origin of art is to convey the feeling of need." Additionally American art critic Leo Steinberg, on a critique of contemporary art, had once said, "the essence of contemporary art is the expression of the world's stress, anxiety and tension, because art is assumed to be a mirror of life."
The world is eternally in turbid, chaotic state. I want to be able to use the truth in art to show everyone. And hopefully they will find their soul in Elysium.
- 21st Century Crossover Artist Simon.Ma Xing Wen
Art, especially contemporary art, does not adhere to the idea of having to create work that is happy. It can also be used to vent negative emotions, and be used as tools or weapons to comment on the indictment of society. However negative the mood of the artwork may be, it should provoke the viewer into leading a more benevolent way of life, to deliver a more positive energy to nature, life and society; to give one's all to be a better person and change social attitudes for the better.
In Buddhism there is a saying that goes, "calmness of the mind and clarity of the heart is the source of love. In 3000 worlds, within 9 days, if one is pure of heart, everywhere is the Pure Land."
Many creative artists draw inspiration from nature, and one of the most basic aspect of human nature, love from the heart, is no exception. When one embraces a pure heart and a calm mind, one can pure itself of all negative emotions and earthly ties. It is to be able to see things from the outside, to see the whole world, the whole universe, and blend oneself with the surrounding environment; to turn the 'I' into 'Us'. To be able to not only think of oneself and be more caring to people, nature and society. With the sculpture 'Benevolent Horse', the idea that the artwork encapsulates is the relationship between man and animal, the love, loyalty and friendship that binds them. In another artwork, 'Dancing Water Drops', the sentiment behind this piece is that water nourishes the Earth and all who inhabit it. The use of metal and its reflective properties is meant to reflect the world, the idea that nature, people, and society should be one in the world, the universe's 'Great Love'. The piece 'Melting Color' shows the gradual integration of color into water, to show the flow of the colors as they descent and dance, to show the beautiful harmony between the two solutions. This is meant to represent the relationship between people and nature; to have a beautiful and harmonious link. Since the work comes deeply from the heart, love is overflowing from the work and the sense of art has gone beyond the realm of art itself.
An interpretation of love can be 'sky, water, earth and benevolence'. This is how the 21st Century Crossover Artist Simon Ma chooses to interpret his exploration of love in art. Ma's 'unlimited crossover' philosophy and belief in infinite love also encapsulates all the unknown possibilities of the mind. To Ma, the first and foremost important aspect is love. An equal aspect to love is benevolence, and Ma expresses these two ideals with 'water' and 'crossover' art. Ma believes that water is the source of all things love, as it nourishes people and all living creatures, being with the ability to love. He also believes that water is a charitable source, as it benefits all things without struggle. Water is also deeply connected to Ma's 'Crossover' ideal in the sense that water can 'crossover' to many different from, be it a liquid, solid or gas, and how water can crossover into different territories.
On June 24th, 2015 Simon Ma will hold his new exhibition "Beyond Art with Love" at La Pelanda, Marco Testaccio, Italy. Similarly, Ma will also take part in the Milan Expo 2015 in Italy with the theme of ''Feeding the Planet, Energy for life''. As of late, Bloomberg TV has also called Ma 'China's most famous artist of the 21st century'. Simon Ma has also hold honors of being a distinguished artist at the Venice Biennale, the UN Cultural Ambassador of Art and Sino-Italian Cultural Ambassador.
The leading theme for this exhibition will be 'water' closely followed by the concept of 'sky, water, earth and benevolence'. There are no words to describe the beauty of Heaven and Earth, and as such is water. As water is the natural form of purity and goodness, it is as if those essences of water have reached all corners of the world. The way Simon Ma conveys his 'crossover' art is to mix east and western influences, as well as utilizing different materials, forms and techniques. Ma uses his water droplets to evoke different concepts and ideas including water, love and turning the abstract into tangible art. The various forms and states of the water droplets is to 'see the world through water drops' and the concept of Great Love. Water is again used as a call for people to cherish water and nature, to convey joy and pleasure.
This exhibition, following the success of "Ink • Brush • Heart" presented at La Biennale di Venezia, has been showcased in Beijing, Milan, Shanghai, Chengdu, Ningbo, Hangzhou, at the Shanghai Museum of Contemporary Art and Museum of Contemporary Art 1844, Ningbo. The displays in the exhibition include the "Dancing Water Drops" series, paintings, sculptures, as well as interactive installations such as the video displays of "Dance" and "Merge". To celebrate the 45th anniversary of the establishment of diplomatic relations between China and Italy, Ma creates also a 200 meter long scroll with the word 'water' drawn and painted over it. The art installation represents the trade agreement between Italy and China during the Silk Road period, where shipments of goods were done by seafaring. Ma hopes to be able to convey the sense of community and love between the two countries, as well as the huge cultural, commercial and historic time shared with this art piece.
Another 'crossover' philosophy of the 21st Century Crossover Artist Simon Ma is to interpret the word 'love' so that his works of art is not just a physical object, it represents something more. Ma wants to show a universal love; a love for art, love for nature, love of people, love for social education. And in turn, this love will also reflect the notion of benevolence of the heart.
---
>
"THE UNION OF FIRE AND WATER" by YARAT
Collateral Event for la Biennale di Venezia 2015
Artists: Almagul Menlibayeva, Rashad Alakbarov
Curator: Suad Garayeva
Commissioned by: YARAT
Sound: German Popov
Supported by: Gilan Holding
Coordinator in Venice: PDG Arte Communications
Venue: Palazzo Barbaro, San Marco, 2840, Venezia, Italy
The Union of Fire and Water presents a historical and cultural superimposition of Baku and Venice as seen through the eyes of two artists, Almagul Menlibayeva and Rashad Alakbarov. The exhibition brings together site-specific video work, sculpture and installation to explore the interrelation between Venice and Baku. The Union of Fire and Water will be based in the previously private Palazzo Barbaro, the former residence of Giosafat Barbaro, a Venetian ambassador who travelled to and wrote extensively on Azerbaijani cities and the court of Shah Uzun Hassan in the late 1400s. Commissioned by YARAT, a not-for-profit contemporary art organisation based in Baku, and curated by Suad Garayeva, the exhibition will be open to the public from 9 May – 22 November 2015 at The 56th International Art Exhibition – la Biennale di Venezia.
The internationally renowned Kazakhstani-born contemporary artist Almagul Menlibayeva works with a range of media including painting, graphics, performance, installation, video and fine art in order to expose shared cultural experiences across time and place. Menlibayeva's acclaimed practice references non-verbal dialogues across worlds, cultures and eras, with particular attention given to the role of women in pre-Soviet, pre-Islamic and Shamanistic and dervish cultures. Rashad Alakbarov is one of the key Azerbaijani artists to come to international attention in recent years. His installation-based works explore the distortion of sensory perception; using various media, Alakbarov arranges objects and fragments before a light-source to cast shadows. The duality between installation and creation, light and shadow, reality and perception is central to his art. Drawing on ideas of tradition, history, culture and architecture, The Union of Fire and Water takes inspiration from a landmark building constructed in the Venetian Gothic style in Baku in 1912: Mukhtarov's Palace. Erected for his beloved wife by one of the first oil magnates, Murtuza Mukhtarov, the building has since changed hands and functions numerous times following the Soviet invasion and Mukhtarov's suicide. The building now houses the main marriage registry office in Baku and is informally known as the 'Palace of Happiness'. The story of Mukhtarov's Palace exemplifies wider themes of unity and conflict, love and violence, dialogue and aggression explored by Menlibayeva and Alakbarov within the show. Using the centuries of exchange and conflict inherent within the architecture of both Baku and Venice, The Union of Fire and Water seeks to explore the complexities of oscillating cultural unions.
Rashad Alakbarov's sculptural interventions interact with the Venetian environment of the Palazzo Barbaro and its 14th century Gothic interior. Metal, light, shadow and sound installations combine to expose discrepancies and dualities latent within the space. Uniting the Venetian history of the Palazzo with his personal history of Baku, Alakbarov introduces an emerging voice from the East. Almagul Menlibayeva's newly commissioned video installation plays on multiple channels across successive rooms. The film draws on the narrative of Mukhtarov and his wife Lisa, immersing the viewer in the story of Baku, whilst further exploring ideas of legacy, modernity, conflict and kinship. Both installations are accompanied by a digital platform allowing viewers to become further immersed in the exhibition. Social media platforms and a dedicated webpage following the progress of the project act as a conduit into the intricacies explored within The Union of Fire and Water. The webpage brings together the layered narrative of the show through both visual and literary references, historical facts and interviews, and will also provide live feeds from within the Palazzo Barbaro.
Website: www.bakuvenice2015.com Twitter: @yaratartspace Facebook: facebook.com/Yarat.Art
Instagram: @yaratcontemporaryartspace
Press Enquiries:
PDG Arte Communications
Ph. +39 041 5264546
E-mail: pressoffice@artecommunications.com
Pavilion of Georgia "Crawling Border"
National Participation - la Biennale di Venezia 2015
Artists: Rusudan Khizanishvili, Irakli Bluishvili, Dimitri Chikvaidze, Joseph Sabia, Ia Liparteliani, Nia Mgaloblishvili, Sophio Shevardnadze
Commissioner:Ana Riaboshenko
Deputy Commissioner: George Aptsiauri
Curator:Nia Mgaloblishvili
Coordination in Venice: PDG Arte Communications
Running Period: 9th – 22nd November 2015 | 10:00am – 6:00pm (Closed on Monday)
Preview Period:: 6th – 8th May 2015 | 10:00am – 7:00pm
Venue: Padiglione all'Arsenale – Sale d'Armi
CRAWLING BORDERis the reality, which Georgia and other post-Soviet countries are confronted with and which owes its existence to the country's geopolitical position.
Georgia's pavilion aims to highlight this reality to a maximum extent and to make a certain intervention in one of the most important platforms for contemporary art. It serves as a political and social message bringing a kind of dissonance into the current political landscape of Europe.
The main concept is a narrative of events structured as a DNA chain analogy, which exists in its usual environment and often remains unnoticed before it is impacted by provoking external factors.
Crawling Border is primarily associated with the drawing of borders in a stealthy manner, and the personal tragedy of many people behind it often escapes our attention.
Visitors to the pavilion can take as close a look as possible at the existing reality. In a mirrored room they will be able to put themselves in the place of those who had to come through the ordeal. The Kunstkamera – an observatory of memories is a place, which, like the subconscious, contains layers of fragments from the past: personal histories and memories, and faces of children living in the territories adjacent to the occupation line – faces, which have already become a blur and continue to be disregarded…
The installation eventually takes on an ironic aspect and is transformed into a puzzle – a puzzle a clue to which is discovered only in the last cell, which symbolizes the reality eternally and purposelessly turning around in a circle.
Visitors finding themselves locked within the construction feel discomfort and out of tune with their surroundings, which serves the goal of bringing them closer to the situation in Georgia and in other countries as well.
Informazioni per la stampa:
PDG Arte Communications
Ph. +39 041 5264546
E-mail: pressoffice@artecommunications.com
'Xanadu Universal Dream 4' (c) Nikunja 2015. Courtesy of the artist.
"XANADU" by Nikunja
Collateral Event of la Biennale di Venezia 2015
Artist: Nikunja
Curator: Jamain Brigitha
Commissioner and Organizer: Dream Amsterdam Foundation
Production: Artrun Production
Video Production: Sami Chalak
Cinematography/Photography: Jean Marc Selva
Performer: Mannee Jeeanah
Sound Compostion: Alain Perret
Sound Engineering: Benoît Saillet
Coordinator in Venice: PDG Arte Communications
Venue: Istituto Santa Maria della Pietà Castello 3701, 30122 Venezia
Dream Amsterdam Foundation proudly announces the commission of interdisciplinary artist Nikunja (Switzerland / Reunion Island, France) for his exhibition of the ongoing and evolving project xanadu, which premiers as a Collateral Event of the Biennale Arte 2015. Okwui Enwezor, curator of the 56th International Art Exhibition, selected the project within the frame of 'All the World's Futures'. This is the first time that the French Reunion Island and Indian Ocean area are represented at the Venice Biennale. xanadu refers to the ancient summer palace of Kublai Khan in Shangdu, which was built in 1251 exactly according to the dream of the Chinese emperor. Like the ancient dream temples, xanadu gathers the energies and experiences of its visitors specific to each place and time the work is shown. Jamain Brigitha, founding director and curator of Dream Amsterdam Foundation, curated Nikunja's exhibition at Istituto Santa Maria della Pietà.
"My work evokes an intimate interaction with the audience, which allows new perspectives and unforeseen artistic formulations on an infinite timeline. To me, these aspects relate closely to Okwui Enwezor's theme. 'All The World's Futures' (in its seed-form) lies in not only a new perception and growing awareness of a multi-layered present, but also the immense creative potential and exchanges that can come out of that. xanadu is the contemporary artistic formulation of this awareness, which connects various levels of time, place and consciousness. With this exhibition, I hope to offer a valuable contribution to the Venice Biennale and a unique art experience to its visitors." – Nikunja
Open-ended poetry
Since the early 1990s, Nikunja has put at the centre of his work the progressive energy of the artistic process. Every individual visitor will add and contribute to the content of xanadu. This approach engages the audience in a form of open-ended poetry, similar to dreams.
Spectator and performer
The worldwide premiere of xanadu consists of drawings, paintings, photos, videos and an interactive, multimedia installation. When visitors enter the exhibition, they are spectators, but they also become part of the artwork as performers. On special dates, the artist will be present to create new works of art in interaction with the individual visitors.
Métissage
Nikunja did his research and created the works for xanadu between 2011 and 2015 in Europe (including Venice), Mauritius and Reunion Island, where he started working at the end of the 1990s. Réunion (whose French name signifies an act and not a place) is an exceptional island that successfully unites cultural and social extremes. Established circa 350 years ago, the fairly young post-colonial island society is signified by historical crime and reconciliation, but also by a long-established multiculturalism and tolerance. Reunionese culture is a 'métissage': a blend of European, African, Indian, Chinese, and insular traditions. It is a country with great diversity, where physical and spiritual energies, sorrows and dreams, as well as history and legends, rooted in major world cultures and religions all merge into a peaceful coexistence. In a time where most of the world seems to be struggling to accept "the other" as equal, the people in this society live in harmony, even in the midst of the colossal extremes of an unstable volcanic landscape. Nikunja incorporates these significant aspects of hybridisation in his artwork as formal principles and psychological references to social and individual states.
What lies in-between is valuable
Nikunja's work is in a constant flux of adaptation, mutation and transformation. The artist explores and values the nomadic, unknown intermedial space between existing media. He searches for hybrid beings or the "ultimate bastard" in the creation of his artworks. He is in continuous discovery of the in-between spaces where other elements may be born. "The condition of transgression and mutation fits perfectly well with the spirit of our current age: globalization, migration, transculturalism, the end of grand narratives, the fading of traditional values, and the steep rise of individualism. The dynamic postmodern plurality of contemporary society goes hand-in-hand with a fast-evolving diversity in contemporary art."
Collective memory and universal knowledge
For his installation, Nikunja creates intense cinematographic material of landscapes composed through the unique light, colours and sounds of Reunion Island in collaboration with cinematographer and photographer Jean Marc Selva (France), electronic musician Alain Perret (Switzerland) and sound engineer Benoît Saillet (Switzerland). The camera follows performer Mannee Jeeanah (Mauritius) through a variation of mental states. However, she is not a representation of a character or a role. xanadu is based on an open narrative structure and (partly) on dreams she has experienced. These dreams largely transcend any links to personal or present-day life; they go beyond these associations and instead make connections between individual and collective memory and universal knowledge. Nikunja collaborated closely with Mannee Jeeanah, who was born into a Mauritian family of Indian origin with a long tradition of spiritual and shamanic practices. She explains, "The ancestral land where I was living became the platform for much agony for what it was trying to convey to me: stories of lifetimes of slavery, torture, mass killings, coming from this soil of slavery. All telling me about the 'lived', the memories of 'human criminology' contained in specific places. To me it felt like the containment of the element of crime in the bowels of the earth."
The dream as creative energy
Nikunja acknowledges the dream as a form of creative energy. He describes dreaming as a nomadic, cultural and spiritual language that belongs to everyone, regardless of age, education, ethnicity, religion or social status. xanadu interrogates the intuitive, associative world of the dream and the creative potential of the dreamer, as well as the subjective division between the perception of reality and the various levels of dream perception. Nikunja states, "Dreams allow us to break with the patterns of day-to-day perception and convey a vaster reality of ourselves. The artificial separations in our mind disappear. Dreams connect us to the multi-layered reality of space and time. Dreams are reality. What we call awake could very well be asleep. Right now: are you dreaming or are you awake?"
Websites: http://dreamamsterdam.nl/nikunjaxanadu/ | www.artecommunications.com | www.dreamamsterdam.nl | www.dreamwoman.me | www.nikunja.org
Press Enquiries:
PDG Arte Communications
Ph. +39 041 5264546
E-mail: pressoffice@artecommunications.com