OPEN 18 - 2015
Gönül Nuhoğlu
Turchia • Turkey
"And Justice and Reason flew back to the heavens Alas, now in their place, brigandage
Hatred, resentment, blood and carnage reigns." Discours des misères de ce temps, Pierre de Ronsard
To be able to maintain the harmony he attributes to the world, the ruler of the established order must deem himself "reasonable" and his opposition "insane". Since anyone envisaging the world, the universe some other way would pose a threat to his order. As long as the world is spinning and the powers are changing, the insane and the sane also change seats with one another. He who holds the power holds the right to be reasonable, while he who is frail is considered insane.
According to the environmental activists the rulers of the world, like madmen, rush towards their devastation. Yet if you ask the executives of the industrial world, the dreams of these vanguards who are possibly designing our path into the future are nothing but utter nonsense. In order to prove the contrary, the dissidents have to carry their dreams into power. And thus will begin the life of what they deem reasonable, a life that will only last until the establishment of another order.
Throughout history, this cycle remains unchanged. The insane swap places with the sane; and the sane with the insane. Our personal ambitions also lead us to reject other ways of reasoning and seeing. We straitjacket others lest they act foolishly. We cut the ground from under their feet lest they force themselves on our established order. And in our small kingdoms, where there are only moments between enthronement and dethronement, we create an army of fools, ourselves included, who can "go nowhere".
Arda Yalkin
art-st-urban
Svizzera • Switzerland
Every year, art-st-urban also recruits 2-4 fellows from the winners of the Outstanding Student Achievement Award from the International Sculpture Center (ISC), Tsinghua University Beijing and others of juried programs of Chinese and international art institutions.
The primary objective of the work program is to free the young artists from their pre-existing, often entrenched ideas, in order attain new creative approaches and greater artistic expression through working in a new environment and experimenting with completely new materials and techniques. Under the expert guidance of their mentor Heinz Aeschlimann, the young artists especially learn the technically correct handling of materials such as bitumen, poured asphalt, mastic asphalt, the use of PVC, PE and other plastic products for artistic work, also in conjunction with wood, glass, cement and stone materials. Special welding techniques also hold an important place here, critical for using different systems, electrodes, new welding processing methods, new ways of working steel surfaces, the use of different grades of steel, laser cutting from sheet metal and steel plates.
An acceptable design/drawing must be created for all the works, with a detailed material(s), work and time schedule list. Throughout their entire time they are in close contact with the head of the artist-in- residence program, Heinz Aeschlimann. All material and tools are amply available and free of cost.
In addition to the artistic education, the fellows will also receive a comprehensive insight into the everyday life, economy, society and socio-political life, history and art history of Switzerland during their stay. Visits to museums, exhibitions, get-togethers and exchanges with other artists, visitors, guests, etc. are strongly maintained. They gain active insight into the preparations for art events with invitations from smaller to larger scale, from site museum tours with cocktails- to gala receptions and dinners for VIP guests of art-st-urban and in private premium setting. Tourist sightseeing to get to know the country and people of Switzerland is also on the program. For any sculpture transporting, installation, de-installations, exhibition hangings, etc. during their stay, the young artists are involved and are thus able to learn respectively needed processes, infrastructure and logistics on site: i.e. "learning by doing".
To achieve a corresponding efficiency and sustainability, the artist-in- residence program is run very tightly and demands a determination to achieve from the young artists for them to benefit so much in such a short time. The daily written and illustrated short reports, are designed to help record the implementation process of what's been learned and thereby to achieve its sustainability.
The cost of the entire residence stay, including travel, accommodation and meals, car, mobile phone, working materials, high precision laser cutting and studios with modern facilities has been sponsored by the art-st-urban "Young Artists" development project.
art-st-urban
Wei Kun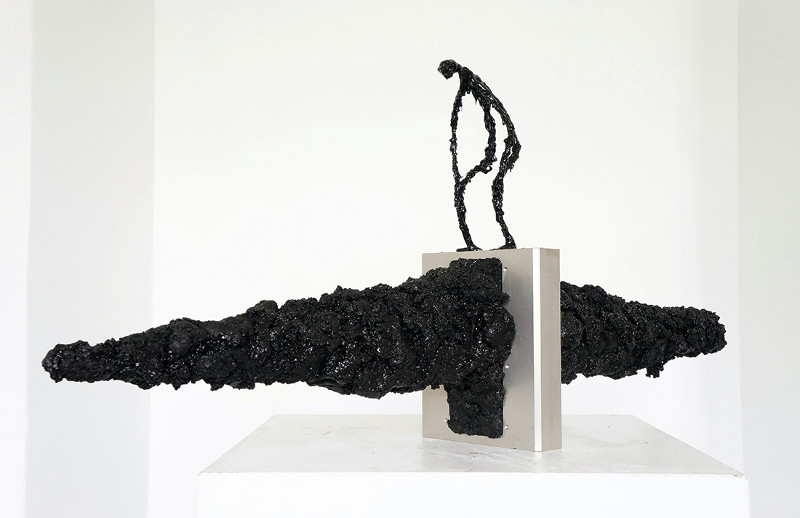 Ali Della Bitta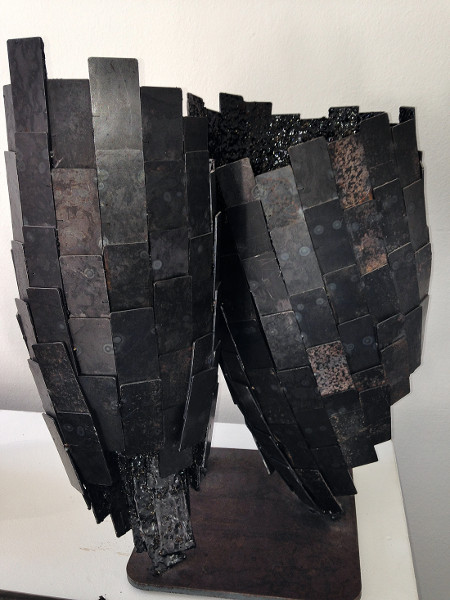 Crystal Schenk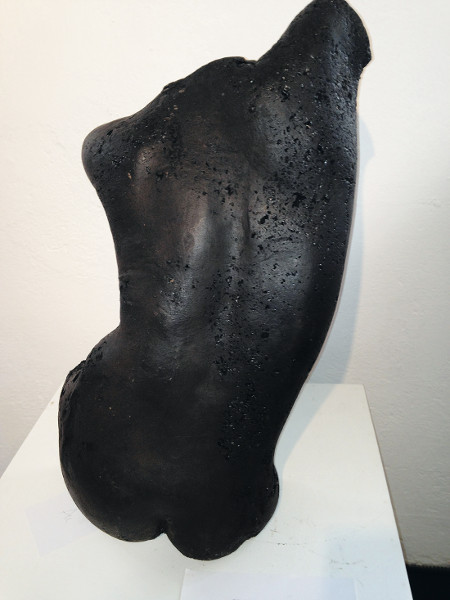 Angie Seykora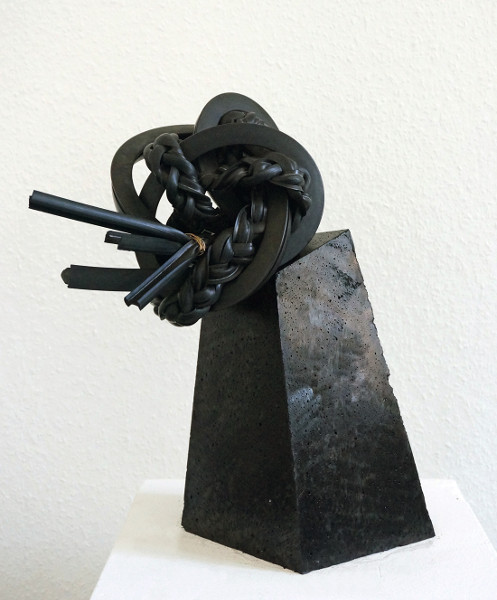 Daniel Rothbart
USA
A glass and aluminum sculpture seems to have surfaced spontaneously from beneath waters of the Giudecca Canal. This is Daniel Rothbart's Air de Venise, which alludes to the celebrated ampoule of Parisian air that Marcel Duchamp carried to New York as a souvenir.
Between nature and architecture, Air de Venise reveals itself as a landscape of symbols. The basic, central elements of the installation are glass bubbles, blown from recycled sake bottles for Japanese fishermen as buoys for their nets. These objects echo the Venetian tradition of glass blowing and visually encapsulate all that is Venice: a liquid frontier, passageway and link between civilizations.
The floating glass spheres not only recall the vessel as a powerful symbol of holy science in Jewish and Christian religion (as well as Buddhist thought), but also the geometric abstract structure of the tree of the Sephiroth. In the Jewish Kabbalah, divine emanations or Sephiroth in Hebrew, reveal both the physical and spiritual dimensions of the universe. Individual Sephiroth are often represented as circles along three vertical axes, which like Rothbart's sculpture, suggest the shape of a tree. The constellation of Sephiroth also surrounds twenty- two letters of the Hebrew alphabet and all the elements interact with one another.
Therefore, every link of the Air de Venise chain represents a point of interaction between forces that determine condensation and cohesion of an aggregate. They are links between earthly and immaterial dimensions and forms. The work embodies Daniel Rothbart's penetrating vision of historical stratification, convergent geographies, inter-cultural traditions, symbolic forms, and ideas.
Vittoria Broggini, Curator
National Taiwan University of Arts
Taiwan R.O.C.
There is hardly a substance like camphor when it comes to the wide range of uses a substance is able to provide, from mummification and medicine, to military, culinary, and religious uses; it also has been essential for filmmaking and still is commonly used for the production of glasses, combs, dentures, buttons, and toys. Camphor is obtained from the Cinnamomum camphora, a large evergreen tropical tree which may eventually grow over 40 meters in height, and has a life-span of over a thousand years. Camphor itself, distilled and refined, is however moderate in scale; it is crystal white in color, highly volatile, slightly soluble in water but readily soluble in organic solvents.
Two major characteristics of camphor's chemical components have become especially important to the modern world: its plasticity and stabilization capabilities. Alfred Nobel made use of the latter for checking and hardening gunpowder grains by adding a mixture of camphor, nitroglycerine, and nitrocellulose. The result was a smokeless powder, patented in 1887 under the name Ballistite. An American inventor, John Wesley Hyatt, used camphor's natural plasticity to form it into a billiard ball, which was used by his brother, Isaiah Hyatt, as the basis for creating celluloid in 1872, the first artificial plastic.
Not much later, an Italian entrepreneur of Swiss descent, Giovanni Stucky, remodeled the skyline of Venice's Giudecca by erecting a factory-style wheat mill of unprecedented scale, employing over 5,000 workers at times and soon to meet the demands of Europe. Beginning in 1884, at the location where the old Church of Santi Biagio e Cataldo used to be, a magnificent neo-gothic complex designed by the German architect Ernst Wullekopf arose, finally seeing its inauguration in 1890. Subsequently, the "Molino Stucky" was to witness the rise and fall of a dynasty, its own abandonment, but also the Cemetery for the ashes of thought, a project by John Hejduk, submitted to the exhibit A proposito del Mulino Stucky, curated by Vittorio Gregotti, artistic director of the Venice Biennale in 1975.
The proposal by John Hejduk, the dean of the School of Architecture at Cooper Union, was less architectural than artistic in nature; it did not touch upon political decision making, nor the building's role in industrial history. Rather, what seemed to have caught the artist's attention were deeper questions about the development of industrialization, its consequences and impacts on human fate, such as war, economic crisis, climate change, terror, and displaced people from all over the world.
According to Hejduk's project, the Molino Stucky was to be painted black on the exterior and white on the interior, with plaques displaying titles of works of literature such as Remembrance of Things Past, Counterfeits, Inferno and Paradise Lost, together with the names of respective authors, thus triggering the contemplation and reconsideration of our civilization in a temple of ashes of thought.
Is there anything that may yet rise from these ashes, materialized thoughts as they are? At least Taiwan's camphor trees have been given a new lease on life after suffering almost a century of exploitation. Thanks to the invention of highly advanced synthetic plastics which have replaced natural camphor as a raw material, these green giants of the mountains are now allowed to live their lives to the fullest without any humans intervention.
The contribution of National Taiwan University of Arts (NTUA) for the 18th edition of OPEN is the result of associative thinking, like a boat drifting from one port to another around the globe, eventually returning to its own port of call - that is, the subject matter of camphor, somehow being Taiwan's equivalent of Stucky's flour, in the hope to open a space for communication, understanding, and interactivity. Approximately ten works of art including installation, paintings, photographic positives, objects, sculpture, as well as one creative workshop will be presented by ten graduate art students from NTUA.
Both Wei-Ya TSENG and Hung-Hao HUANG choose the subject matter of camphor production in Taiwan as well as the materials of photographic positive and camphor chips. However, their approaches and emphasis are totally different and individualistic. While Tseng is interested in specificity, by investigating a single family-owned camphor factory in Miaoli, Taiwan, that has been in operation since the beginning of the 20th century, Huang focuses on the 1930s, and the cutting down of camphor trees at the time, in particular. Even though they both approach the theme in a realistic manner, the two artworks ultimately project a feeling of absence, being reminiscent of the past rather than of documentary nature. This is especially true of Huang's MIT 1930, where camphor chips are kept in a kind of memory box, a piece of work that also touches upon environmental issues as well as the antagonism between man and nature.
Packages by Shang-Ye WU explores the changing targets of camphor marketing by juxtaposing three packages of camphor oil from the 1930s through 1967. Interestingly, a gradual adjustment from international toward local demand can be observed, reflecting the development of camphor production in Taiwan before and after WWII. Less concerned about time, but rather with a constant in human nature, aggression, is the focus of Bang! Bang! Bang!, a piece of artwork which assembles two kinds of simulated gun cartridges: Nobel Ballistite and the American 30-06 Springfield ammunition, both placed in a military bag by Jing-Ying CHEN. Her intention, however, lies not least in the interplay of the visual and the auditory sense.
The modernization of camphor production was initiated by the Japanese colonial power during the 1910s, when a monopoly was implemented island-wide. Traditional methods, however, remained in use. One major work of NTUA's participation in this edition of OPEN is a collective piece, a 2-meter-sculpture entitled Camphor stove by Sheng-Tsang CHO, Hsiao-Li HSU and Yen-An PAN. In choosing to reproduce a traditional camphor distillation stove, which was widely used during the first golden age of Taiwanese camphor production during the last decades of the ninetieth century, they intend to recall a past far from being forgotten. On the contrary, it is capable of beginning a dialogue with a place that was equally glorious and distinct during the same period of time on a distant island.
A more solid, yet interactive and communicative experience, the Creative workshop for Chinese Calligraphy and ink painting will be held by Yu-Fan HSIAO. Last year's positive responses with Venetian children aged between 6 to 10 have encouraged us to continue with this intercultural venture in 2015.
The last two pieces of artwork belong to two female painters: Chun LIU and Ru-An JHANG. Focusing on indigenous toys from the fifties through the seventies, all made of a derivative camphor product, they immerse in the shining and brightly colored world of tiny figurines taken from traditional popular culture in contrast to the present world of the WWW and social media. Celluloid figures by Chun Liu, is about a children's game played at street vendor's booths before the advent of the country's economic miracle. Flat pleasure, on the other hand, presents an imaginary world where contemporary and earlier figurines are juxtaposed into three parts. In the center of the upper part, two children are playing together, while the gods and generals, small as they may be, are solemnly standing by as if observing and protecting humanity in time of great need.
Wen-I YANG, Curator
Jing-Ying Chen
Yu-Fan Hsiao
Chun Liu
Ru-An Jhang
Shang-Ye Wu
Wei-Ya Tseng
Sheng-Tsang Cho, Hsiao-li Hsu, Yen-An Pan
Hung-Hao Huang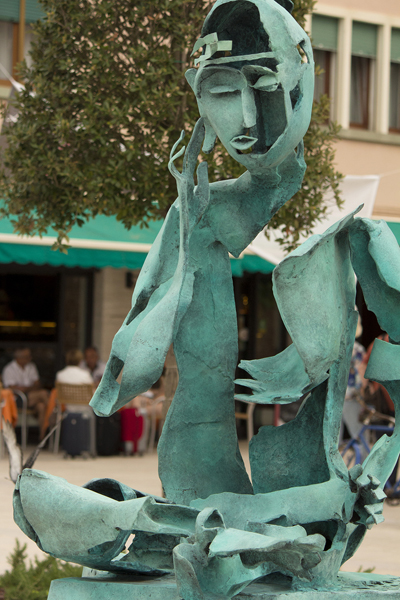 Kuang -Yu Lee
Taiwan R.O.C.
Lee Kuang-Yu was born in 1954 in Taiwan. In the early 1970, he entered the Department of Sculpture of the National College of Arts (predecessor of the National Taiwan University of Arts).
Following graduation in 1975, he went to Spain to study western sculptural technique and theory in Real Academia de Bellas Artes de San Fernando and Universidad Complutense de Madrid respectively and studied with celebrated sculptor Toledo. On returning to Taiwan, he taught at the Taipei National University of the Arts and the National Taiwan University of Arts, retiring in 2006 to devote himself to his work.
Lee Kuang-Yu's creations cross cultural and historical boundaries, representing a cultural marker in which traditional Buddhist and Daoist thought intertwines with modernism.
His work cannot be assigned to any usual stylistic category. Instead, his works create a unique language with his incomparable skill, style and materials which in turn embodies the complex nature of Taiwanese art while representing the essence of Taiwanese culture. His work has previously been exhibited in Spain, Austria, Japan and Singapore. His works can be seen in the public spaces or National Taiwan University Hospital MRT station, on Civic Boulevard, and at National University of Kaohsiung. Within Taiwan, three major galleries have collected many of his works.
J.J. Shih, Curator