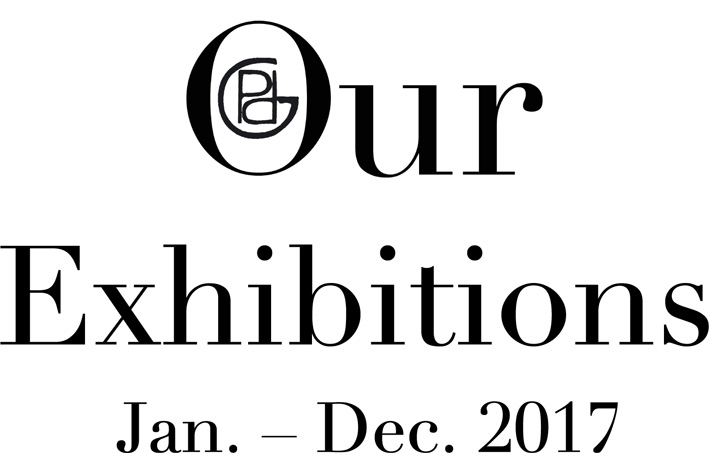 TraVellArT
Resi Girardello - Swinging Tides
Curated by Paolo De Grandis
in collaboration with Carlotta Scarpa
Until 7th January 2018
Hotel Savoia & Jolanda, Riva degli Schiavoni 4187


DACHAN World Tour Exhibition | Rome – Venice
Curated by Paolo De Grandis and Astrid Narguet
Scoletta dei Battioro e Tiraoro
KARACHI BIENNALE
Art Among the People
Curated by Paolo De Grandis
Selected Artists:
Yoko Ono, Michelangelo Pistoletto, Sarah Revoltella, Max Papeschi,
Marco Nereo Rotelli, Elisabetta di Sopra, Federico Nero and the video artists from Hybrid Suite selection – MIH Made In Heaven, Candy Candy/Patrizia Chianese, Laura Federici – curated by Claudio Crescentini.
STILLS OF PEACE Italy - China
Yahon Chang Impromptu
Curated by Paolo De Grandis, Maria Rus Bojan, Francise Chang
Scuderie Ducali di Palazzo Acquaviva

ANDORRA PAVILION
Murmuri
BIENNALE ARTE
Artist: Eve Ariza
Commissioner: Miriam Ambatlle
Curators: Javier Balmaseda, Ivan Sansa, Paolo De Grandis
Coordinator in Venice: Carlotta Scarpa, PDG Arte Communications
Venue: Istituto S. Maria della Pietà, Castello 3701
AZERBAIJAN PAVILION
Under One Sun The Art of Living Together
BIENNALE ARTE
Curators: Prof.Dr. Martin Roth, Emin Mammadov
Advisor: Dr. Shirin Y. Melikova
Participants: HYPNOTICA Visual Performance Group, Elvin Nabizade
Coordinators: Narmina Khalilova, Ekaterina Tasheva, Ulviyya Aliyeva,
Farhad Boyukzada
Coordinators in Venice: Paolo De Grandis, Carlotta Scarpa,
PDG Arte Communications
Venue: Palazzo Lezze, Campo S. Stefano, San Marco 2949

MAURITIUS PAVILION Speeded Up Nature
BIENNALE ARTE
Commissioner: Thivynaidoo Perumal Naiken, National Art Gallery,
Ministry of Arts and Culture, The Republic of Mauritius
Curator: Olga Jürgenson
Executor: Krishna Luchoomun
Exhibitors: Michael Lalljee, Robert Rauschenberg, SEO,
Jacques Desiré Wong So
Coordinator in Venice: PDG Arte Communications
Venue: Instituto Santa Maria della Pietà, Castello 3701, Venezia

MONGOLIA PAVILION
Lost in Tngri (Lost in Heaven)
BIENNALE ARTE
Participants: Chimeddorj Shagdarjav, Munkhbolor Ganbold, Enkhtaivan Ochirbat,
Bolortuvshin Jargalsaikhan, Davaajargal Tsaschikher
Commissioner: Munkh-Orgil Tsend, the Minister of Foreign Affairs
Curator: Dalkh-Ochir Yondonjunai
Organizer: Mongolian Contemporary Art Support Association
Project Director: Gantuya Badamgarav
Artistic Advisor: Tessa Jackson
Supporters: Ministry of Foreign Affairs, Ulaanbaatar City Government
Supporters in Venice: PDG Arte Communications, Valorizzazioni Culturali
Sponsors: MIAT - Mongolian Airlines, Xac Bank, Erel Group,
Monnis Group, Max Group,
Shangri-La Ulaanbaatar LLC, Monre Insurance,
Mahoney Liotta, Bats Urguu and other
private entities and individuals
Venue: Istituto Santa Maria della Pietà, Castello 3701
A Bonsai of My Dream: Wong Cheng Pou
BIENNALE ARTE
Promoter: The Cultural Affairs Bureau of the Macao S.A.R. Government, The Macao Museum of Art
Curator: Ng Fong Chao Noah
Commissioner: Paolo De Grandis
Coordinators: Carlotta Scarpa, Francesca Romana Greco
PDG Arte Communications
Supporters: Cheong Kin Lok, Lam Keng Un, Lao Chok Nam,
Leong Fei In, Sam Hou In,
Wong Cheuk Wing BenjaminVenue: Campo della Tana, Castello 2126/A

Samson Young Songs for Disaster Relief
BIENNALE ARTE
Co-presented by M+ and Hong Kong Arts Development Council
Guest Curator: Ying Kwok
Consulting Curator: Doryun Chong
Coordinator in Venice: PDG Arte CommunicationsCampo della Tana, Castello 2126
LINA CONDES Extra terrestrial Odyssey
in parallel to the BIENNALE ARTE
Curators: Paolo De Grandis, Magdalena Gabriel, Tamara Li /
The International Association of Art Critics affiliated with UNESCO
Coordinator: Carlotta Scarpa, PDG Arte Comunications
Venue: Palazzo Pisani - Conservatorio Benedetto Marcello, Campo S. Stefano, San Marco 2810
From La Biennale di Venezia & OPEN to MACRO.
International Perspectives #4
LI CHEVALIER Trajectory of Desire
Curated by Paolo De Grandis and Claudio Crescentini
MACRO Testaccio – La Pelanda
From la Biennale di Venezia & OPEN to MACRO.
International Perspectives #5 |
Alessandro Verdi Sulla Pelle della Pittura
Curated by Paolo De Grandis and Claudio Crescentini
MACRO Testaccio – La Pelanda
From La Biennale di Venezia & OPEN to MACRO.
International Perspectives #6
Adonis and Marco Nereo Rotelli Poetry
Curated by Paolo De Grandis and Claudio Crescentini
MACRO Testaccio – La Pelanda