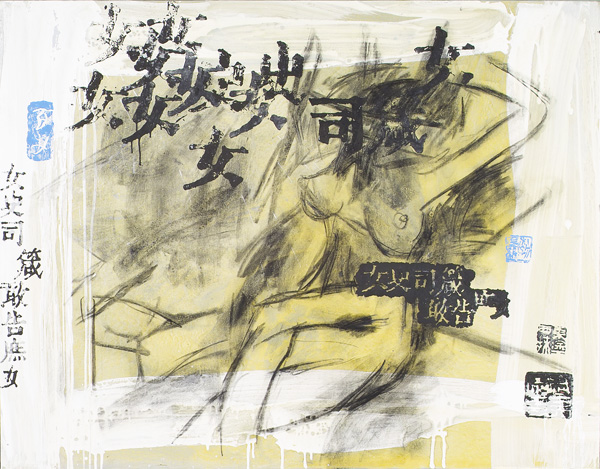 "PATH AND ADVENTURE" by Mio Pang Fei
Collateral Event for la Biennale di Venezia 2015 Exhibits from Macao, China
Organiser: The Civic and Municipal Affairs Bureau, The Macao Museum of Art, The Cultural Affairs Bureau
Curator: Rie Yamanaka
Artist: Mio Pang Fei
Venue: Arsenale, Campo della Tana, Castello, 2126/A - 30122 Venezia
Coordinator in Venice: PDG Arte Communications
Preview period: 6th – 8th May 2015 | 10 am – 8 pm
Opening: 7th May at 5.30 pm
Running period: 9th May 2015 – 22nd November 2015 | 10 am – 6 pm (closed on Mondays)
Venue: Arsenale, Campo della Tana. Castello 2126/A, Venice, Italy
The exhibition from Macao of this edition entitled 'Path and Adventure – Works by Mio Pang Fei', featuring a judicious selection of works from the veteran's creative span of more than six decades, including two of his latest installations.
'Path and Adventure' is a story of a Chinese artist, who decided to take on an adventure and explore the future of oriental painting during the Cultural Revolution, and then destined to be tormented, physically and mentally, on his secret and devout quest and experiments, confronting inner doubts and facing grave personal risks of demise in his artistic pursuit overriding of then dominant Maoist ideology.
18 sets of exhibits will be shown in three series, namely 'The Special Era', 'Shiu hu Series' and 'The Exploration of 'Neo-Orientalism' . The documentary 'Mio Pang Fei' will also be screening in the exhibition.
The exhibits include Mio's experimental works during Cultural Revolution, when he was exploring western painting, as well as his works after settling in Macao. In 'Shiu hu Series' Mio pondered on the possibilities of a peaceful human co-existence and deconstructed calligraphy in his 'Post-Calligraphy' abstract paintings. These artistic creations not only represent Mio's peculiar insights in philosophy and aesthetic, but also his profound reflection in eastern and western cultural studies.
About the Artist
Born in 1936 in Shanghai, Mio Pang Fei graduated from the Faculty of Fine Arts at the Fujian Provincial Institute. In 1982, he moved to Macao, pursuing a professional career as an artist. He also taught at the School of Arts of Macao Polytechnic Institute, Nanjing Arts University, College of Fine Arts Shanghai University. Mio has won numerous awards and recognitions during his artistic career, including a Medal of Cultural Merit conferred by the Macao SAR government in 1999. He has hosted over 60 exhibitions in Macao, China, Malaysia, Singapore, Japan, Australia, Portugal, Belgium and amongst others, with his works collected by various art institutions worldwide.
Website:
www.artecommunications.com
http://www.miopangfei.com
www.mam.gov.mo
Press Enquiries:
PDG Arte Communications
Ph. +39 041 5264546
E-mail: pressoffice@artecommunications.com