PAVILION OF ANDORRA
at the 55th International Art Exhibition - la Biennale di Venezia
Title of the exhibition: "Tempus fugit"
Artists: Javier Balmaseda, Samantha Bosque, Fiona Morrison
Commissioner: Henry Périer
Deputy commissioners: Francesc Rodríguez, Ermengol Puig, Ruth Casabella
Curators: Josep M. Ubach, Paolo De Grandis
Organizer: Ministry of Culture
Coordinator in Venice: Carlotta Scarpa, PDG Arte Communications
Exhibition venue: Arsenale di Venezia, Nappa 90 (Nappa 90 can easily be reached by a water bus service, directly from the Arsenale Biennale inner Darsena)
One of the constituent and almost permanent constants which have predominated and been understandable in recent editions of the Venice Biennale has been the discursive approach, open and multifaceted, used more and more by plastic artists as a means of expression. Art can be, and it is, many "things", but essentially it is a proposal, a message or a dialogue which is personal and non-transferable. This means, therefore, that basically, when one speaks of art, one normally speaks of considerations and vital emotions. A work of art, when it is sincere, is the formulation that the artist extracts from the complex modulation of his experiences, his talent and the expressiveness that defines him.
Post-modernity, in opposition to the interventionist teaching which, in part, defined many artistic avant-gardes, has favoured and encouraged other methods and other ways of plastic creation which, through being more popular, more hybrid, more approachable and more independent, increase the varieties of form and the communicational values of the works. They emphasise those aspects which best enlighten the personality of their creator.
Genes, intelligence and culture are responsible for each person being as he or she is, unique and unrepeatable. In many artists this factor, normally, takes form and is externalised in preparing proposals, often hybrid and formally less rigorous, in which scraps and traces of personal experiences and well rooted vital emotions are used to show, review and understand their personal present.
It is in this context that two concepts as transverse and potent as those of "temporality" and "memory" can come together and intersect in a very creative way. Both western thought and western culture have always considered them as two ideas of great conceptual content, generally present in all humanistic manifestations.
Andorra is taking part in the 55th International Art Exhibition - la Biennale di Venezia, with the aim of showing the world, once more, examples of the artistic culture it generates, and is doing so with a broad, spectacular and encyclopaedic project entitled:
"Temporality and Memory"
The show is based on three works created by three artists who deservedly reflect the conjectures set out above, especially with reference to the particular view of the present that each of them produces, starting from stored and updated experiences and emotions absorbed.
Javier Balmaseda is the creator of the sculpture installation "Parked in Contemporaneity". This is a harsh and truthful story, modulated from experiences immersed in time and images which persist in the memory. It is intended as a forceful visual allegory of the lack of liberty and against those who accept conservatism conditioned by conceptual and social compromises.
Samantha Bosqué calls her installation "Forgotten Memory". It is a multidisciplinary proposal which, thanks to new technologies changing negative into positive and past into present, makes interaction with the spectator possible. The anecdote was the beginning of intense research into individual identity, forgotten by memory, which technology recovers, making a leap in time.
Fiona Morrison transports us, by means of a double video in which she presents "Two Promenades", into another dimension. Intimate, tough and persistent. She undertakes an exploration in parallel of nature and human life - personified in an elderly woman, ravaged by illness, and her granddaughter - and leads us to reflect on the importance of the moment and on the passing of time.
Time, from Heraclitus and the classical Greeks until today, has been founded on development, which is change, and it is only in change that people grasp effective guidelines to go through the experience. Time and development are so closely connected that it is almost impossible to define one without the other. German idealism was the first to grasp that the flow of time is an organic concept, that each person has his own inside him, which characterises him. Now, it is accepted that temporality is one of the factors which leads each person to be what he really is and to be unique and unrepeatable. A good part of the knowledge that people have is drawn from living experiences and it is the intelligence of each one that is responsible for the more or less suitable choices they make.
In this trajectory, the other element, no less important and influential, is memory; a spiritual and intellectual capacity of association which gives us the sense of continuity and differentiation that all of us enjoy.
Memory also allows us another, very intelligent function: the possibility of recovering items of information and an awareness of other items which had been unconsciously assimilated and were half forgotten.
These two capacities are indispensable for all the functions of intelligence and to synthesise the greater part of knowledge. Both, as has been said, are constructed from personal experience, learning and information, and make it possible for the representation of reality and the present to be made by each person in his own way. Where they interact is a place or a fabulous space where the meeting between presence and absence occurs, which is capable of generating singular and distinctive ideas.
Each of the three artists uses a different personal prism. From their memories they take different angles or segments of time, for example: the viewpoint of the present, the viewpoint of the past or the peculiar Proustian idea of taking the viewpoint of the past to relive and reassess the present.
A quotation from the philosopher Gilles Deleuze (1925 – 95), taken from "Dialogues", can serve as a colophon in evaluating the creative work of most artists, including those from Andorra:
"When you work (create) you are necessarily in absolute solitude […] But it is an extremely populous solitude. Populated not with dreams, phantasms or plans, but with encounters".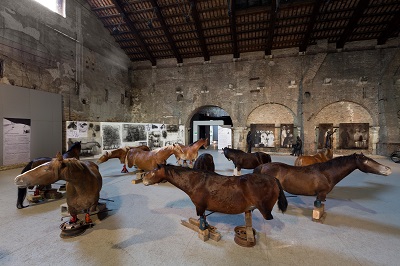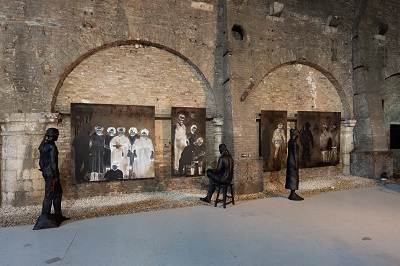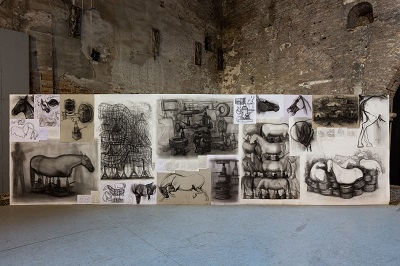 © Sergio Martucci