Poetry of the Flow
Yahon Chang
Curated by Maria Rus Bojan
Collateral event at Manifesta 12 in Palermo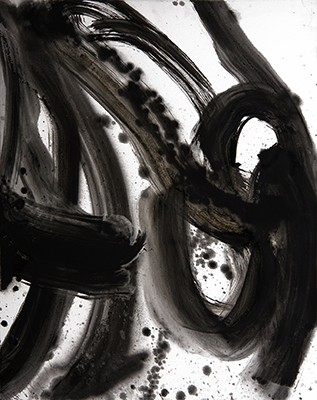 Yahon Chang, Untitled, 2018, Oil on canvas
PRESS RELEASE
17 June – 19 August 2018
Inauguration 15 June 2018, 6pm – 8pm
Sala delle Armi, Palazzo Chiaramonte-Steri, Palermo, Italy
In the exhibition Poetry of the Flow, Taiwanese artist Yahon Chang's site-specific installation converts the monumental space of the Sala delle Armi in Palazzo Chiaramonte-Steri into an interactive environment, tackling philosophical, spiritual and existential issues that revolve around the contemporary human condition. Employing Chinese ink painting techniques, Poetry of the Flow shows multiple large-scale ink paintings that cover the entirety of the exhibition space that surround the viewer.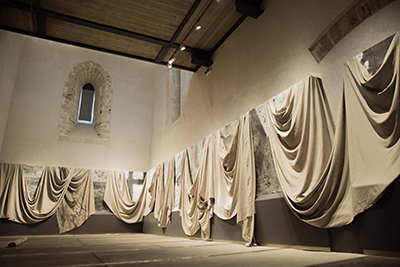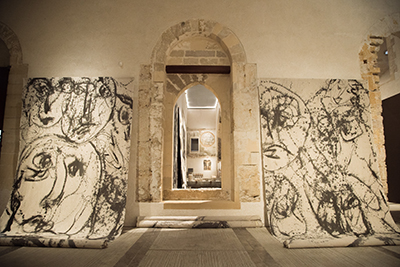 Over the last 2,000 years, Palermo has been occupied by numerous European countries and has long-term connections with North Africa and the Eastern Mediterranean. The artist draws inspiration from the social context of the city which hosts Manifesta 12, with its lavish historical, syncretic and cultural values.
Ink painting and calligraphy have been an integral part of Chinese literati culture for thousands of years. Chang uses these classical techniques and aesthetics to create a new language that is relevant to a contemporary society. Rather than focussing on the process of creation, the artist works similarly to the western art movement Expressionism whereby the artworks are expressive of the artist's inner feelings or ideas.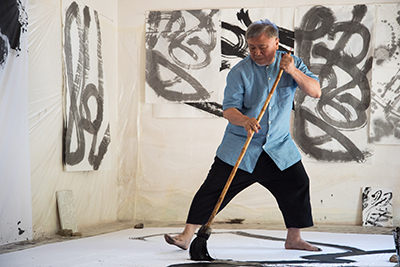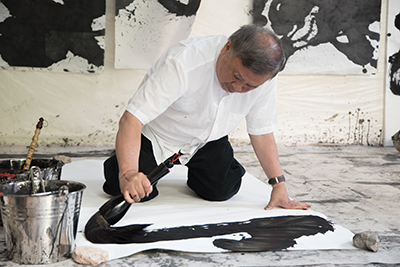 Creating an open and performative element, the artist involves visitors and the local community with the exhibition by inviting them to daily workshops at his temporary studio on via Pantelleria during the vernissage week. He will be teaching Chinese calligraphy as well as how to paint on traditional lanterns.
The artist integrates local materials through painting on bedsheets acquired in Palermo, which are hung in the outdoor garden of his studio. This mirrors the urban landscape within the city, where citizens hang their laundry on balconies in abundance. The combination of the large-scale Chinese ink paintings and paintings on locally sourced bedsheets comments on the layering of histories that have saturated the city for thousands of years. Chang creates a bridge between his own culture and the multicultural Palermo.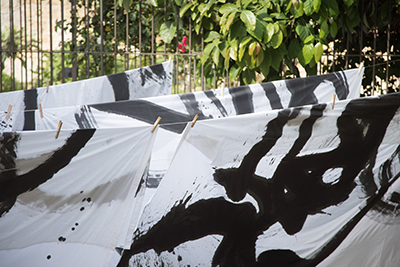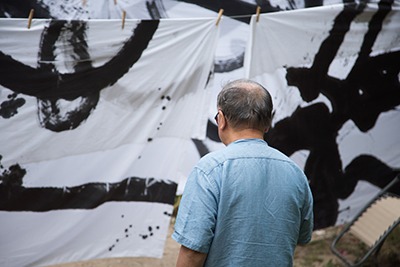 Notes to editors
About the artist
Born in 1948, Yahon Chang lives and works in Taipei, Taiwan. He has shown in numerous international solo and group exhibitions including the recent solo show The Question of Beings at MACRO in Rome (2016) and the 56th International Art Exhibition - la Biennale di Venezia (2015). Raised in post-Japanese-colonial Taiwan, his works portray a particular visual language that voices the agony, rejection, struggle, adversity, acceptance and love as well as his quest to find a higher spirituality and peace. There is a mysterious quality to Yahon's paintings that cements serenity within the viewer, rendering the work in a state of timelessness.


Exhibition
17 June – 19 August 2018
Sala delle Armi, Palazzo Chiaramonte-Steri, Piazza Marina 61, 90133, Palermo, Italy

Opening Hours:
Daily 10am – 7pm (closed on Mondays, except 18 June)

Free entry
…………………………………………………………………………………………….


Workshop and painting studio
14 – 20 June 2018, 4-5pm
Via Pantelleria 18, Palermo, Italy. (10 minutes walk from the exhibition space)
The workshop is open for visits from 14 – 20 June for an hour daily from 4-5pm. Embracing inclusivity and connecting local and international audiences, the artist invites the diverse communities of Palermo and the surrounding region into his personal space through an accessible public programme that incorporates dialogue and a unique opportunity to perform ink painting with the artist. Activities include painting Chinese lanterns with messages, as well as drawing and ink drawing workshops. These activities are part of the collateral event programme of Manifesta 12.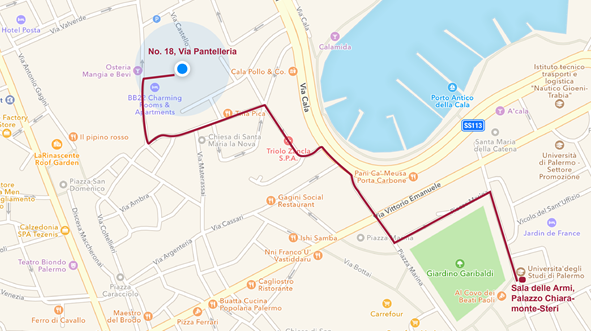 Artist

Yahon Chang

(b. 1948, lives and works in Taipei, Taiwan)

Curator

Maria Rus Bojan

Assistant Curator

Francise Chang

Organiser

MDCA Foundation, Taipei, Taiwan

Coordinator

Paolo de Grandis & Carlotta Scarpa

PDG Arte Communications, Venice, Italy

Sponsors

BANK / MABSOCIETY, Shanghai, China

C-Space + Local, Beijing, China

Supporter

Valorizzazioni Culturali, Venice, Italy
Under the patronage of: Città di Palermo
…………………………………………………………………………………………….
Press Contact
Carlotta Dennis-Lovaglio at Pelham Communications
carlotta@pelhamcommunications.com
+44 (0)20 8969 3959
Organisation Contact
Francise Chang francise@mac.com
…………………………………………………………………………………………….
Website
www.yahonchang.com
Social
www.facebook.com/yahonchang
Hashtag
#yahonchang


---