Republic of Gabon

Pavilion of the Republic of Gabon at the 53rd International Art Exhibition - La Biennale di Venezia
Owanto, The Lighthouse of Memory
Go nogé mènè
Artist: Owanto
Curator: Fernando Francés
Commissioner: Desirèe Maretti
Venue: Telecom Italia Future Centre, San Marco 4826, Campo San Salvador. Vaporetto : Rialto
7 June - 22 November; 10.00 – 6.00 pm
Owanto will represent Gabon at the Venice Biennial

Yvette Berger, Owanto, is the artist who has been chosen to represent Gabon in its first time at the Venice Biennial. Though Owanto (born in Paris in 1953), the daughter of a French father and a Gabo¬nese mother, lived in Gabon for the first years of her childhood, she has actually spent most of her life in Europe – Great Britain, France and Spain.
The curator of the artistic project is Fernando Francés from Spain, director of CAC Malaga, the Malaga Centre for Contemporary Art, which strictly complied with the general project laid down by the di¬rector Daniel Birnbaum, who intended to emphasize the creative processes. From this point of view, Owanto's work uses scrap elements and landscapes as the raw material for drawing the image and the gaze. Degraded spaces, which show the traces of an evolution, but do not reveal the concrete iden¬tity of the territory. From this point of view, the show will present a series of photos of these places which are impressive yet full of questions about the fate of the world and mankind. A road which may lead to chaos, to crisis and even to destruction, but which, if re-oriented on the basis of the experi¬ence of other cultures, can evolve towards the construction of a more committed world. In this way, she also penetrates deeply into the ideas and lifestyles of the East and West, of Gabon and Europe. While in Gabon, the materials and landscape are nature and study, in the West they are technology and city. For this exhibition, she will be showing the "Tree House", a piece which presents on a natural scale that which in Gabon during her grandmother's time could have been a rural home, and in the West, in the everyday environment of the artist, is a play house. In this "Tree house" a projection consisting of a selection of photos will be shown in which two Western girls paint the walls of the hut, turning this play house once again into an atelier and hence a workshop which the artist has interpreted as an installation where two opposite and contradictory, yet complementary, worlds meet. This tree house represents the scenario of Owanto's African past, but also the future of her daughter who metallically plays out a dance which does not call for rain or abundant game, but rather calls upon this changing world to evolve towards understanding, solidarity and peace. Towards the construction of a common hearth where the family can be a starting point for a global village.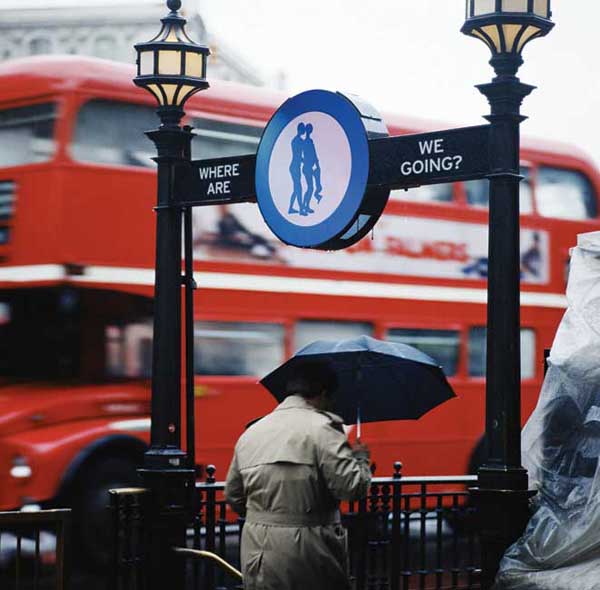 Owanto, The Lighthouse of Memory
Go nogé mènè

The effects of globalization and the collapse of information and communication borders have enabled art to recover many of its most ancestral functions, which, within the parameters of Manichean se¬miotics, enable reusing and transforming ideas in accordance with the interest of the times. One of these functions could be curative, having to do with magical and inexplicable territories but also with other totally scientific ones. Indeed, a good example of this is current art, the only medium through which the evolution of the thinking and construction of change can be grasped. Perhaps we should ask ourselves if the changes of the world and humanity come first, or whether it is the change in art. Or perhaps it is impossible to understand because one is the consequence of the other. In any case, at present art is a sort of precocious journalist and notary who has detected the world's problems sooner than other more philosophical or political perspectives. In this context what is certain is the transi¬tive nature of art. Bertrand Russell felt that "Change is scientific, progressive and ethical." There is no doubt that changes require and are built on the basis of permanent feedback processes. They are like a beaver's dams, built to stop the current that eventually destroys them so as to reconstruct on their ruins a more resistant one. This principle of construction-destruction is reproduced in the evolution of the science of healing and by extension in any creative process, like the ones that are implicit in art.
In consequence, it seems obvious that contemporary art has a greater capacity to transform itself and to exert influence than the art of the past, but perhaps it is also less local, and for this reason it analy¬ses, ponders and follows common processes irrespective of geographic, cultural and historical origins, too often forgetting the richness of variety, the idiosyncrasy of each group, country or region of the world, and what each one of these can contribute to a global discussion. Finding a common and multicul¬tural forum would no doubt contribute to stimulate progress and to enrich the processes of thought and science. Accepting this fact, doubts regarding the future no longer have to do with communication strategies, not even with the origins of the problem, but rather with finding a common aspiration, a setting of universal values embracing all thoughts, all stories and all truths. A place located between utopia and tolerance. We should consider what aspects of our present world, if any, are valid for all so¬cieties, irrespective of their historical, economic, social, cultural or political tradition and circumstances; and whether art can provide a different, coherent, but above all useful perspective to this discussion. Too often spectators of the world of art long for the artist's complicity and personal commitment with the problems of the world, even if some artists who become too involved have been called opportu¬nistic. Consciences can still be moved, and made to feel uncomfortable, by art. This is what still moves me, and all that I am interested in. To a certain extent this always coincides with reflexive and autobio¬graphical art, arising from the artist's memory, the depth of his/her thoughts and heart and projected to the outside world with the progressive, scientific, ethical and curative intention to change it.
Curiously, when I think about the artists who coincide with these parameters of art, memory only al¬lows me to recall names of women, Owanto in Gabonese: Ana Mendieta, Frida Kahlo, Louise Bourgeois, Tracey Emin, Shirin Neshat, Marina Abramovic, Owanto…all of them synonyms of courage and authentic¬ity. Owanto, the name of Yvette Berger's mother, is Yvette's artistic name. But more than a well-de¬served homage to her courageous mother, Owanto is also a symbol, the banner of those who defend a commitment in the eyes of the world; who demand the end of gender violence, who demand a different role for women, who demand the respect and acknowledgement refused during thousands of years by civilizations of all kinds.
Owanto's work is imbued with this spirit and with the vigor of women as the centre of nature and time, like lost poetry, the ingenuity and utopia of a dream, because like Martin Luther King, she also has a dream. She builds images that question eternal doubts and perhaps for this reason seem unnecessary and typical of a youth undergoing training. Where are we going? the artist asks. Perhaps this mayes¬tic phrase suggests good and ingenuous intentions, but it is also evident that Owanto raises clear and daring answers of a universal dimension, showing the result of deep interior thought, the evidence of human values that can be useful to build a more supportive, and thus better, world.
Owanto's gaze on the Africa of her childhood has nothing to do with the similar experience of a 19th century traveling writer or explorer, and is of course at the opposite end of the aesthetic gaze of rational architects or cubist painters. Her position is a call to the world based on life experiences. She sends us a clear, optimistic and very useful message. Truth may be found in the origins of civilization, which is why the land of her mother, Africa, has a lot to contribute to the construction of a world order. The contribution is not scientific, economic or technical; it is ethical. And the conjunction of these two needs will surely be the path of progress. Ideas, principles and the foundations on which to build Owanto's message are as simple as nature. There are animist origins in this option, origins whose roots delve down deep into the spirituality of her Gabonese mother's ancestors. Her ideas of change, of codi¬fying our present world, stem from family unity and the strength of family bonds as the best labora¬tory to design and build love, a raw material that is vital for mutual understanding in the world. In this laboratory, mothers and women are the symbol of unity and courage. This is the metaphor of power, of strength, and of hope that a better world is possible if each one of us begins by influencing and chang¬ing his/her immediate surroundings, family, tribe, society.
Owanto has used findings of pop, conceptual and minimal art to elaborate a series of simple and univer¬sal symbols, not to discover but rather to remind spectators where the solutions may lie and where a society lacking moral strength may begin to heal.
Using her sculptures as a point of departure, Owanto has created some very schematic icons which she presents in highly technical and industrial formats, such as light boxes and traffic signs, an option frequently used by artists such as Maurizio Cattelan, Rogelio López Cuenca, Gabriel Acuña and Michael Pinsky.
Thus, Owanto's discourse focuses on images representing a family group (mother, father and child) and a child playing, as a simile of world happiness yet to come. Signs have a double intention: on one hand to alert us of the clues and the solutions….and on the other, to lead a change of direction of the rules governing the world. The light boxes have, like a torch or a lighthouse, the vocation of illuminating the path towards a future marked by tolerance, solidarity, hope and happiness.
Subversion in the sense of freedom, one of the most demanded symbols of our present time and of art, is no longer a matter of provocation but rather, like in Owanto's work, of memory.

For more information please contact:
Sara Martin Blanco
Public Relations Department of the Pavilion of the Republic of Gabon
t +34 670 41 98 23
email: info@pavillondugabon.com
web: www.pavillondugabon.com