Samson Young
Songs for Disaster Relief
Collateral Event of the 57th International Art Exhibition – La Biennale di Venezia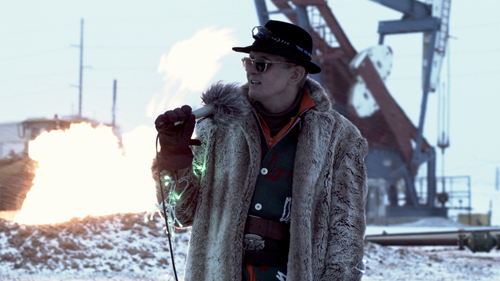 Co-presented by M+ and HKADC, Songs for Disaster Relief, will feature a series of newly commissioned site specific works
Exhibition period: 13 May – 26 November 2017
Venue: Campo della Tana, Castello 2126-30122, Venice, Italy (Opposite the main entrance of Arsenale)
Preview dates: 10, 11 and 12 May 2017
Opening reception: 11 May 2017
Press preview: 10 May 2017
(10 April 2017, Hong Kong) M+ at the West Kowloon Cultural District and Hong Kong Arts Development Council (HKADC) are proud to announce the solo exhibition Samson Young: Songs for Disaster Relief, Hong Kong in Venice as Collateral Event of the 57th International Art Exhibition – La Biennale di Venezia. As the third collaboration between M+ and HKADC, this exhibition presents a major milestone of Hong Kong contemporary art at one of the most important international platforms.
The curatorial team consists of Ying Kwok, a respected Hong Kong curator, as the Guest Curator, with Doryun Chong, Deputy Director and Chief Curator of M+, serving as the Consulting Curator.
For the 57th edition of the Venice Biennale, Young will create a new body of work that attempts to reframe the popularity of "charity singles" —purpose-made recordings for charitable causes, featuring super-group artists—as historic "events" and a culturally transformative moments in time. Charity singles were most widespread in the 1980s, and coincided with the rise of neo-liberalist aspirations and the globalisation of the popular music industry. However questions were raised about their appropriateness when 'We Are the World' was remade in recent year. A perceived strangeness in the setup left a mark on Samson's consciousness, setting him on a journey of rediscovery that informs this exhibition.
Through a deliberate repurposing and creative misreading of such iconic songs as 'We Are the World' and 'Do They Know It's Christmas', the artist will generate a series of drawings, objects, video, spatial sound installations and site specific works that together constitute a unique audio-visual experience. The exhibition is conceived as an album unfolding in space to be experienced in person.
Formal trained in classical music composition, Young's interests range from the politics behind classical Western music writing systems to possible relations between sounds and warfare (sound as a weapon, or explosions as vehicles of overwhelming information), to artefacts that can unite or separate communities and individuals. Despite the interdisciplinary nature of his output, Young retains a strong commitment to the avant-garde compositional traditions of aleatoric music, musique concrète and graphic notation. He is particularly interested in exploring the social, philosophical, and political questions that these compositional techniques and procedures pose in a cross-cultural context.
Dr. Wilfred Wong, Chairman of HKADC, said, "Our participation in the Biennale since 2001 has continued to further our mission of presenting Hong Kong's visual art and artists to the world. This is both a reflection and a reinforcement of the city's long-standing commitment to arts and culture, befitting its reputation as Asia's World City. HKADC started in 2013 to collaborate with M+ and attained highly acclaimed reviews. We have great confidence that this year's experience will be equally encouraging."
Doryun Chong, Deputy Director and Chief Curator of M+, who is serving as consulting curator for this project said: "Samson Young's ambitious solo project in Venice is a testament to his extraordinary ability to put his finger on contemporary issues through his work. He does this by excavating forgotten or lesser known moments from the past and in the present, and locating them in a highly imaginative web of associations and evocations. Songs for Disaster Relief is a stimulating and complex journey that takes visitors through visual, aural, and physical experiences, reminding them of the often overlooked need for empathy, and also of the need for us to work through our failures".
Ying Kwok, Curator of this project said: "Music is a universal experience: a powerful form of common understanding and collective memory. Samson Young's ambitious project Songs for Disaster Relief investigates the popularity and subsequent decline of "charity singles". He brings together several seemingly unrelated political implications obscured in a cross-cultural context to explore the social, philosophical, and political questions.
Samson Young added, "This new series of work for the Biennale Arte 2017 looks at the popularity of the musical genre of charity singles – including such iconic songs as 'We Are The World' and 'Do They Know It's Christmas' - as "historic events". I am very thankful for the generous support I have received from M+ and HKADC for the development of this new body of work."
General Information
Exhibition Period
From 13 May until 26 November 2017
10 am to 6 pm (from 10 am to 8 pm on Fridays and Saturdays from 13 May until 30 September, 2017)
Closed on Mondays (except 15 May, 14 August, 4 September, 30 October, and 20 November, 2017)
Location
Campo della Tana, Castello 2126-30122, Venice, Italy
(Opposite the main entrance of Arsenale)
Catalogue
The exhibition will be accompanied by a fully illustrated catalogue with reprints and new commissioned essays from Seth Kim-Cohen and Anthony Leung Po Shan, as well as contributions from Samson Young, Ying Kwok, Doryun Chong exploring the intricate layers of Young's artistic practice from various perspectives.
Organisers Websites
M+, West Kowloon Cultural District: http://www.westkowloon.hk/en/mplus
HKADC http://www.hkadc.org.hk/
Social Media
Please join the conversation with Songs for Disaster Relief, Collateral Event at the 57th International Art Exhibition – La Biennale di Venezia on Twitter (@mplusmuseum), Facebook (https://www.facebook.com/mplushongkong) and Instagram (@mplusmuseum) via the hashtags #SamsonYoung #SongsForDisasterRelief #HongKongVenice
Coordinator in Venice: PDG Arte Communications www.artecommunications.com
Notes to Editors
Hong Kong Arts Development Council
Established in 1995, the Hong Kong Arts Development Council (HKADC) is a statutory body set up by the Government to support the broad development of the arts in Hong Kong. The major roles of HKADC are to fund, promote and support the broad development of the arts including literary arts, performing arts, visual arts as well as film and media arts in Hong Kong. Aiming to foster a thriving arts environment and enhancing the quality of life of the public, HKADC is also committed to facilitating community-wide participation in the arts and arts education, encouraging arts criticism, raising the standard of arts administration and strengthening the work on policy research.
Major development strategies:
l Supporting promising artists and arts groups in the pursuit of excellence
l Promoting arts administration to improve the management of arts groups
l Focusing on the arts environment and proposing policy recommendations
l Enhancing public participation and exploring arts space
l Fostering strategic partnerships and bringing arts resources together
HKADC has taken part in the International Art Exhibition – La Biennale di Venezia since 2001, with an aim to enhance exchange and communication between Hong Kong and other countries in the world. About 532,000 people have visited the past eight exhibitions.
West Kowloon Cultural District
Located on Hong Kong's Victoria Harbour, the West Kowloon Cultural District is one of the largest cultural projects in the world. Its vision is to create a vibrant new cultural quarter for Hong Kong. With a complex of theatres, performance spaces, and M+, the West Kowloon Cultural District will produce and host world-class exhibitions, performances, and cultural events, as well as provide 23 hectares of public open space, including a two kilometre waterfront promenade.
M+
Hong Kong's museum for visual culture – encompassing 20th and 21st century art, design, and architecture, and moving image from Hong Kong, China, Asia, and beyond – M+ will be one of the largest museums of modern and contemporary visual culture in the world. Located adjacent to the Art Park on the waterfront, the museum building, designed by Herzog & de Meuron, is scheduled to open in 2019.
Artist: Samson Young
Samson Young (b.1979) is an artist and composer based in Hong Kong. Young's diverse practice draws from the avant-garde compositional traditions of aleatoric music, musique concrète, and graphic notation. Behind each project is an extensive process of research, involving a mapping of the process through a series of 'sound sketches' and audio recordings. His drawing, radio broadcast, performance and composition touch upon the recurring topics of conflict, war, and political frontiers.
Young was the inaugural winner of the BMW Art Journey Award at the Art Basel Hong Kong 2015. His recent solo projects include Hiroshima City Museum of Contemporary Art, Japan (2015); Team Gallery, New York (2015); Para Site, Hong Kong (2016); Experimenter, India (2016); and Kunsthalle Düsseldorf, Germany (2016).
As a practising musician, Young is the member of multiple bands and has collaborated with ensembles and orchestras worldwide. He has participated in international music and performing art festivals including Internationale Ferienkurse für Neue Musik, Darmstadt; Fusebox Festival, Austin; New York Electronic Art Festival, New York; Tonlagen Festival, Dresden; Transart Festival, Bolzano; and MONA FOMA Festival of Music and Art.
Guest Curator: Ying Kwok
Ying Kwok is an independent curator who is noted for her inventive curatorial approach, often centered on 'boundaries of collaboration' between curators, artists, and the wider community. She is the curator of the Chinese Arts Centre in Manchester in the UK between 2006 and 2012.
Since 2013, Kwok became an independent curator working internationally. She co-curated Harmonious Society, as part of Asia Triennial Manchester 2014, From longing to belonging with Laznia Centre for Contemporary Art in Poland in 2014 and 2016; and recently No cause for alarm at La MaMa Galleria in New York 2016. In 2015, Kwok was awarded the Asia Cultural Council Fellowship to carry out a five-month-long research on participatory and engagement projects in the US. To encourage critical thinking and initiating effective discussions in Hong Kong, Kwok founded the Art Appraisal Club with a group of local art professionals in 2014. They first launch their biannual and bilingual journal Art Review Hong Kong in 2016. Apart from that, the group also provides regular exhibition reviews which are published in magazines and various cultural networks.
Consulting Curator: Doryun Chong
Doryun Chong is the Deputy Director and Chief Curator at M+, a museum of visual culture in Hong Kong. Chong oversees all aspects of curatorial activities of M+, including collection, exhibitions and symposiums, as well as learning and interpretation. Prior to joining M+, he held curatorial positions at the Museum of Modern Art (MoMA) in New York from 2009 to 2013; the Walker Art Center in Minneapolis from 2003 and 2009; and also at the Asian Art Museum of San Francisco. He served as the coordinator for the Korean Pavilion exhibition at the Biennale Arte 2001 and co-curated Tsang Kin-wah: The Infinite Nothing, Hong Kong's project for the Biennale Arte 2015.
Media Enquiries
West Kowloon Cultural District Authority:

Louie Tong

Manager, Communications and Public Affairs

+852 2200-0716 / +852 6608-0909

Hong Kong Arts Development Council:

Emily Hui

Manager, Arts Promotion and Communications

Hong Kong Arts Development Council

+852 2820-1067

International:

SUTTON

Sybil Kot

+852 2528-0792