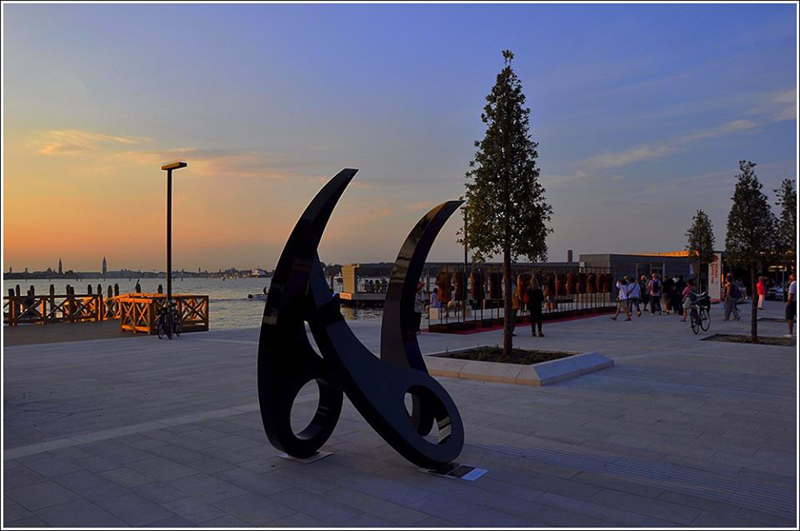 Heinz Aeschlimann
Svizzera • Switzerland
Heinz Aeschlimann is an artist, engineer and entrepreneur. Both in the field of business and artistic activities, Heinz Aeschlimann is oriented to the leitmotifs of success and quality. Since 1970 the civil engineer has been creating a large number of sculptures in various formats and forms. In addition to small sculptures and reliefs, he has created many monumental works. Some sculptures weighing tonnes are now found in various sculpture parks or are part of prestigious art collections throughout the world. Heinz Aeschlimann is regularly invited to important exhibitions in the US, Europe and Asia. On the invitation of the Chinese Sculpture Institute in Wuhu, China, in 2014, he was awarded the major Chinese Sculpture Award, the "4th Liu Kaiqu Award" for his monumental sculpture Composer XXI.
In 2005, Heinz Aeschlimann and his wife founded the art and cultural centre art-st-urban at the monastery complex of St Urban in Lucerne, Switzerland. The centre features a museum, a sculpture park and a very personally run Artist in Residence programme for young artists in sculpture and music, which he closely attends both as mentor and supervisor. With the independent, privately funded art institution of art-st-urban, he has succeeded in gaining significant recognition at home and abroad for this extraordinary concept. There are also exhibitions shown by renowned artists from East to West, often embedded in transnational festivals or Music Meets Art events.
With the sculpture Trilogie dedicated to the composers Franz Liszt, Richard Wager and Cosima Wagner-Liszt, Heinz Aeschlimann vividly illustrates the symbiosis of music and sculpture. He devoted an entire sculpture cycle to Franz Liszt; these "Composer" works can be seen in Chicago, Vancouver, New York, Beijing and beyond.
Through his decades of intensive experience, research and experimentation in the area of mastic asphalt, he has managed to develop a formulation of "black gold" that makes it possible to create stable, durable vertical and organic shapes and creations, Aeschlimann Asphal Art was born - street runs heaven! Internationally unique mastic asphalt sculptures are created in collaboration with the Young Artist in Residence.
The artist lives and works in his studio in Switzerland - alternately in his studios in Roggliswil - St Urban (Lucerne) and Monte Ceneri (Ticino).
art-st-urban