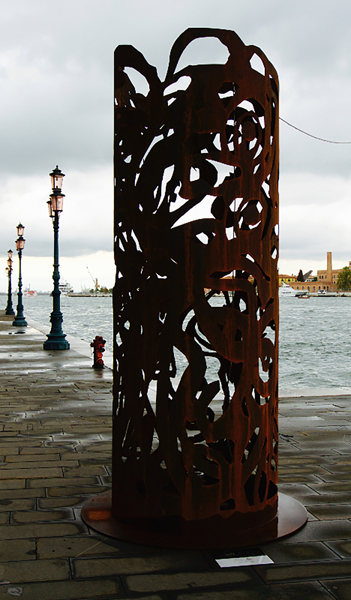 Yahon Chang
Taiwan R.O.C.
Born in 1948, Yahon Chang lives and works in Taipei, Taiwan. He has shown in numerous international solo and group exhibitions, with his most recent solo show, The Question of Beings, held at the Collateral Event of this year's 56th International Art Exhibition-la Biennale di Venezia. Employing Chinese ink painting techniques, his artwork encompasses a wide variety of media and is imbued with elements of the Literati and Zen traditions. With his upbringing in post-Japanese-colonial Taiwan, his works portray a particular visual language that voices the agony, rejections, struggles, adversity, acceptance and love in this world as well as his quest to find higher spirituality and peace. For the OPEN exhibition, Chang has incorporates and transform the expressive ink brushwork of his Arhat, Vital and Faces series paintings into three-dimension form, with two new sculptures to be shown for the very first time.
Yahon Chang was born in an era of post-Japanese colonisation, grew up in Central Taiwan in the Nantou Provence, where the education system, values and living environment were still closely knitted to the legacy of the Japanese occupancy. Like many others of his generation, Chang has not only gone through hardships to achieve success and gain self-worth in society, he also seeks enlightenment for spiritual growth through religion - for the first 60 years of his life this was Zen Buddhism and later, Christianity, where he has found the spiritual reconciliation that he has been seeking all his life. Consequently, throughout Chang's body of work, the subject on identity, the questioning of one's existence in society and the transcendental mediation on his subject matter are palpable in his series of portraitures. In his portraits of different beings, the various countenances explore the space between the state of being and the subconscious that questions the existence of all beings, which also suggests the phenomenon of social discrimination in post-colonial Taiwan and the quest of spirituality.
Chang's artwork has been included in private, corporate and museum collections worldwide, such as Shanghai Art Museum and Busan Museum of Art.
J. J. Shih and Francise Chang