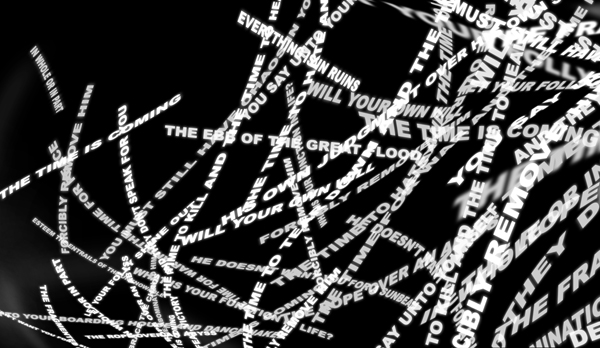 Tsang Kin-Wah The Infinite Nothing
Collateral Event of the 56th International Art Exhibition – la Biennale di Venezia
Tsang Kin-Wah: The Infinite Nothing, Hong Kong in Veniceat the 56th International Art Exhibition - la Biennale di Veneziawill feature a series of new video installations by Hong Kong artist Tsang Kin-Wah
Exhibition Period: 9th May – 22nd November 2015
Venue: Campo della Tana, Castello 2126-30122, Venice, Italy
(Opposite the main entrance of Arsenale)
The Infinite Nothing: I , 2015, Multi-screen video and sound installation, Dimension variable, Image courtesy of the artist
XX March 2015, Hong Kong:The Hong Kong Arts Development Council (ADC) and M+, Hong Kong's future museum for 20th and 21st century visual culture in the West Kowloon Cultural District, are delighted to announce The Infinite Nothing, a solo exhibition by Hong Kong artist Tsang Kin-Wah,in the 56th International Art Exhibition - la Biennale di Venezia. The M+ curatorial team consists of Doryun Chong, Chief Curator, and Stella Fong, Curator, Learning and Interpretation, with M+ Executive Director Lars Nittve as Consulting Curator.
Conceived specifically for the exhibition, The Infinite Nothing consists of four stand-alone video installations that, altogether, form a narrative of transformative journeys through stages in life, exploring a perpetual cycle of self- inquiry and discovery. The work brings together a host of philosophical concepts expressed through metaphors and allegories, along with religious symbolisms and popular cultural references.
A devout Christian in his teenage years, Tsang Kin-Wah began to question religious values when he came under the influence of Friedrich Nietzsche's existentialist philosophy. Developing from this perspective, Tsang's oeuvre can be characterised as a constant search for meaning and purpose in life — with a full understanding of its potential futility. The conceptual underpinning of The Infinite Nothing, is suggested by the title's reference to Nietzsche's notorious pronouncement of the death of God: 'Are we not straying as through an infinite nothing? Do we not feel the breath of empty space?'
The video installation will take the viewer on a journey, starting in the midst of a churning river and progressing through the different sections of the exhibition. In the final section, the visitor is led to a door which returns back to the beginning of the journey. The concept of a cycle of self-exploration is instigated: one in which old value systems are replaced by new ones, questioning the possibility of an actualisation of eternal recurrence.
Dr. Wilfred Wong, Chairman of the ADC, said, "For more than a decade, our participation in the Biennale has continued to reinforce Hong Kong's long-standing mission in art. The ADC and M+ share interest in showcasing the vitality of Hong Kong art to overseas audience and strengthening Hong Kong's position as a cultural centre in Asia. Building on our past achievement, this year's renewed partnership will continue the effort to encourage dialogues with art professionals and practitioners around the globe."
Doryun Chong, Curator, commented,"Tsang is exceptional at illustrating the ever-shifting nature of life. Featuring his signature text projections as well as use of found moving images this video installation willseek to question the imposed archaic values and the moral force of religion, while affirming the human quest for self-betterment via a lifetime's search for truth and reality. Echoing views on truth and interpretation, while combing the idea of the illusionary ideal world, this work is set to be a powerful and engrossing addition to the Biennale both perceptually and conceptually."
Tsang Kin-Wah added,"This new series of work for the Venice Biennale echoes Nietzsche's views on truth and interpretation and also alludes tothe fragility of the absolute, the instability of things, and the uncertainty of life. I am also interested in how these ideas connect with the Hindu/Buddhist notions of karma and reincarnation. I am delighted to be developing new works with the support of M+ and The Hong Kong Arts Development Council (ADC)."
END
From 9 May until 22November 2015
10:00 – 18:00 (10 :00 – 20:00 on Fridays and Saturdays from 9 May till 26 September 2015)
Closed on Mondays (except 11 May, 1 June and 16 November 2015)
Campo dellaTana, Castello 2126-30122, Venice, Italy
(Opposite the main entrance of Arsenale)
The exhibition will be accompanied by a fully illustrated catalogue with contributions from Tsang Kin-Wah, Doryun Chong, Stella Fong, Winnie Lai and Sharon Chan, exploring the intricate layers of Tsang's artistic practice from various perspectives.
Please join the conversation with the The Infinite Nothingat the 56th International Art Exhibition –la Biennale di Veneziaon Twitter (@WKCDA), Facebook (https://www.facebook.com/mplushongkong) and Instagram (@hkinvenice) via the hashtags #TsangKinWah #TheInfiniteNothing #HongKongVenice
For further information please contact:
Manager, Public Relations (Media Relations)
West Kowloon Cultural District Authority
Manager, Corporate Communications
Hong Kong Arts Development Council
Damian Chandler & Benoit Loiseau
+852 3512-5000 / +44 (0) 20 7396 3542
Born in 1976, Shantou, China,Tsang Kin-Wah lives and works in Hong Kong. He studied fine art at The Chinese University of Hong Kong, and book art at Camberwell College of Arts in London. His work is well known and critically acclaimed for its innovative use of text and language, which are manipulated using computer technology to create immersive installations. The artist has exhibited globally with solo shows at Pearl Lam Galleries in Hong Kong (2012), the Mori Art Museum in Tokyo (2011), Yvon Lambert in Paris (2008), and group exhibitions at the7th Shenzhen Sculpture Biennale(2012), Asian Art Biennial in Taichung (2011), Leeum, Samsung Museum of Art in Seoul (2010), 17th Biennale of Sydney(2010), 1st Aichi Triennale in Nagoya(2010), and Kiasma Museum of Contemporary Art, Helsinki (2008), among others. His work was also showcased in M+'s second public exhibition of Hong Kong artists Mobile M+: Yau Ma Tei, in 2012. His work is held in several important private and public collections including Burger Collection and Sigg Collection in Switzerland,Mori Art Museum in Tokyo and Hong Kong Museum of Art.
M+ is Hong Kong's new museum for visual culture, encompassing 20th and 21st century art, design, architecture and the moving image from Hong Kong, China, Asia and beyond. Located at the centre of the WKCD, M+ will stand at the boundary between the urban sector and the Park in the overall conceptual plan of the WKCD. From its vantage point in one of the world's most dynamic regions, M+ will document the past, inform the present and contribute to the future of visual culture within an ever more interconnected global landscape. The museum will take a multidisciplinary approach that both challenges and respects existing boundaries, while creating a meeting point for a diversity of perspectives, narratives and audiences. M+ has already embarked on a number of public programmes and exhibitions, and has begun to assemble its permanent collection to be housed in the Herzog & de Meuron/TFP Farrells/Ove Arup & Partners HK designed museum.
West Kowloon Cultural District
The West Kowloon Cultural District is one of the largest cultural developments worldwide. Its vision is to create a vibrant cultural quarter for the city, a vital platform for the local arts scene to interact, develop and collaborate, and major facilities to host and produce world-class exhibitions, performances and arts and cultural events. It will provide 23 hectares of public open space including ample green space, a green avenue and a harbourfront promenade, and will be closely connected with the neighbourhood.
Hong Kong Arts Development Council
Established in 1995, the Hong Kong Arts Development Council (ADC) is a statutory body set up by the government to support the broad development of the arts including literary arts, performing arts, visual arts as well as film and media arts in Hong Kong. Aiming to foster a thriving arts environment and enhance the quality of life of the public, the ADC is also committed to facilitating community-wide participation in the arts and arts education, encouraging arts criticism, raising the standard of arts administration and strengthening the work on policy research.
Major development strategies:
Supporting promising artists and arts groups for artistic pursuits
Promoting arts administration to improve the management of arts groups
Focusing on the arts environment and proposing policy recommendations
Enhancing public participation and exploring arts space
Fostering strategic partnerships and bringing arts resources together
ADC has taken part in the International Art Exhibition–la Biennale di Veneziasince 2001, with an aim to enhance exchange and communication between Hong Kong and other countries in the world. About 460,000 people have visited the past seven exhibitions.
Doryun Chong assumed the post of Chief Curator, M+ in September 2013. He oversees all aspects of curatorial activities, in
cluding collection, exhibitions and symposiums, as well as learning and interpretation. Prior to joining M+, Mr. Chong held the position Associate Curator of Painting and Sculpture at The Museum of Modern Art (MoMA) in New York from 2009 to 2013. At MoMA, he acquired contemporary works for the collection as well as organised special exhibitions, including Tokyo 1955-1970: A New Avant-Garde, selected by the New York Times and Artforum as one of the best museum exhibitions of 2012. Chong has also worked at the Asian Art Museum of San Francisco, served as the coordinator for the Korean Pavilion exhibition at the 2001 Venice Biennale, and worked as curator at the Walker Art Center in Minneapolis between 2003 and 2009. During his time at the Walker, he organised a number of exhibitions including major retrospectives of Huang Yong Ping and Tetsumi Kudo. Chong has also contributed writings to a wide range of contemporary art periodicals such as Artasiapacific, Artforum, Parkett, Afterall, The Exhibitionist, and Bijutsu Techo (Japan)and Art in Culture (Korea).
Stella Fong is Curator of Learning and Interpretation at M+. Previously, she worked as Senior Assistant Curator at Hong Kong Museum of Art (2010-2011) and Hong Kong Heritage Museum (1997-2009), and curated numerous exhibitions including megARTstore (2006), which featured over 300 works from the museum collection along with 10 commissioned projects by architects, artists and designers. Her other professional experiences include: curatorial internship at Liverpool Biennial in 2004; Asian Cultural Council Fellowship in 2007; and participation in the International Studio & Curatorial Program in New York (2007) and the International Curators' Exchange Programme at Tate Modern (2010). Parallel to her full-time museum work, in 2008 she founded "wrongplace" a research collective focusing on exhibition practices and in 2010 instigated the one-year project "Exhibiting Experiments × Experimenting Exhibitions", which questioned the exhibition itself as a form and process. She holds a M.A. in Curating Contemporary Art from the Royal College of Art in London, a graduate diploma in Museum Studies from the University of Sydney and a B.A. in Fine Art from The Chinese University of Hong Kong.
Following studies at the Stockholm School of Economics, a M.A. at Stockholm University and Post Graduate Studies at New York University, Dr Nittve served as a lecturer in art history at the University of Stockholm (1978-85). During the same period he held a post as senior art critic at the Swedish daily Svenska Dagbladet, and contributed regularly to Artforum magazine, New York.
Dr Nittve was appointed chief curator at the Moderna Museet in Stockholm in 1986. He served as the founding Director of Rooseum – Center for Contemporary Art in Malmö, Sweden 1990-1995. In July 1995, Dr Nittve became the Director of the Louisiana Museum of Modern Art in Humlebaek, Denmark, where he also curated the ground-breaking exhibition Sunshine & Noir – Art in L.A. 1960-1997 and the first solo exhibition of Cai GuoQiang outside Asia. In 1998, he was named the first Director of Tate Modern, London, which opened in May 2000 to great acclaim. In November 2001, he returned to Moderna Museet in Stockholm as Director. Since January 2011, Dr Nittve has been with the West Kowloon Cultural District as the Executive Director of M+.
www.artecommunications.com