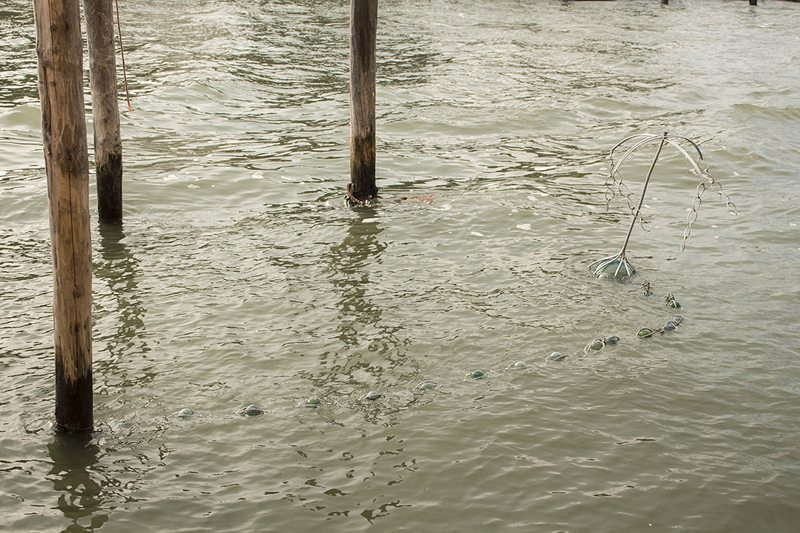 Daniel Rothbart
USA
A glass and aluminum sculpture seems to have surfaced spontaneously from beneath waters of the Giudecca Canal. This is Daniel Rothbart's Air de Venise, which alludes to the celebrated ampoule of Parisian air that Marcel Duchamp carried to New York as a souvenir.
Between nature and architecture, Air de Venise reveals itself as a landscape of symbols. The basic, central elements of the installation are glass bubbles, blown from recycled sake bottles for Japanese fishermen as buoys for their nets. These objects echo the Venetian tradition of glass blowing and visually encapsulate all that is Venice: a liquid frontier, passageway and link between civilizations.
The floating glass spheres not only recall the vessel as a powerful symbol of holy science in Jewish and Christian religion (as well as Buddhist thought), but also the geometric abstract structure of the tree of the Sephiroth. In the Jewish Kabbalah, divine emanations or Sephiroth in Hebrew, reveal both the physical and spiritual dimensions of the universe. Individual Sephiroth are often represented as circles along three vertical axes, which like Rothbart's sculpture, suggest the shape of a tree. The constellation of Sephiroth also surrounds twenty- two letters of the Hebrew alphabet and all the elements interact with one another.
Therefore, every link of the Air de Venise chain represents a point of interaction between forces that determine condensation and cohesion of an aggregate. They are links between earthly and immaterial dimensions and forms. The work embodies Daniel Rothbart's penetrating vision of historical stratification, convergent geographies, inter-cultural traditions, symbolic forms, and ideas.
Vittoria Broggini, Curator