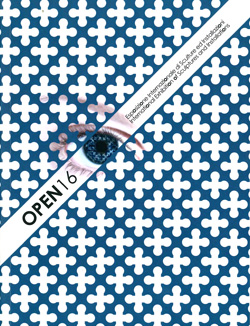 OPEN16 - 2013
Unique, eclectic and changing, this year OPEN, the International Exhibition of Sculptures and Installations, reaches its thirteenth edition, after a long history that has seen the participation of seventy-one countries, three hundred and sixty artists and one hundred and fifty curators. The event will be held from 1 September to 3 October, at the same time as the 67th Venice International Film Festival, offering a new path of expression, an open-air workshop, where the works are stages for contemplation and interaction.
Thirty-nine artists have been let loose on Venice Lido and the Island of San Servolo to define a physical and mental space, the allusive residue that lies in personal memory and in collective experience. Nearly all created specially for the exhibition, the sculptures and installations are spaces for reflection in which art transforms its tension towards the indefinite, eluding schemes and thematic constraints, to offer the visitor the possibility of thinking of a free art, open to evolution.
Conceived and curated by Paolo De Grandis, co-curated by Carlotta Scarpa, organised by Arte Communications, in collaboration with the Department of Culture of the Venice City Council, the exhibition is held under the patronage of the Ministry for Foreign Affairs, the Veneto Region, the Province of Venice and Venice City Council.
---
SCULPTURES - INSTALLATIONS