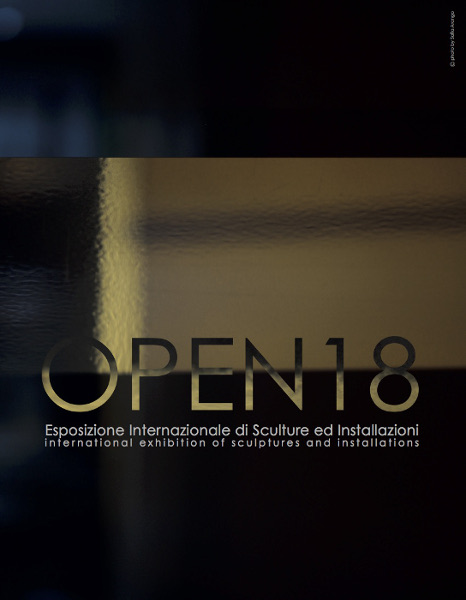 OPEN 18.
Esposizione Internazionale di Sculture ed Installazioni
3-23 September 2015 | Venezia Lido, Hilton Molino Stucky
The eighteenth edition of OPEN, International Exhibition of Sculptures and Installations, will take place from 3rd to 23rd September 2015 in Venice Lido and at the Hilton Molino Stucky in parallel to the Venice Film Festival.

Conceived and curated by Paolo De Grandis, co-curated by Carlotta Scarpa, the exhibition is organised by PDG Arte Communications in collaboration with the City of Venice and the Municipality of Lido Pellestrina and is held under the patronage of the Italian Ministry of the Cultural Heritage, the Ministry for Foreign Affairs and the Veneto Region.

18 years, a proven goal, enshrined under a new context of exhibition, that of the Molino Stucky, the most important monument of industrial archeology preserved in Venice. Built in Neo -Gothic style on the island of Giudecca in 1895 by the will of industrialist Giovanni Stucky, now home to the Hilton and cultural center.
Important and numerous curatorial participations this year including Achille Bonito Oliva, Daniela Palazzoli, Chang Tsong-Zung, Serena Mormino, Bruno Grossetti, Bianca Laura Petretto, J.J. Shih for Taiwan, Wen- i Yang for the National University of Arts and Gertrud Aeschlimann for art-st-urban.
It will also be created for OPEN 18 the work "Third Paradise" by Michelangelo Pistoletto. The sign-symbol of the Third Paradise conceived by Pistoletto inscribes in the line of the infinite circle, evocative of the cycles of regeneration of matter and the circularity of time. A Collective action promoted by Cittadellarte and Serena Mormino to request the 'assumption of social responsibility and collective reflection on the themes of environmental sustainability.
Gesture and stasis, movement and stillness, carousel of shapes and surfaces, rolled up, bend, stretch and fork, between the sculptures and installations of more than 40 artists from 12 countries.